Atlantic Power Corporation (NYSE:AT) operates various power generation assets, selling electrical energy to utilities and other large commercial customers under long-term purchase contracting agreements. The corporate strategy is to generate stable, contracted cash flows from existing assets to sustain their dividend payout to shareholders while increasing the value of the company through accretive acquisitions in North American markets. The company currently pays a monthly dividend of Cdn$0.0958 (Usd$0.0963) at an annual rate of Cdn$1.15 (Usd$1.16) per share. At the current price as of Nov. 23 of $11.89, the dividend yield for AT is a tempting 9.75%. Please bear in mind that this dividend is paid in Canadian dollars, and is subject to a 15% withholding tax for US investors.
click to enlarge)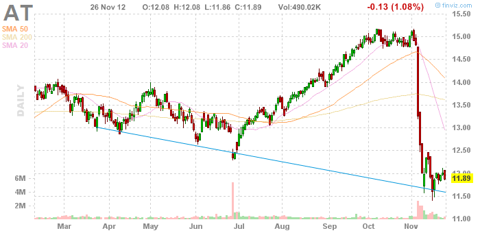 When a company has such a high yield it is always wise to check if it can afford it. Atlantic Power's cash available for distribution is a key metric in measuring the sustainability of the dividend. For 3Q 2012, cash available for distribution was $28.3 million. However, total cash dividends declared to shareholders was $34.0 million in 3Q 2012. This leads to a dividend payout ratio of 120%. This is clearly not sustainable. However, the company did state that the payout ratio for the quarter was negatively impacted by the timing of a $26 million payment. This payment did not occur until the first week of October, resulting in a reduction of working capital for the third quarter.
click to enlarge)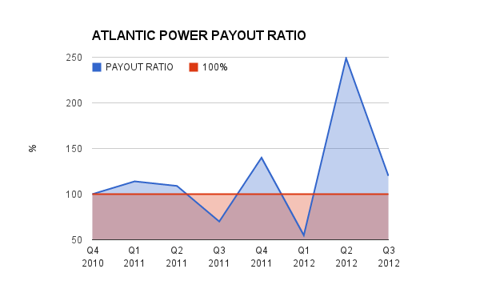 As can be see from the chart above, Atlantic Power's payout ratio has fluctuated widely the last 8 quarters. From a low of 55% during Q1 2012 to a high of 249% during Q2 2012 the payout ratio for this company is unpredictable quarter to quarter. Luckily, management reaffirmed FY 2012 guidance for the payout ratio during its Q3 conference call. 2012 payout ratio guidance is a range of 90% to 97%, subject to the financial performance of the projects. Using these payout numbers and assuming a similar cash dividend of $34.0 million we can guess Q4 cash available for distribution to be in a range of $35.6 to $46.2 million.
I must admit that I do not feel comfortable with a dividend payout ratio of 90-97% of free cash flow. This is especially true if you were to take a look at interest expense for Atlantic Power. Interest expense for the last 8 quarters has been climbing, reaching a high of $40 million for Q2 2012. As a percentage of revenue, interest expense is also high, averaging 17% for the first 3 quarters of 2012.
click to enlarge)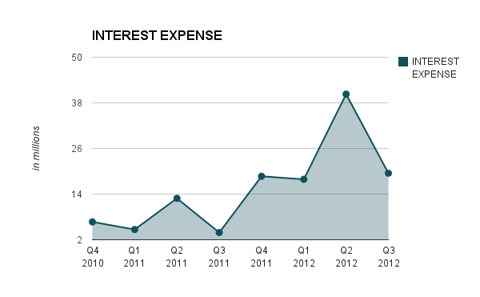 Earnings per share have also been trending downwards. EPS for Q3 2012 was -$0.06. EPS however is not an important metric when determining the dividend's safety due to the large amounts of non cash charges reported. A much better gauge of the health of the company is revenue. Revenue for Q3 2012 reached $154.5 million, compared with $44.7 million for Q3 2011. However, please note that this increase in revenue is primarily due to an acquisition which closed in Q4 2011, thus not reflected in Q3 2011 numbers. You can see this in the increase of shares outstanding.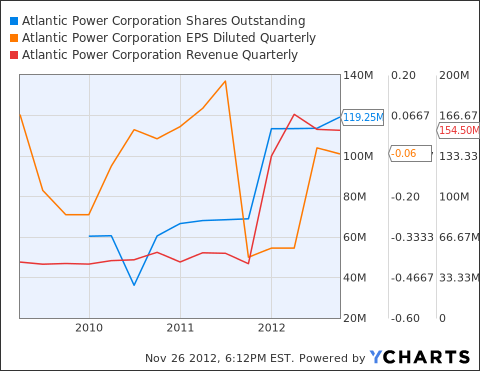 AT Shares Outstanding data by YCharts
Tax Information
The company's common share dividend is subject to a 25% withholding tax rate for holders who are not residents of Canada, which may be reduced pursuant to an applicable tax treaty. The withholding tax rate is 15% for U.S.-resident holders that qualify for the benefits of the Canada - U.S. Income Tax Convention.

Non-Canadian holders may be required by their brokers to complete a Form NR301 (or an equivalent form) in order to demonstrate their entitlement to a treaty-reduced rate of withholding tax after December 31, 2012. U.S. and other non-Canadian holders should consult their brokers about the requirement to provide such forms.

U.S. individuals holding shares in taxable accounts may be eligible to receive a credit on their U.S. income tax return for this withholding tax. U.S. individuals holding the Company's common shares in Individual Retirement Accounts ("IRAs") may be exempt from withholding tax pursuant to the Canada - U.S. Income Tax Convention.

Taxpayers should always seek their own independent qualified professionals regarding the tax consequences of purchasing or owning common shares of the Company. Individuals who believe the withholding tax exemption applies to their IRA should contact their broker to determine how to claim the exemption.
Conclusion
The recent drop in the share price seems overdone and may be a rare opportunity to buy this stock relatively cheap.. However, the high dividend payout ratio makes me wary of this stock. I would wait for the company to give guidance on its FY 2013 dividend payout policy before I would buy in.
Disclosure: I have no positions in any stocks mentioned, and no plans to initiate any positions within the next 72 hours. I wrote this article myself, and it expresses my own opinions. I am not receiving compensation for it (other than from Seeking Alpha). I have no business relationship with any company whose stock is mentioned in this article.