What does oil hold in store for us in December?
Using historical analysis often shows seasonal patterns that can be used to understand the market. The following article will examine if there are any significant historical trends to pay attention to in oil that would be key to traders and investors while understanding how these trends can play a part in the fundamental landscape of commodities. At the end of the article, we will try to gather the information into some tradeable plays.
In our research, we looked at how oil typically does in the month of December. We looked at the average gains of oil companies, their max drawdowns and gains as well as the number of times that their average gains has increased or decreased. The companies we investigated in the report were Baker Hughes (NYSE:BHI), BP (NYSE:BP), Transocean (NYSE:RIG), Exxon Mobil (NYSE:XOM), ConocoPhillips (NYSE:COP), Halliburton (NYSE:HAL), and Schlumberger (NYSE:SLB).
Below you can find the average gains for the past 16 years provided the company/ETF has been around for those 16 years.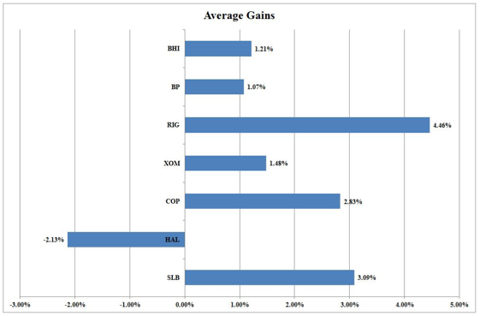 From the chart above it can be seen that December is a great month for oil, even better than November was predicted to be. Only 1 out of the 7 companies analyzed showed negative gains during this holiday month which is one of our best scores. This company that showed negative gains (-2.13%) was Halliburton. Of the companies that showed positive gains, a special mention should go to Transocean, ConocoPhillips and Schlumberger which all showed gains greater than 2.8% making them great candidates for bull put spreads with December expiration.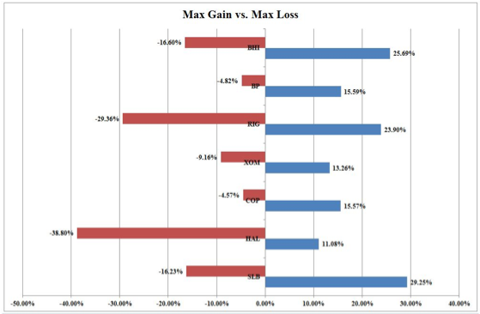 We continued our research by finding the max drawdowns and max gains that these companies usually have during the month of December concentrating on the companies that had great gains in the above chart. RIG is interesting because although it has a very high Max Loss of -29.36% it still manages to gives positive gain meaning that this max loss is an outlier. This can be confirmed in our next chart. SLB is another company that catches our attention as it has the highest max gain (29.25%) of all the companies. This may be misleading therefore we also look to our next chart for further guidance on our recommended trades.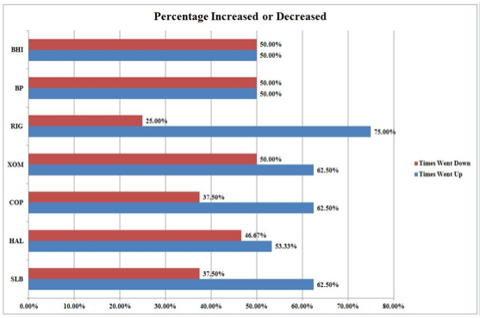 From this chart one can see that both RIG and SLB have had positive monthly gains more timex than they have had negative ones. This is especially helpful because it is easier to notice that the previous results were not outliers. From this we can gain that the majority of the time both these companies report positive gains in the month of December.
From our analysis we came up with two plays. The following bull put spreads for each stock have been formulated based on which companies performed the best during these time periods. Of the companies studied, RIG and SLB were two stocks that improved 75% and 62.5% during December, historically. Additionally, we looked at average gains, which were 4.5% for RIG and 3.1% for SLB. Knowing that these two stocks were the best performers, we selected spreads that worked well in technical setups. RIG has very good support at 44, and it has not dropped below 40 all year. SLB has strong support below it with its 20-day MA as well as horizontal support at 67.50.
Trade #1: Transocean , Jan21, 40/39 Bull Put Spread
Max Gain: 11%
Trade #2: Schlumberger , Jan21, 65/62.50 Bull Put Spread
Max Gain: 14%
Disclosure: I have no positions in any stocks mentioned, and no plans to initiate any positions within the next 72 hours.
Business relationship disclosure: The Oxen Group is a team of analysts. This article was written by David Ristau, one of our writers. We did not receive compensation for this article (other than from Seeking Alpha), and we have no business relationship with any company whose stock is mentioned in this article.