Over the past week I have been keeping my eye on several key sectors and stocks for potentially large end of year rallies to lock in more gains before 2013.
My recent calls have been RIMM (up 54%), AAPL (up 5%), FB (up 8%) so it's been a great month thus far. That being said there are three other plays that look amazing and one of them is the Utilities Select Sector SPDR ETF, XLU.
Looking back 30 years clearly utilities have a tendency to rally going into year end. What makes this setup so exciting is that the Obama tax for 2013 has caused many investors to lock in capital gains along with dividend gains so the utility sector has recently been beaten.
I always like to cheer for the underdogs because they can make large moves quickly, and this season it's utility stocks.
30 Year Seasonality - Utilities Stocks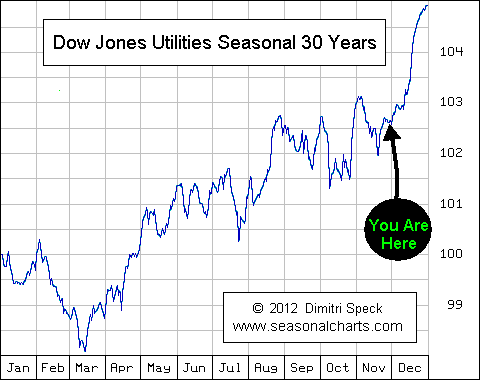 Utility Sector ETFs:
In the graph below I show the main utility ETFs for trading. Simple analysis clearly shows the selling momentum is slowing and where price should go if it can breakout above the red dotted resistance line. Exchange traded funds XLU, FXU, IDU, and DBU are the funds I found to be setting up.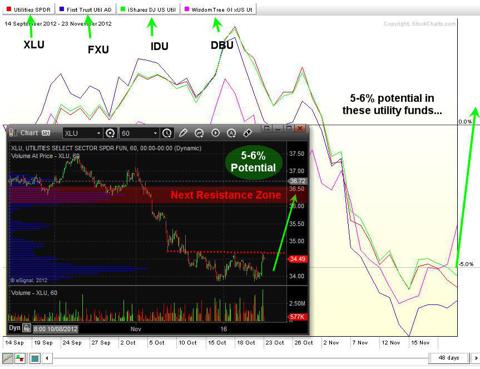 Utilities Sector Trading Conclusion:
While I feel utilities are about start moving higher it is important to mention that the broad market is setting up for a 1-3 day pullback. If the stock market does pullback this week then we should see utilities pullback also. What I am looking for is a minor pullback in XLU with price holding up above $34 while the stock market pulls back.
Disclosure: I have no positions in any stocks mentioned, but may initiate a long position in XLU over the next 72 hours. I wrote this article myself, and it expresses my own opinions. I am not receiving compensation for it. I have no business relationship with any company whose stock is mentioned in this article.