I mentioned Caterpillar (NYSE:CAT) in a recent article as an example of a "big old American manufacturer" whose market cap greatly exceeds book value. Since CAT is on my watchlist currently, I thought I'd take another look at it and break down their business to see if it should remain on my watchlist. As I've mentioned in the past, I am a follower of Ben Graham's value approach to investing with particular emphasis on stable earnings. In addition, I take a look at free cash flow generation to make sure the business is able to maintain funding for expansion.
Background
From CAT's 2011 annual report:
With 2011 sales and revenues of $60.138 billion, Caterpillar is the world's leading manufacturer of construction and mining equipment, diesel and natural gas engines, industrial gas turbines and diesel-electric locomotives. The company is also a leading services provider through Caterpillar Financial Services Corporation (Cat Financial), Caterpillar Remanufacturing Services, Caterpillar Logistics Inc. (Cat Logistics) and Progress Rail Services Corporation (Progress Rail). Caterpillar is also a leading U.S. exporter. Through a global network of independent dealers and direct sales of certain products, Caterpillar builds long-term relationships with customers around the world.
Currently, CAT's three largest business segments (Construction Industries, Resource Industries, and Power Systems) are all roughly equal in size and together represent 95% of total sales and revenues.
Other facts:
| | |
| --- | --- |
|   | CAT |
| Current Price | $84.17 |
| Market Cap | $55B |
| Yield | 2.47% |
| 5 Year Dividend Growth Rate | 10.4% |
| P/E | 8.6x |
| Consecutive Years of Growing Dividends | 19 |
| TTM Dividend Payout Ratio | 25% |
Data Source: Morningstar, David Fish's Dividend CCC Spreadsheet
-Member of David Fish's Dividend Contenders
Making a Profit
The last decade has actually been quite good for Caterpillar. While the great recession hit corporate earnings hard in 2009, the acceleration since has been nothing short of remarkable. The chart below shows the 10 year chart of diluted EPS. From 2002-2011, earnings grew at a compound rate of 23%. While earnings cratered in 2009 to $1.43, they were quick to rebound and are now in line where they were prior to the recession. This is important for me as it implies a certain level of stability in historical earnings.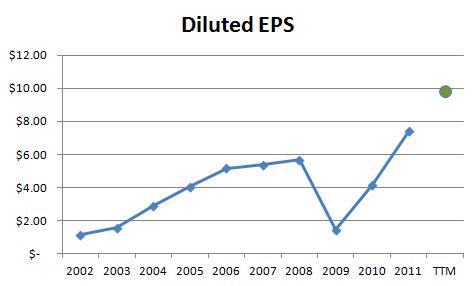 Data Source: Morningstar
Using the recent selling price of $84.17 we see that the shares now sell at a P/E ratio of 8.6x based on the past 12 months of earnings. Looking at the last 10 years (in this case I'll include the TTM earnings as a separate data point in addition to '03-'11 since we have 3 of the 4 quarters worth of 2012 earnings), the PE10 is currently 17.7x. This is well below the limit that I set for myself of 20x.
Cash Flow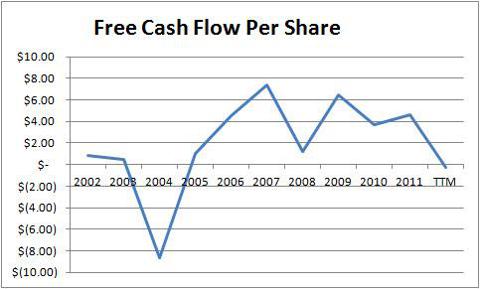 Data Source: Morningstar
The chart above shows the 10 year history of free cash flow per share. To be honest, this is not exactly as pretty as I hope for. To begin with, I had to do some digging on the -$8.63 (!) number from 2004. Since this was not mentioned in the 2004 annual report, my assumption is that it was caused by a subsequent write down. Sadly I could not find any more information. For my purposes though, this does not matter all that much since I usually only pay attention to the previous 5 years cash flow. While there has been strong positive cash flow over most of that time, the previous 12 months have seen free cash flow dip negative at -$0.29/share. Operating cash flow has been negatively impacted by growing inventory, accounts payable, accrued liabilities, and the dreaded other non-cash items. To me this is a yellow flag that deserves watching. Depending on business and cash cycle developments in Q4, this could all go away…or it could get worse.
Future Growth Prospects
According to Yahoo! Finance, analysts are calling for a robust 14% annual earnings growth over the next 5 years. Is this possible? Sure. One aspect that has dominated CAT's business over the last few years is rampant acquisitions. One example is the 2011 acquisition of Bucyrus International which showed a profit in Q3. As a rule, I try to minimize my reliance on the future expectations. With Caterpillar my thought process is more along the following: Will the world need more skid steer loaders (or if you prefer, insert the name of your favorite Caterpillar product here) in 5 years? Yes.
Summary
After reviewing the case for CAT again, I will leave the stock on my watchlist although will continue to watch the free cash flow development. CAT's recent quarterly report noted that 2012 capital expenditure will not meet the $4billion target that was set. This may be motivated by the cash flow situation. It's also worth noting that CAT carries a very high level of debt - currently at $26.5 Billion of long term debt up from $17.8 Billion in 2007. Taken together along with CAT's growth prospects and healthy 2.5% yield, my target entry price is close at around $75. There are a number of reasons that I believe we could hit this number in the short term. To begin with, CAT does not currently have a share repurchase program in action which limits their ability to control earnings. That comes on top of worldwide economic instability and rumors of the end of the commodity super cycle.
Disclosure: I have no positions in any stocks mentioned, but may initiate a long position in CAT over the next 72 hours. I wrote this article myself, and it expresses my own opinions. I am not receiving compensation for it (other than from Seeking Alpha). I have no business relationship with any company whose stock is mentioned in this article.