CSX (NYSE:CSX), along with Norfolk Southern (NYSE:NSC), operates rail lines across the eastern half of the U.S. The company serves 23 states, the District of Columbia, and two Canadian Provinces, with its network of 21,000 route miles serving some of the most densely populated areas of the U.S. CSX has access to all major ports on the Atlantic and Gulf Coast, Mississippi River, Great Lakes, and St. Lawrence Seaway. The company derives revenue from 4 primary areas: Merchandise (chemicals and consumer goods) which accounts for about 48% of revenue, Coal (30% of revenue), Automotive (6% of revenue), and Intermodal shipments (13%). The company also generates additional revenue from services provided to regional rail operators.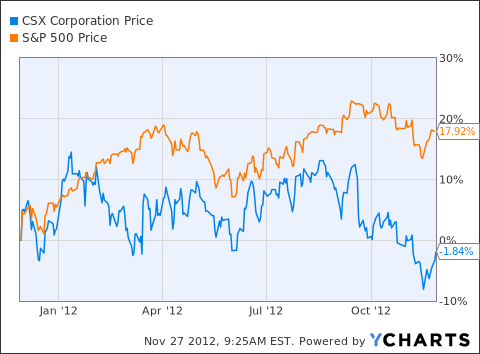 CSX has underperformed the broader market significantly over the past year. In fact, while the S&P 500 has climbed roughly 18% over the trailing twelve months CSX shares have declined 3.24%. During this same period, CSX has grown earnings per share more than 10% from the twelve months prior on a 2% increase in revenue. Over the past five years, CSX has a revenue compound annual growth rate 4.2%, but has grown EPS 12.2% a year over that same period.
Concerns have been raised over the past year that declining coal revenues will eat into company profits and hurt CSX in the years ahead. While I believe declining domestic coal revenue is a concern for the company, given that in 2011 coal accounted for 30% of total revenue, growth in other areas is compensating for the loss. In fact in Q3 of 2012 alone, export coal showed 20% growth year over year, industrial shipments grew 5%, and intermodal shipments grew 8%.
For the year ahead the company is forecasting a number of markets to provide positive earnings catalysts including Intermodal shipping, Chemicals, and Agriculture (making up nearly 60% of total shipment volumes). Other markets are anticipated to have a roughly negligible impact on earnings in the year ahead including Automotives and Metals (10% of volume). CSX also notes that these are difficult to predict, as shipments in these areas are often cyclical. Other areas have been designated as having a negative earnings impact, with the primary driver being coal shipments.
The company has taken on a number of efficiency and cost saving measures in the previous years to boost earnings per share despite the challenging economic climate, and this year expects cost saving measures alone to save the company more than $180 million. The company has served shareholders well by finding ways to reduce expenses, and year to date has reduced expenses 2% versus 2011 levels.
The underlying fundamentals of the business support CSX being a sound investment for the long term. Shares of CSX trade currently at just $20.01. At this level, shares have a TTM P/E ratio of just 11.18, well below the five year average of 14.2. Despite challenging market conditions, CSX has grown EPS 10% over the previous 12 months, and anticipates growing EPS near 13% for the next 3-5 years. CSX has a current $0.56 annual dividend, which at today's price equates to a yield of 2.80% on a payout of 29% of earnings.
The company has targeted a dividend payout of 30-35% of TTM earnings, and given the anticipated earnings growth in the years ahead the dividend should continue to grow quickly. CSX expects to exercise the remaining $234 million of the current share buyback program during Q4, and with the price having recently dropped to the $19 level, management could have potentially re-purchased more than 12 million shares. In addition, through the end of the year, CSX expects to see continued margin expansion helping the bottom line.
CSX has proved to be a sound investment for investors in the past. If an investor were to have purchased a split adjusted 1000 current shares of CSX in January of 2007, they would have roughly doubled their investment and received more than $2000 dollars in dividends along the way.
 

Price

Annual

Dividend

Total Dividends

Value

2007

10.37

0.18

180

10370

2008

 

0.2566

256.6

 

2009

 

0.2932

293.2

 

2010

 

0.3267

326.7

 

2011

 

0.4467

446.7

 

2012

20.01

0.56

560

20010

 
 
 

Total Dividends

Value Increase

 
 
 

2063.2

9640
With company's dividend payout roughly in line with the target payout, the dividend should grow in step with annual earnings. In this example, we will assume that earnings and dividend growth rates will be consistent over all five years, and that the dividend will grow at the same rate as earnings. EPS are expected to grow 13% over the next five years, so if this same investor were to hold their investment in CSX for another five years they would receive annual dividends of over $1000 a year without reinvesting a penny.
| | |
| --- | --- |
|   | Projected Annual Dividends |
| 2013 | $635.60 |
| 2014 | $721.41 |
| 2015 | $818.80 |
| 2016 | $929.33 |
| 2017 | $1,054.79 |
Rail operators work in an industry with limited competition, but fantastic opportunity. Limited competition allows operators to pass along many of their costs to customers without losing market share. The efficiency of rail for transporting large quantities of goods over long distance is unmatched by other shipping methods, and the growing adoption of intermodal transport is benefitting rail operators as well. Short term headwinds exist for rail operators with declining coal shipments and limited economic growth, however over the long term rails will remain a solid investment. CSX is a fantastic dividend growth stock, and investors can purchase shares now, at a significant discount. Dividend growth investors who buy in to CSX at these levels will benefit from the long term growth in rails, as well as the sound management policies that continue to provide shareholders value. CSX has the ability to grow its dividend rapidly in the years ahead to reward dividend growth investors, and should be a portion of any retirement portfolio following a dividend growth strategy.
Disclosure: I am long CSX. I wrote this article myself, and it expresses my own opinions. I am not receiving compensation for it (other than from Seeking Alpha). I have no business relationship with any company whose stock is mentioned in this article.