City Telecom (CTEL) is an extremely risky stock and recent annual reporting has shed more light on the current state of the business. As I have detailed before, City Telecom has sold its telecom operations to invest heavily in a TV content business. This means City Telecom is essentially a start up, and the dividend is likely to be eliminated for the next three years due to lack of profits and high investment. The stock is trading at 163x recurring sales. City Telecom does not have a TV license at the time of writing and will likely burn through its cash balance in under four years. Of course, the substantial investment to get to a free TV business could ultimately pay off, but the next three years are likely to be bumpy at best for City Telecom investors. Those investing for the currently high-dividend yield should look elsewhere.
5-Year Price Chart
Note that this year's price decline is primarily due to a special dividend returning cash to investors after the telecom asset sale.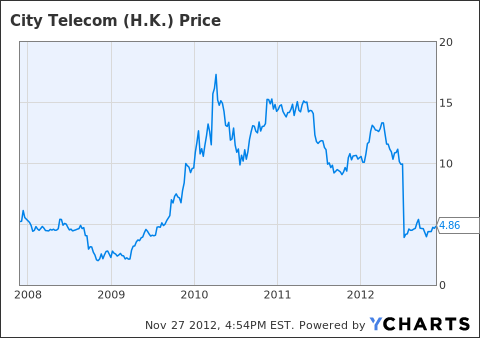 CTEL data by YCharts
No Dividends For 3 Years
The City Telecom CEO has hinted here that the dividend is unlikely to be paid for the next three years. This makes sense because the business is currently in a "start up" phase, growing a TV business, which is likely to be loss making for the next three years. Paying a dividend in those circumstances would not be responsible.
"The next three years will be the peak period in making the investment in free television business so that it is difficult for the company's net profit level to reach the level before disposing the telecommunication businesses," City Telecom (Hong Kong) Chairman Ricky Wong said in the Wednesday annual result press conference. He added that the company may stop dividend payments over the next three years as it will need cash to invest in the new free television business.
No TV License Yet
City Telecom requires a TV license as part of its strategy and is lobbying hard for this. However, it has not yet received a license as this press release shows. Inability to obtain a license does not completely negate its strategy as it could sell content to others rather than broadcast directly. Nonetheless, this is clearly another risk factor for the business.
Stock Trading At 163x Annualized Revenue
Aside from exceptional gains on disposal, on an ongoing basis, City Telecom generated HK$3.8M (Hong Kong dollars) [U.S.$490,315.21] in revenue. I estimate this was for the five months of the year after the April 2012 disposal of the telecom business, so HK$9.1M on an annualized basis. With a current market cap of HK$1,486M, that equates to 163x revenue. Clearly the business intends to scale and become profitable, but this is a useful reality check on the current state.
Stock At Discount To Cash, But Investments May Close The Gap
Despite the negatives above, the business has HK$2.6B of cash vs. a market cap of HK$1.49B. However, as the chart below shows that balance is likely to decline as investment ramps up.
| | |
| --- | --- |
| Item | Value HK$M |
| Current cash balance (Aug '12 Report) [a] | 2,614 |
| Expected investment in equipment [b] | 300 |
| Expected investment in facilities [c] | 800 |
| Cash after expected investments [a] - [b] - [c] | 1,514 |
Cash Burn Provides 3.5 Years Of Cushion
For the last fiscal year, City Telecom had TV related costs of HK$106M. I adjust this as below to arrive at a cash burn rate.
| | |
| --- | --- |
| Item | Value $HKM |
| Costs For April-August 2012 (5 months) | 106 |
| Grossing up for full year (*12/5) | 254 |
| Estimated 70% ramp up in costs based on this press release on potential headcount growth | 432 |
| Resulting estimated annual cash burn rate | 432 |
Implied cash burn rate taking the cash balance of $HK1,514M and expected annual expenditure of $HK432M implies 3.5 years of cash remaining.
Risks
The main risk of a negative view on City Telecom is that the free TV business proves to be viable faster and quicker than expected. There are substantial barriers to entry in free TV creating an attractive moat. Nonetheless, City Telecom has a lot of work to do to achieve that end state.
Conclusion
City Telecom remains a highly risky investment. It is essentially a start up. Those buying for the current yield should understand that the interim dividend is likely to be the last for the foreseeable future and the underlying business is trading at 163x revenue, with cash likely to run out in 3.5 years. Of course, City Telecom may make it through this period to become an attractive free TV broadcaster, but without even a license yet and substantial investment to make that happen investors should avoid the stock.
Note: City Telecom trades in Hong Kong and in the U.S. as an ADR. Here all numbers apply to the Hong Kong stock to be consistent with the reported numbers, which are also in Hong Kong dollars.
Disclosure: I am short CTEL. I wrote this article myself, and it expresses my own opinions. I am not receiving compensation for it (other than from Seeking Alpha). I have no business relationship with any company whose stock is mentioned in this article.