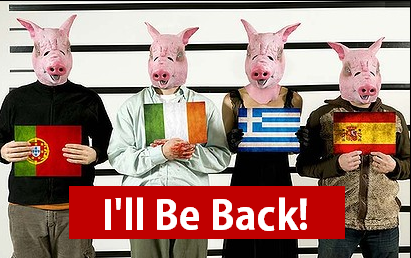 Eurozone finance ministers, including the troika, have finally fixed the Greek debt issues. Really? Yep, that's what the PR releases and bullish headlines suggest. So what's the deal? From what we know, Greece won't have to make payments on these loans for 10 years, interest rates will be significantly reduced and the ECB will be buying their bonds. Significantly, this means Greece will get its €50 billion next week to avert a major default. The downsides of the deal are the so-called "firm commitments" Greece must adhere to on austerity and other goals to meet certain targets. These include a debt to GDP ratio of 175% in 2016, 124% in 2020 and 110% or lower by 2022. It's all well summarized by Mark Grant here, who calls it a fairy tale. I would observe that most of the deal participants will not be around in 10 years, and have merely kicked the can down the road.
There was initial relief on the settlement, since algos really don't have the time to look under the hood at the details these days.
Meanwhile, the OECD has now estimated the eurozone to have -.4% GDP growth in 2013 and estimated U.S. GDP down to 2% from their previous 2.5% estimate. Their recommendation naturally, is for more monetary easing and stimulus. If the fiscal cliff should occur, then all bets are off.
India is experiencing slower GDP growth by their standards -- 5.3% vs 5.6% -- and higher inflation over 7%. The political will there has become fragmented, making solutions as difficult there as elsewhere. But on the news, stocks rallied… snicker.
Durable Goods Orders were flat at 0%, but beat some estimates. Consumer Confidence rose slightly to 73.7 vs. prior 73.1. The Case-Shiller Home Price Index showed small continued gains of .4% vs. .5% previous, and 4% YTD increases overall. The Richmond Fed Mfg Index increased substantially (9 vs. -8 expected, and prior -7), offsetting yesterday's stinker from Dallas.
The Fed is now fully engaged with POMO activities, injecting $5.7 billion to primary dealers.
The SAC hedge fund will have a conference call with their investors Wednesday to assuage concerns and reassure them that Steve Cohen had absolutely nothing to do with insider trading, and it's something they've never done before or will do in the future. There is the small matter of $275 million in profits that need to be returned, which will come out of investors' pockets, theoretically. Perhaps Steve will cover it out of his pocket, which he can easily do. I guarantee you, there will be news reported about this via leaks from third parties.
Stocks in the U.S. fell as fresh worries about the fiscal cliff emerged, not based on anything specific other than investors rediscovered its existence. But we really shouldn't worry, since GS Blankfein will be doing more of God's work in a scheduled meeting with Obama. Leading the way lower were miners (NYSEARCA:XME) and financials (NYSEARCA:XLF). Bonds (NYSEARCA:IEF) were mildly positive. The dollar (NYSEARCA:UUP) was stronger, and gold (NYSEARCA:GLD) was weaker. Commodities (NYSEARCA:DBC) and oil (NYSEARCA:USO) were also weaker on the stronger dollar.
Volume overall remains weak, but was lighter Tuesday on selling. Breadth per the WSJ was negative.
(click image to enlarge)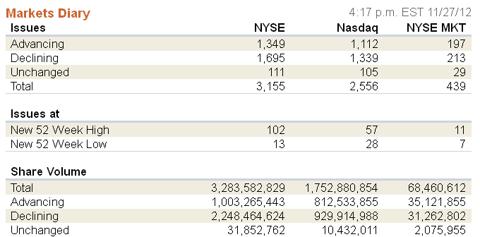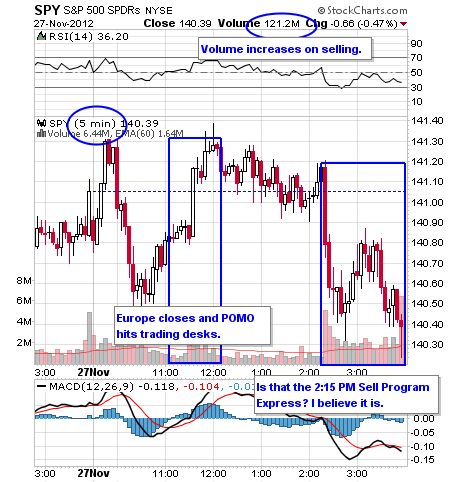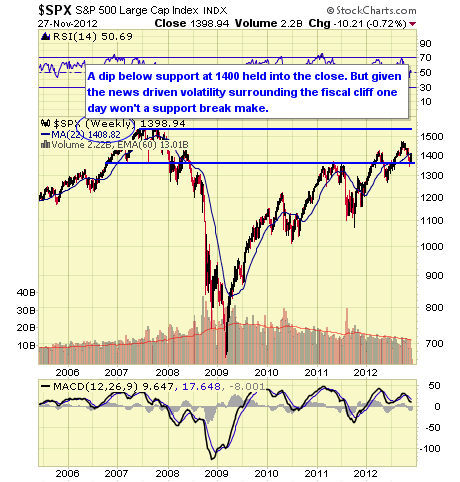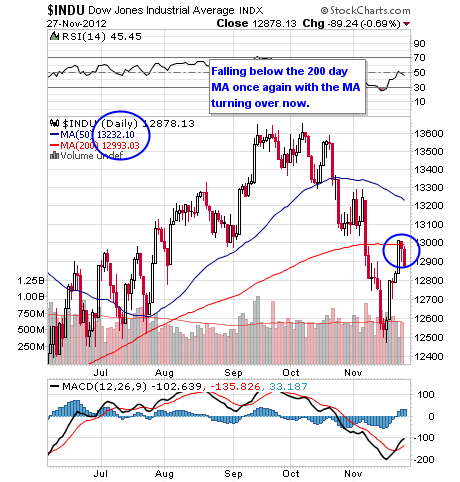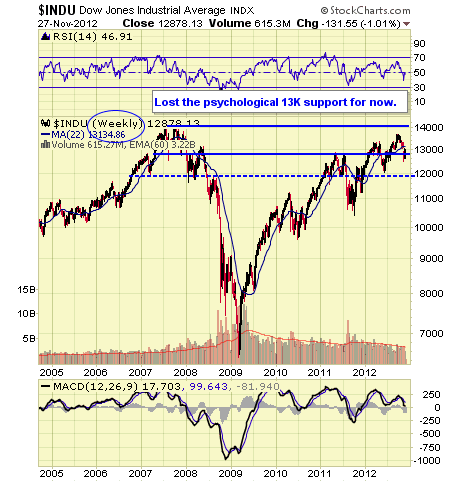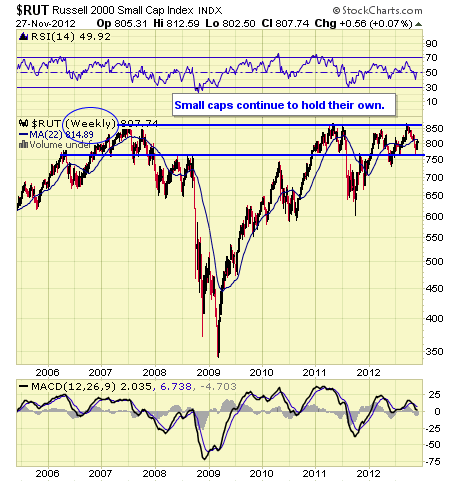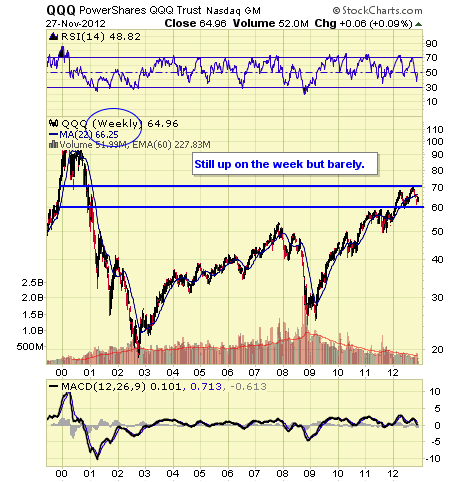 Continue to U.S. Sector, Stocks & Bond ETFs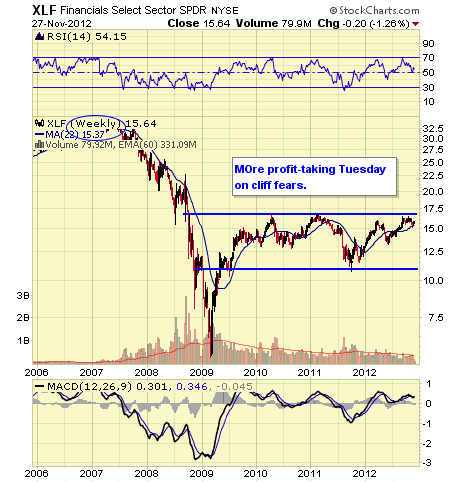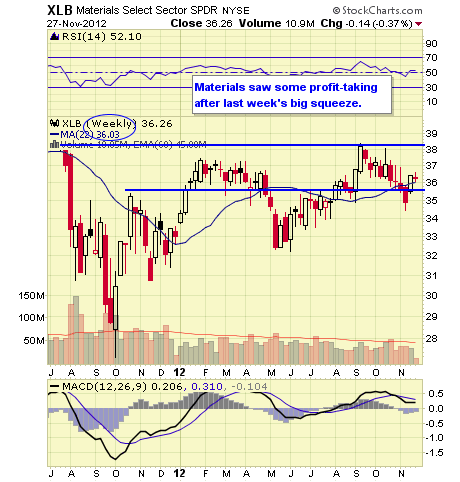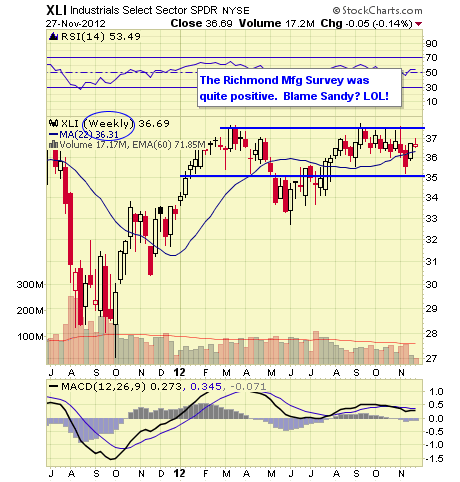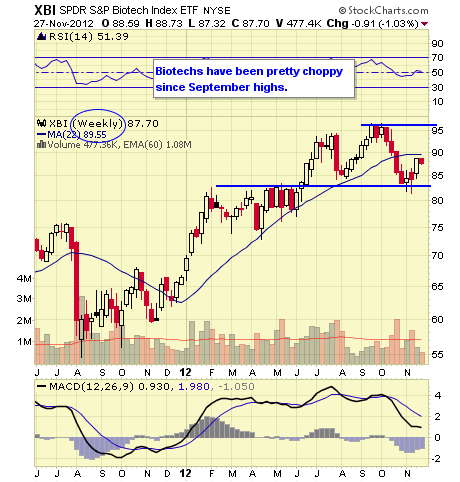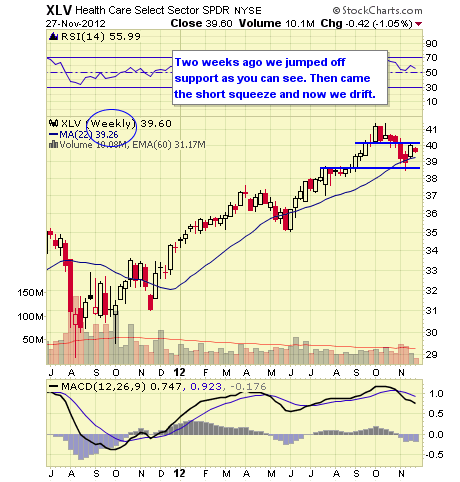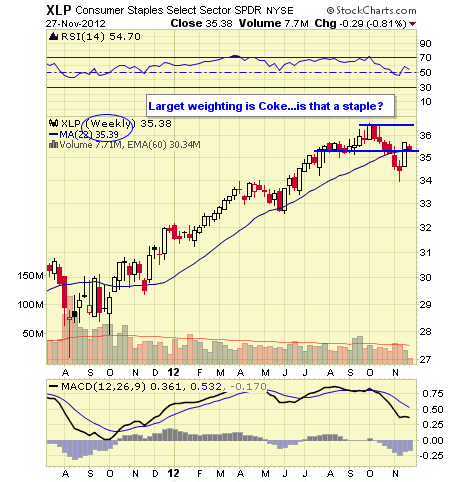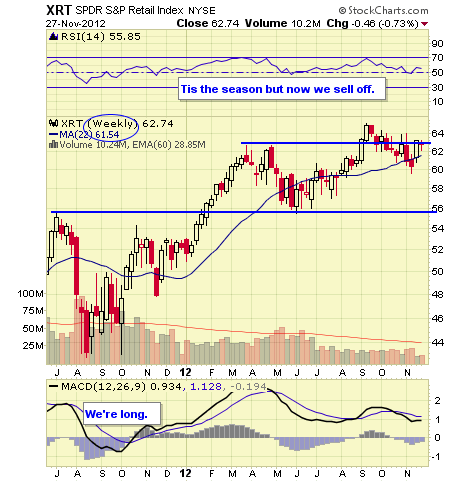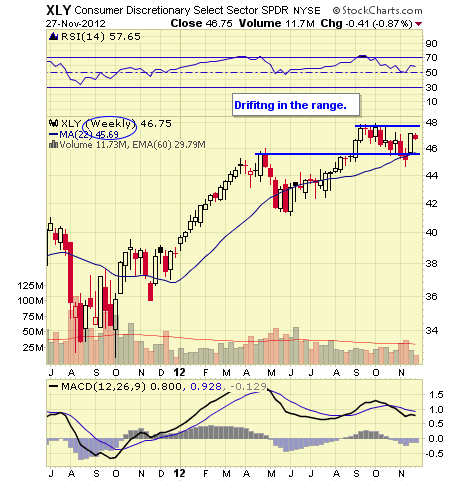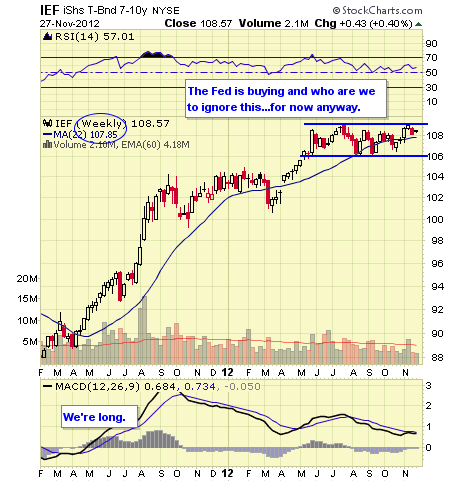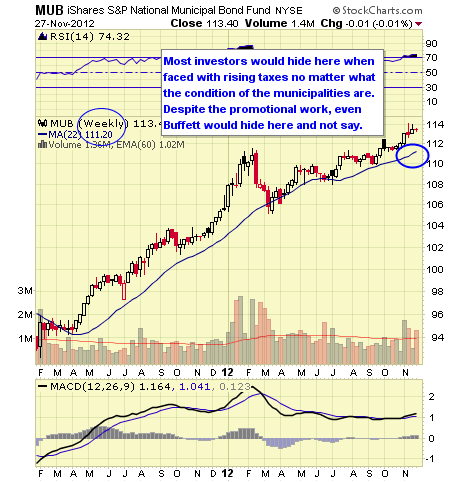 Continue to Currency & Commodity Market ETFs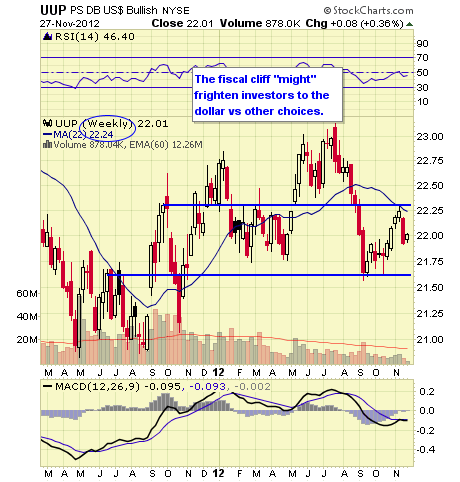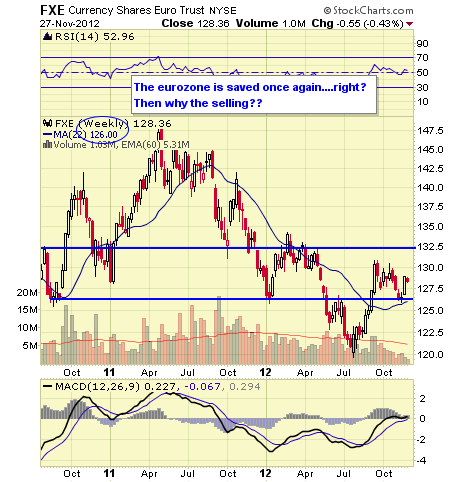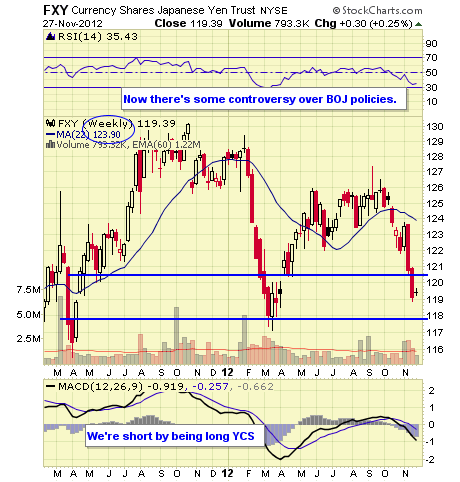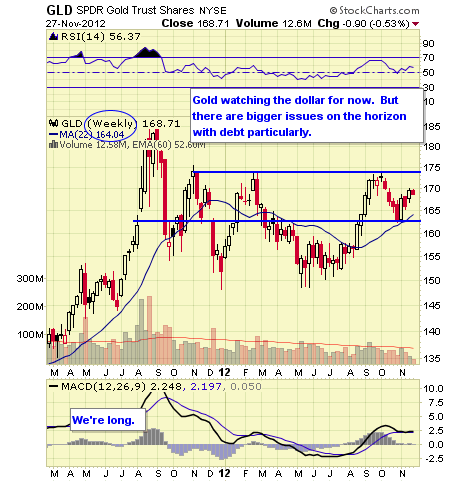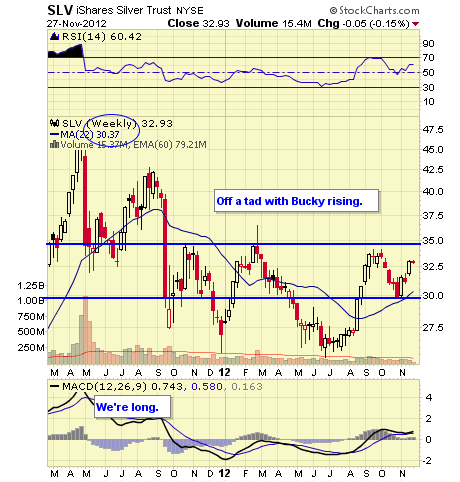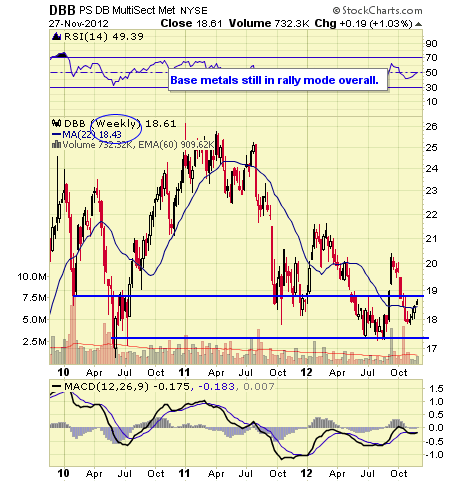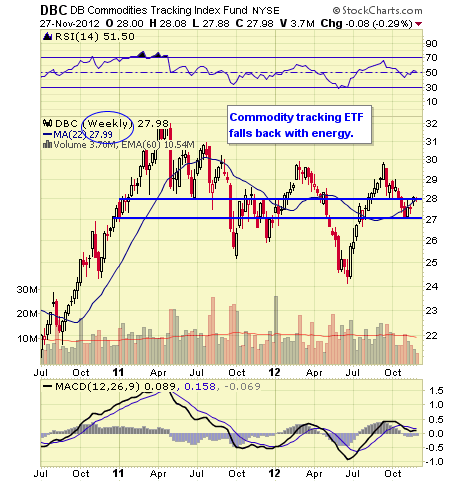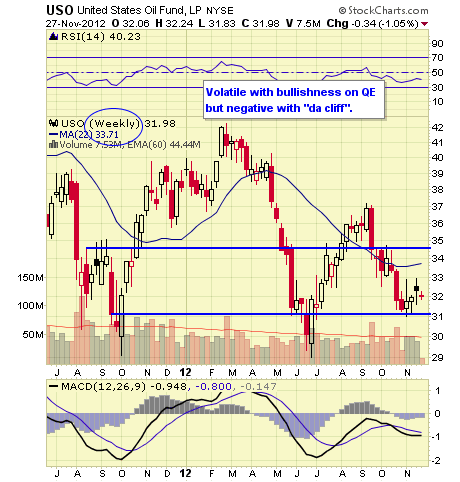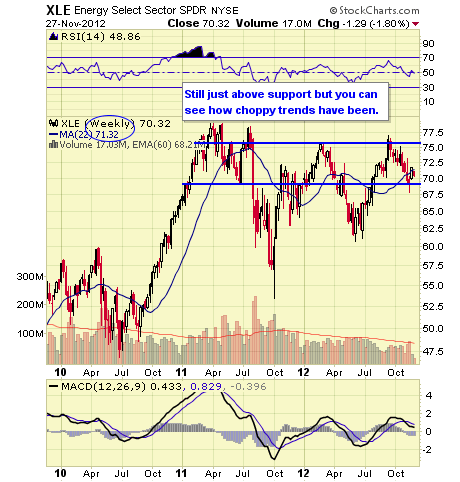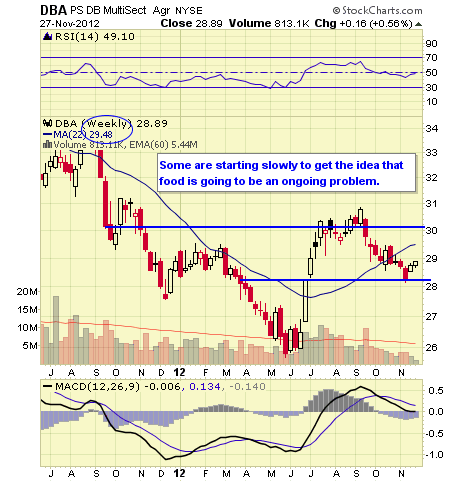 Continue to Overseas Sectors & ETFs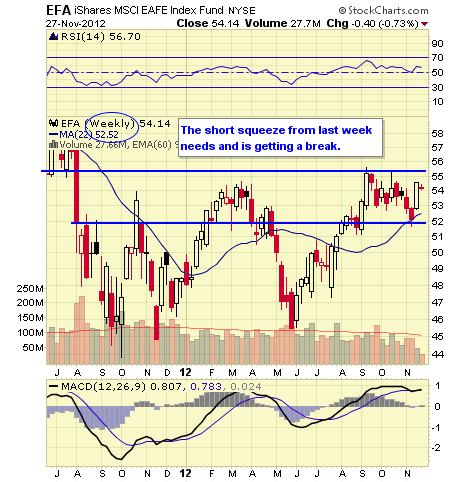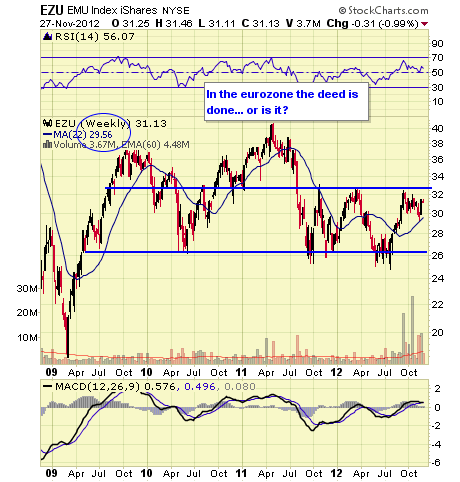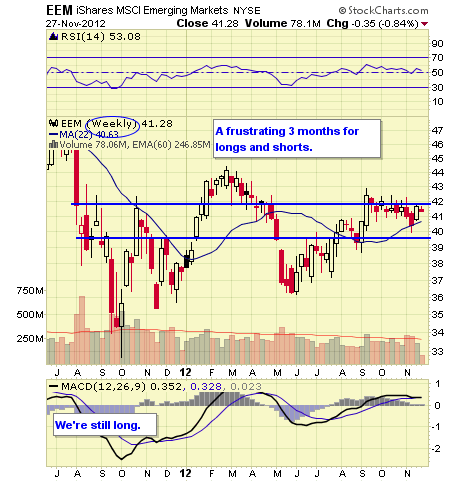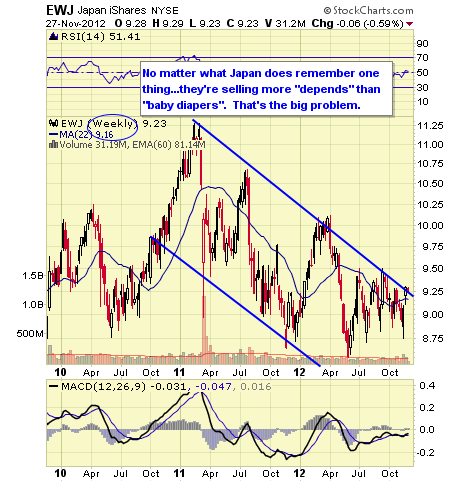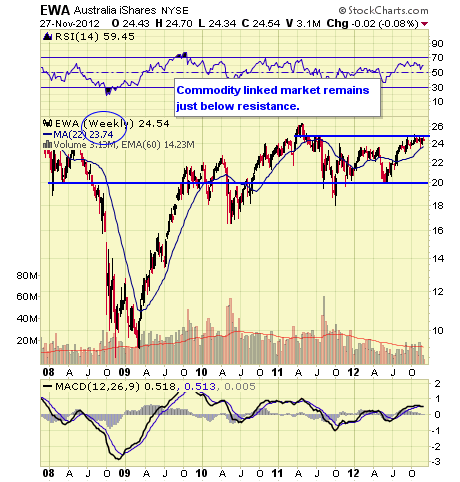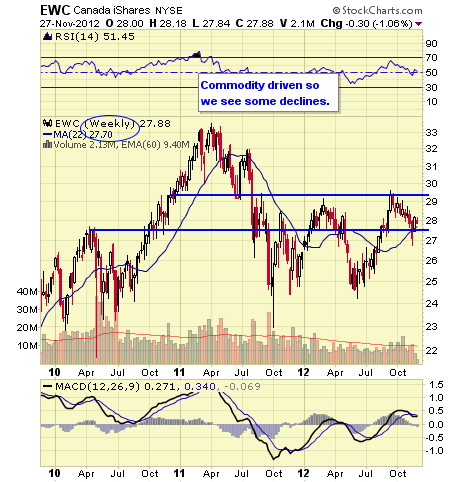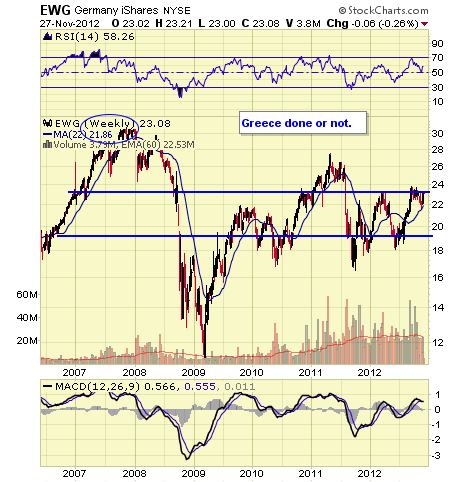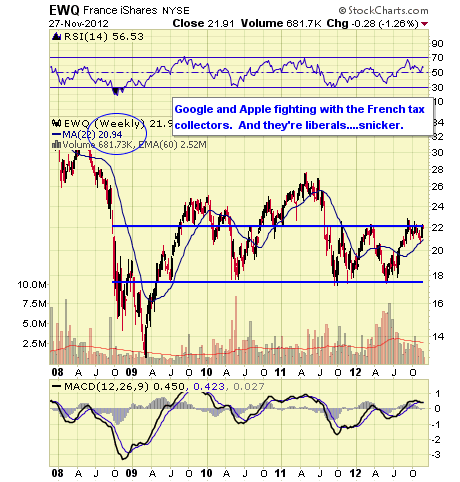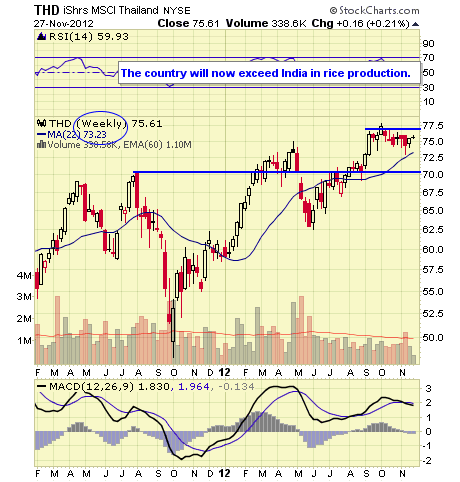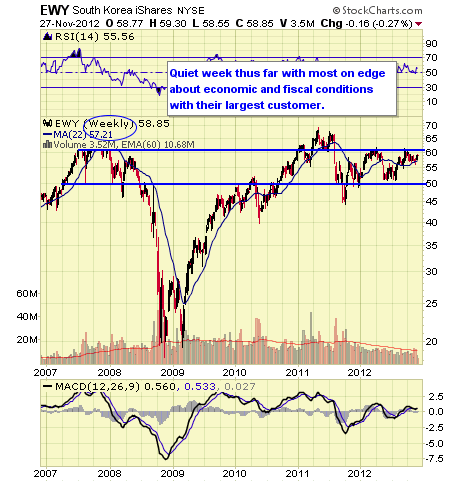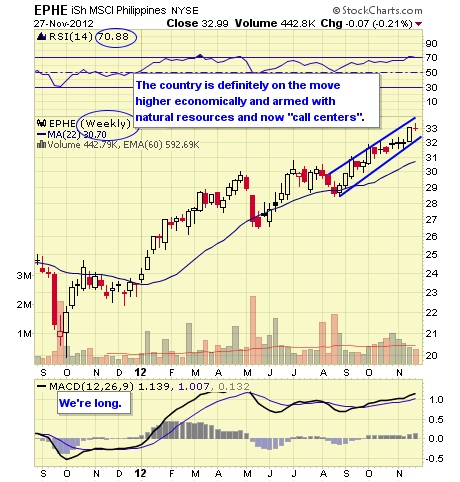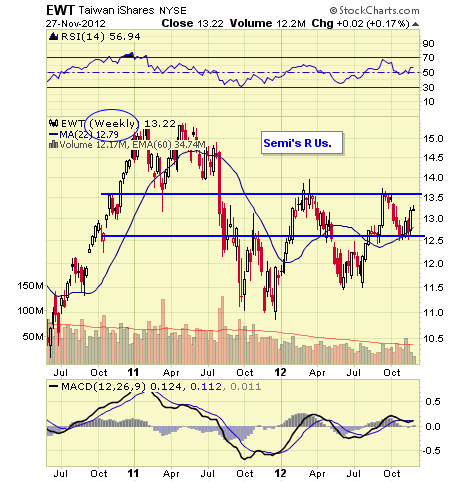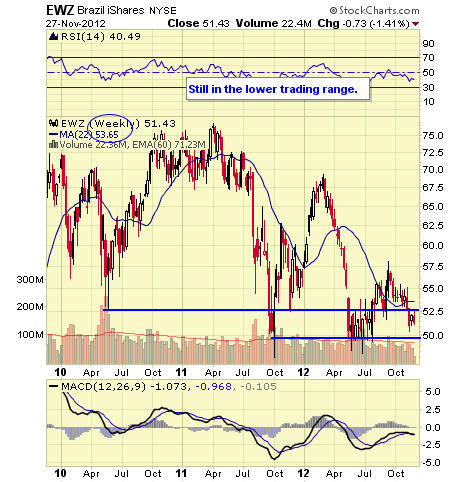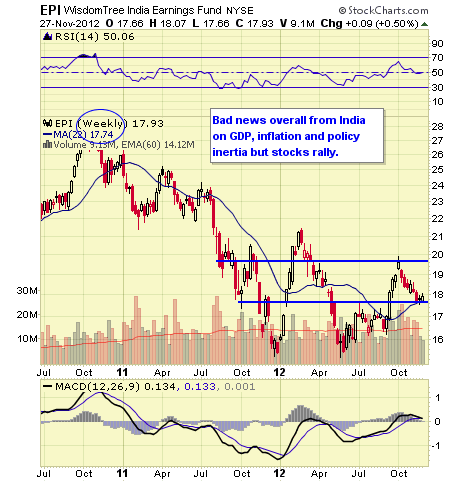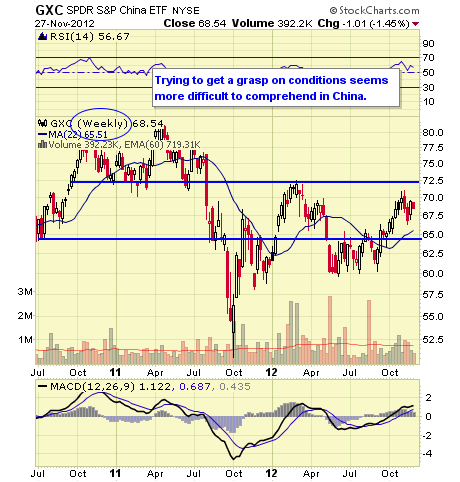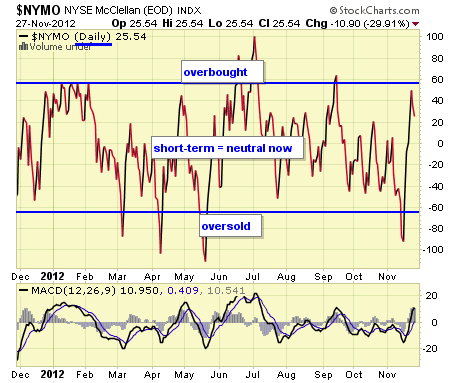 The NYMO is a market breadth indicator that is based on the difference between the number of advancing and declining issues on the NYSE. When readings are +60/-60, markets are extended short term.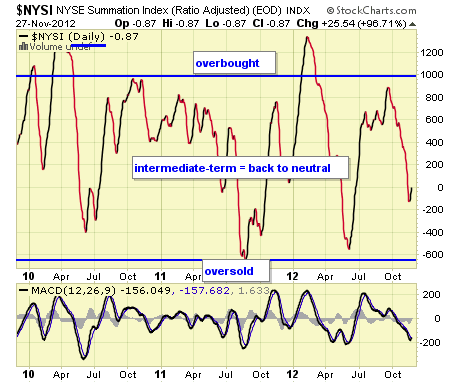 The McClellan Summation Index is a long-term version of the McClellan Oscillator. It is a market breadth indicator, and interpretation is similar to that of the McClellan Oscillator, except that it is more suited to major trends. I believe readings of +1000/-1000 reveal markets as much extended.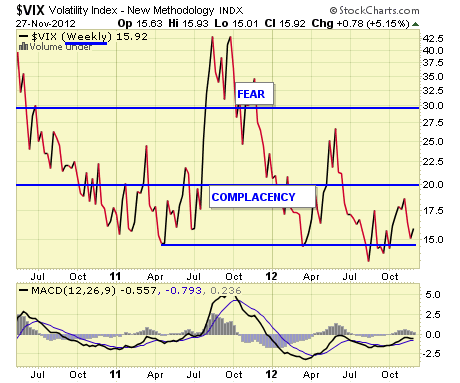 The VIX is a widely used measure of market risk, and is often referred to as the "investor fear gauge." Our own interpretation is highlighted in the chart above. The VIX measures the level of put option activity over a 30-day period. Greater buying of put options (protection) causes the index to rise.
Concluding Remarks
So Harry Reid annoys markets with some inflammatory rhetoric about the fiscal cliff and markets freak out. (You have to wonder sometimes if these guys are trading markets.)
Simon Potter, who is head of NY Fed Critical Markets Group, states the Fed must watch markets closely to judge effectiveness of activity. Potter also runs POMO activities, and most likely is the "go to" person to launch in any market (stocks as well) intervention. So it's not so much about jobs as it is about stocks than it would appear.
Wednesday is New Home Sales and later in the afternoon, the Fed's Beige Book.
Disclaimer: The ETF Digest maintains an active ETF trading portfolio and a wide selection of ETFs away from portfolios in an independent listing. Current "trading" positions in active portfolios, if any, are embedded within charts: Lazy & Hedged Lazy Portfolios maintain the follow positions: VT, MGV, BND, BSV, VGT, VWO, VNO, IAU, DJCI, DJP, VMBS, VIG, ILF, EWA, IEV, EWC, EWJ, EWG, & EWU.
The charts and comments are only the author's view of market activity and aren't recommendations to buy or sell any security. Market sectors and related ETFs are selected based on his opinion as to their importance in providing the viewer a comprehensive summary of market conditions for the featured period. Chart annotations aren't predictive of any future market action rather, they only demonstrate the author's opinion as to a range of possibilities going forward.
Disclosure: I have no positions in any stocks mentioned, and no plans to initiate any positions within the next 72 hours. I wrote this article myself, and it expresses my own opinions. I am not receiving compensation for it. I have no business relationship with any company whose stock is mentioned in this article.