When insiders add to their holdings, this can often be a very compelling reason for investors to keep their eyes on the corresponding company stock. Usually operating as directors, large owners, and officers with greater insight into the company than the typical individual investor, insiders often have a better sense of when to move their money to capture value. For this reason, I want to focus on a few cases of significant (although somewhat odd) insider purchases made over the last week.
A Case For A Speculative Buy
Lady Luck has strayed far away from American Superconductor Corporation (NASDAQ:AMSC), a global provider of wind and power grid products and services. In 2011, the company fell victim to one of the worst cases of corporate sabotage in recent history, as it was undermined by former Chinese customer Sinovel. Since then, the company has struggled to stay afloat after being betrayed by its largest client, which once accounted for 80% of its business revenues. Perhaps this is what makes the most recent insider purchase by Kevin Douglas something worthy of mention.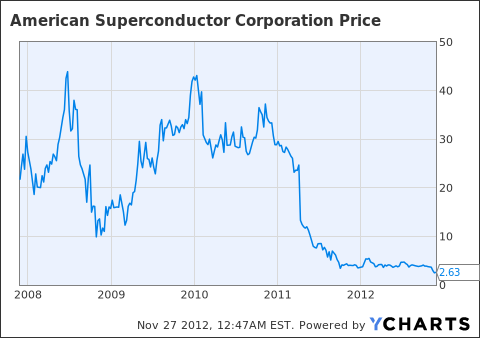 Kevin Douglas is a 10% owner in the company who caught the wrong end of fortune prior to American Superconductor's downward spiral. Even amidst the initial outbreak of the news in April 2011, he bought the company's stock by the millions. Yet it wouldn't be until September 2011 when all was made clear as to what had happened that he would continue to average down his position. More importantly, it wouldn't be until November 21 of this year when he would inexplicably add even more shares. In the latest filed Form 4 found here, Kevin Douglas recently added 161,964 shares at a purchase price of $2.56 for a total value of $414,879.
A possible clue as to his most recent action may lie in the ongoing litigation proceedings the company is now pursuing. American Superconductor is actively pursuing damages that amount to $1.2 billion in the Chinese courts. Perhaps progress on this front could make the company something similar to a lottery ticket going forward. As stated in the most recent conference call found here, the company may have some good news in store:
"Time will tell, but we're pleased to see the litigation moving along. As a reminder, the vast majority of the expenses related to our litigation against Sinovel are already behind us. Future legal fees will primarily be on contingency and will be tied to proceeds from either a judgment or a settlement." - Daniel McGahn, CEO
A Case For Future Income Growth
As a manufacturer and developer of electronic gaming equipment and systems worldwide, International Game Technology (NYSE:IGT) specializes in casino-based gaming systems such as slot machines and progressive jackpot systems. Listed on the NYSE, the company annually rakes in revenues of nearly $2 billion. Currently supporting a market capitalization of $3.49 billion, the company sports a price-to-book ratio of 2.94 and a price-to-sales ratio of 1.64 as of November 26.
On November 20, company director Philip Satre indirectly purchased 37,750 shares of common stock at $13.25 per share, according to the filed Form 4 found here. In total, the transaction amounted to a significant value of $500,187. Most importantly, the transaction marked the first open market transaction conducted since fellow director Greg Creed purchased $29,800 worth of stock in August 2011. With the large purchase and long gap between insiders willing to buy on the open market, perhaps there's something to be said as to why Philip Satre felt compelled to make his purchase.
The most logical reason for this atypical purchase appears to rest in the recent news of the company's increased dividend. International Game Technology has been growing its earnings in recent years, and its cash flows have been more than adequate to raise the dividend. Yet as seen in the following historical dividend chart, the company has had a lengthy lag in raising its yield. Now with a mere 28% payout ratio, the company's recent dividend raise may be the first of many increases to come, as had once been the case in years past.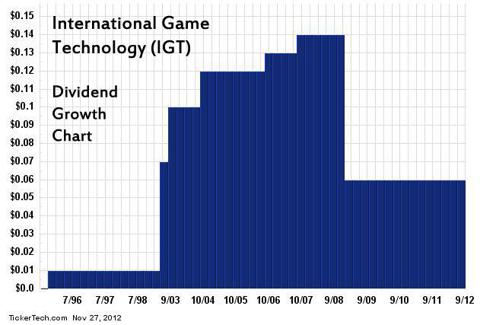 A Case Of Ongoing Insider Persistence
When insiders continue with repeated buys, conviction alone merits additional investigation. Two such companies that have shown such trends are DaVita HealthCare Partners Inc. (NYSE:DVA) and Opko Health, Inc. (NYSEMKT:OPK). In each instance, persistent insider purchases have been seen from 10% owner Berkshire Hathaway (NYSE:BRK.A) and Opko CEO Phillip Frost, respectively. Each has continued to provide justification for increased investor interest in the two companies.
Signed by Warren Buffett and Marc Hamburg on November 26, as seen on the filed Form 4 found here, Berkshire Hathaway bought another round of shares in DaVita from November 21 through November 26. A combined 412,050 shares purchased for roughly $110.39 per share means the total purchase value amounted to $45.48 million. Altogether, Berkshire now beneficially owns 12,293,053 common shares of DaVita. Since November 1, Berkshire has added over 814,000 shares to its holdings.
On the other hand, CEO Phillip Frost has routinely been very aggressive with his purchases into his own company Opko Health. As seen on the latest Form 4 found here, Frost recently added another 25,000 shares for a total value of $112,000. Since the beginning of November alone, the CEO has made over $2.72 million in purchases of Opko common stock.
Disclosure: I am long AMSC. I wrote this article myself, and it expresses my own opinions. I am not receiving compensation for it (other than from Seeking Alpha). I have no business relationship with any company whose stock is mentioned in this article.