In my recent update, I said that Chinese steel prices were stagnated and seemed to be sliding down. This slide has steepened. This is very relevant because a number of worldwide markets can be affected by the Chinese steel market.
First of all, although Chinese steel saw a recent recovery from its lows, the recovery was fed by news -- not a fundamental change -- even if China's PMI has improved somewhat. This set the stage for what we're seeing now, a renewed slide, as the market's fundamentals and low capacity utilization both worldwide and in China reassert themselves.
This is how China's benchmark rebar steel prices are looking right now, on a monthly and yearly timeframe (Source: Bloomberg):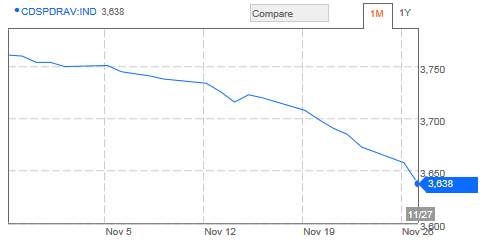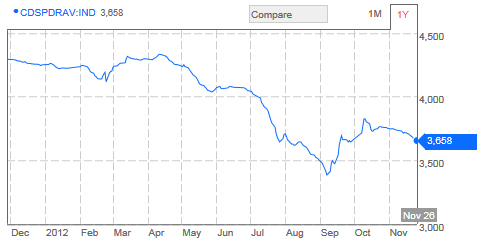 Predictable Impacts
As I said, China's renewed steel price slide has impacts far and wide. Among others, we can expect an impact on:

Iron ore
Foreign steel producers
Mining equipment suppliers
The Australian dollar

Let's go over each of these.
Iron Ore
Iron ore is obviously the most affected commodity if Chinese steel falls. Large foreign suppliers, by order of exposure (from least exposed to most exposed) are BHP Billiton (NYSE:BHP), Rio Tinto (NYSE:RIO), Vale S.A. (NYSE:VALE), Cliffs Natural Resources (NYSE:CLF) and Fortescue Metals Group (OTCQX:FSUGY).
It's to be expected that iron ore pricing will simply follow steel pricing.
Foreign Steel Producers
Steel is a worldwide market. Excess supply in China, or in China plus Europe, is bound to sour pricing and margins worldwide, especially taking into account that China holds almost 50% of the entire world's steel production capacity.
As such, China steel pricing resuming its downward trend is a renewed negative for steel producers everywhere, including the U.S. This is a net negative for steel shares such as U.S. Steel (NYSE:X), AK Steel Holding Corporation (NYSE:AKS), Nucor Corporation (NYSE:NUE) and ArcelorMittal (NYSE:MT). An added problem might be that since there's a worldwide oversupply, the situation might persist until some capacity is withdrawn through bankruptcies.
Mining Equipment Suppliers
Iron ore's investment boom has lasted almost an entire decade. It's now the single mineral accounting for most of the investment in mining, surpassing copper. As such, any impact from the Chinese steel market on iron ore can also have a significant impact on investment intentions by iron ore producers, and thus, an important impact on mining equipment suppliers such as Caterpillar (NYSE:CAT) and Joy Global (NYSE:JOY). Indeed, the first ramifications of such an impact can already be seen in both these companies' reduced earnings estimates.
The Australian Dollar
Finally, there's a forex angle for these developments as well. Australia is highly reliant on mineral exports, with iron ore representing one-fifth of its exports and coal a further 15% of such exports. Australia's reliance doesn't end there. Its economy has benefited strongly from the mining investment boom, so any cooling of this boom would make for a double hit on its economy, lowering exports and investment at the same time.
Indeed, regarding exports, the impact is already ongoing, given iron ore's slide. But if the Chinese steel price slide resumes and accelerates, this effect will also materially worsen.
Taking into account these effects, it's clear that the Australian Dollar (NYSEARCA:FXA) is yet another potential victim of this renewed trend.
Conclusion
The slide in Chinese steel prices is steepening again, with negative implications for many assets, including iron ore and iron ore producers, worldwide steel makers, mining equipment makers, and even the Australian dollar.
Disclosure: I am short AUD/USD. I wrote this article myself, and it expresses my own opinions. I am not receiving compensation for it (other than from Seeking Alpha). I have no business relationship with any company whose stock is mentioned in this article.