I have followed Lender Processing Services (NYSE:LPS) for a little over two years. It all started soon after LPS sold off swiftly in the wake of disclosures regarding "foreclosuregate" in late September, 2010. At the time, I noticed that options traders were well ahead of the game by loading up on puts ahead of the news. From that point until early this year, options trades, calls and puts, have provided excellent signals for LPS's future direction. The last of the bulk calls expired in June and LPS managed to increase another 38% to a 18-month high in mid-October. That peak happened to coincide with LPS's price right before the first foreclosuregate-inspired sell-off. LPS is now down 19% from its 2012 high after what I think was a strange post-earnings sell-off on October 31st. Not only was options trading inactive going into earnings, but also a read through the earnings results seems to reveal no smoking gun. Even short interest dropped to new lows ahead of earnings.
First the charts…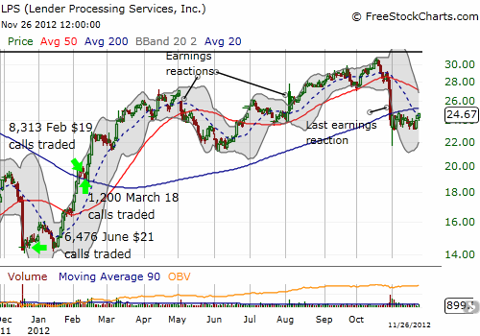 LPS breaks down below 200DMA support after reporting earnings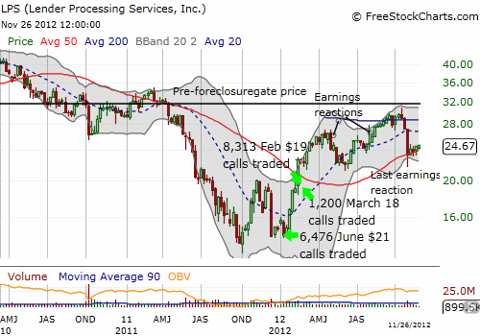 The recovery in LPS this year stopped just short of recapturing all foreclosuregate losses.
The post-earnings sell-off lasted for two brutal, high-volume days with the stock finally bottoming at $21.68 - a 21% post-earnings loss. The sharp rebound that day has all the look of a wash-out of sellers even though high-volume selling temporarily returned the following day. Making a wash-out slightly more likely is that Goldman Sachs (NYSE:GS) downgraded LPS to neutral that day as well. The stock has failed to make any progress since then. In fact, the 200-day moving average (DMA) has formed solid resistance over this time. With the 50DMA now turning downward and looming above, there is notable risk in the stock until it overcomes this resistance. Nevertheless, the case for preparing to buy back into LPS starts with a valuation that is already relatively attractive.
LPS remains largely within historical valuation ranges. While the current trailing P/E of 46 is skyhigh compared to a previous (annualized) high of 13.9, the forward P/E is a very reasonable 9.2. The current price-to-sales (P/S) ratio is 1.0 compared to a range of 0.6 (in 2011) to 1.7 (in 2009). Price-to-book (P/B) is high at 3.8 but at the low-end of the historical range of 2.6 to 14.7.
Next, a brief look at the last earnings report and a review of the transcript from the earnings conference call demonstrated to me that LPS is still moving past its foreclosuregate burdens and operating at a high level, especially given the context.
LPS issued the following guidance for Q4:
"Based on the current environment, the company expects fourth quarter 2012 revenue to be in the range of $475 million to $495 million and adjusted net earnings per diluted share to be in the range of $0.65 to $0.69."
This guidance implies $2.03 - $2.05B in revenue for 2012, a slight decrease from 2011 revenue of $2.1B. The guidance implies net diluted EPS of $1.45 - $1.49, a 28% increase from 2011′s GAAP $2.68 diluted EPS (the company has focused on increasing operating margins). LPS also continues to generate strong cash flow: $69.2M in the third quarter brings the total for the first 9 months of 2012 to $252.8M. LPS explained its results in the conference call:
"We expect demand for our Technology, Data and Analytics solutions to remain strong with revenue about flat with third quarter. We expect refinance origination volumes to remain elevated, although down slightly in the fourth quarter. At the same time, we expect foreclosure activity to continue to be under pressure and Default Services revenue to decline…

…Over the past weeks, the origination forecasts have been increased substantially. The MBA, for example, is now predicting refinance volumes will be down about 36% in 2013, compared to about 60% in their previous forecast…

While the inventory of seriously delinquent loans remained high, third quarter industry-wide foreclosure filings were down 5% sequentially, hitting a post-2007 low point. We continue to expect the vast majority of the roughly 3.5 million seriously delinquent loans to eventually go through the foreclosure process. However, the timing of sustainable volume flow remains unclear…So we remain cautious about the near-term outlook and we'll manage our business and cost to current volumes."
Analysts on the call expressed some surprise at the third quarter results but nothing alarming. For example:
"…the Default Services revenue, still the sequential decline there was surprising because it's generally tracked your foreclosure starts…the question is did they fall off a cliff in September? And is anything changing as far as your revenue opportunity per foreclosure?"
LPS responded as follows:
"…our revenue was actually pretty much in line with our guidance in the second quarter with one exception. I think we had expected industry volumes to be roughly flat, second Q to third quarter, and expected our revenue to be down because we are selectively moving away from certain low-margin, high-risk contracts. The only thing that was different is we were a little lower than expected, but that was largely because industry volumes actually did decline in the third quarter versus the second quarter. So we're pretty much where we expected to be in the third quarter."
The conversation continued by revealing an estimated loss of $20-30M per quarter in revenue from the exit of low-margin contracts in Transaction Services. In another exchange, LPS noted that growth in its Technology, Data and Analytics (TD&A) and Origination Services (excluding appraisal management) businesses will more than make up for the sluggishness on the foreclosure and refinance side of the business.
LPS also continues to make good progress in settling its various legal issues. The company clarified that the $196M set aside in reserve is to cover all legal costs: "It encompasses the state AG issues, the U.S. Attorney investigation, as well as the Consent Order." One more part of the foreclosuregate story closed last week as Reuters reported:
"Lorraine Brown, 56, the former president of LPS Document Solutions, part of Lender Processing Services Inc, pleaded guilty in U.S. District Court in Jacksonville, Florida, to conspiracy to commit mail and wire fraud from 2003 to 2009. LPS was not charged with wrongdoing. It said in a statement that it fired Brown and shut down her unit's operations when it discovered the fraudulent practices in November 2009. It said it has fully cooperated with all government investigations into these matters."
Brown also pleaded guilty to charges in the state of Missouri. She has agreed to cooperate with the Feds as they pursue other individuals involved in the fraudulent foreclosure practice of "Facsimile Signature" or "Surrogate Signing."
With no smoking gun coming from the earnings report, I looked at the market's reaction to earlier earnings from CoreLogic, Inc (NYSE:CLGX). CLGX is a related company to LPS as it "provides property, financial and consumer information, analytics, and services to mortgage originators and servicers, financial institutions, government and government-sponsored enterprises, and other businesses…" CLGX reported earnings a few days before LPS on the evening of October 24th. The stock had a strange reaction to increased guidance on earnings and revenue. The following day, CLGX gapped up 10.2 % only to close the day with a loss of 11.1%. CLGX has since recovered most of those losses from the massive fade. Given this trading action, I have to conclude that what happened was mostly profit-taking.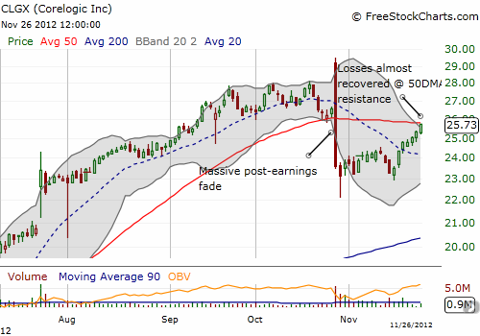 CLGX is clawing back from a massive post-earnings fade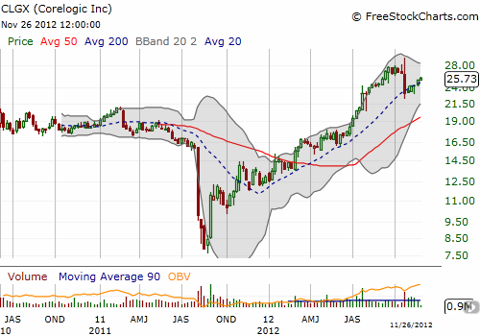 Weekly view shows a stock that was an incredible bargain at one point in 2011
Source for charts: FreeStockCharts.com
Perhaps then the selling in LPS was also motivated largely by profit-taking. Time will soon tell. In the meantime, I am looking for the next entry point to buy LPS. The stock gets very attractive on another pullback to around the low 20s or high teens.
Finally, note that shares short in LPS dropped to its lowest level in over two years just ahead of earnings. Again, this drop is not what I would expect if the market anticipated trouble in LPS's business. Short interest is now just 1% of LPS's float. The chart below covers over three years of short interest in LPS (the stock began trading the summer of 2008). Shorts peaked in 2010 after the foreclosuregate disclosures. Short interest peaked in 2011 at an even higher level in the middle of the summer swoon that year that impacted the entire stock market. Shorts have been closing shop ever since. I will of course start to worry if the bears start ramping up their bets one more time (and I will likely change my tune if a bulk number of puts trade in the stock again).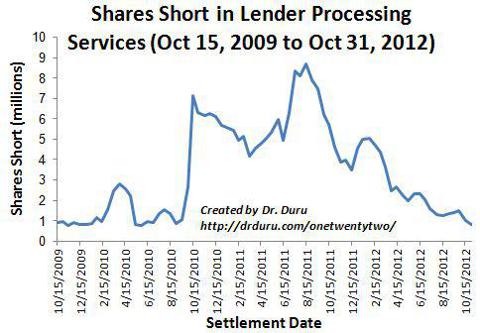 Shares Short in Lender Processing Services (Oct 15, 2009 to Oct 31, 2012)
Source: NASDAQ.com Short Interest
Be careful out there!
Disclosure: I am long GS. I wrote this article myself, and it expresses my own opinions. I am not receiving compensation for it (other than from Seeking Alpha). I have no business relationship with any company whose stock is mentioned in this article.
Additional disclosure: I may initiate long position in LPS over the next 72 hours.