In late July, Cognizant Technology (NASDAQ:CTSH) was consolidating after a steep post-earnings sell-off in May. At the time, I argued this marked an opportunity to start accumulating the shares (see "Planning To Accumulate Cognizant Technology Even As It Fights To Hold 2-Year Lows"). The trade paid off much faster than I expected once CTSH soared after its August earnings and soon ran up to its 200-day moving average. I decided to sell in anticipation of a pullback but instead CTSH went on to fill the May earnings gap.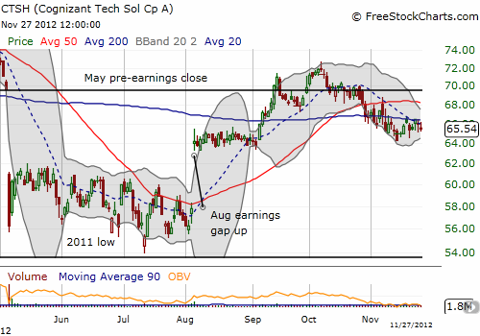 Cognizant Technology is cooling off again
Source: FreeStockCharts.com
As the chart above shows, CTSH has now returned to the point where I sold it. It is also now in a precarious trading position having broken its 50DMA again and now selling just under the 200DMA. Heavy options trading is emphasizing the alarm bells.
On Tuesday, November 27th, 4083 options contracts sold at the December $62.50 strike against open interest of only 431 contracts. I am assuming most of these will convert into open interest given CTSH barely budged on the day. I highly doubt these options were sold for a premium given the high of only $0.65 per contract. Options sold for premium by bullish traders and investors are more likely to occur close to the current trading price, like the December $65 puts which closed at double the price of the December $62.50s. Instead, these trades have every appearance of speculators trying to get ahead of a large sell-off. With just over three weeks to go until expiration, time will soon tell whether this signal materializes into anything.
This bearish trade sticks out particularly given the relative benign, even bullish, options setup on CTSH before Tuesday's trade. From Schaeffer's Investment Research:
Put/call open interest back to 0.91, well off the recent spike to 1.50 in mid-October. CTSH sold off almost 10% over the next month or so.
Analysts remain staunchly bullish with 19 strong buy ratings and 2 buy ratings versus 1 hold and no sells.
Volatility index has imploded back to 0.22, a 52-week low, after naturally spiking ahead of earnings earlier this month.
Short interest is down to at least two year lows.
In other words, the swell in put trading for near-month expiration stands in such stark contrast to all the other signals that it makes a lot of sense to sit up and take note. Depending on what news unfolds between now and the December options expiration, I will prepare for accumulating shares into a sell-off. I will welcome the opportunity to participate again in CTSH's long-term uptrend at cheaper prices.
Be careful out there!
Disclosure: I have no positions in any stocks mentioned, but may initiate a long position in CTSH over the next 72 hours. I wrote this article myself, and it expresses my own opinions. I am not receiving compensation for it (other than from Seeking Alpha). I have no business relationship with any company whose stock is mentioned in this article.