The offshore drilling sector continues to strengthen, as indicated by recent developments at Pacific Drilling (NYSE:PACD) and Transocean (NYSE:RIG). This is evident in the new contracts that both firms have received. These new contracts carry increasing dayrates or, in Pacific Drilling's case, a dayrate that is substantially above its peers. These increasing dayrates will serve to increase revenue, cash flow, and earnings at both Pacific Drilling and Transocean. Additionally, investors in other offshore drilling companies could also indirectly benefit from these trends. This is because dayrates are based on, among other factors, the supply and demand balance of the worldwide fleet. While company-specific factors are certainly involved and do play a role, this is truly a sector in which a rising tide lifts all boats (or rigs...).
On Thursday, November 16, Pacific Drilling announced that it has secured a contract for its newbuild drillship Pacific Khamsin. The contract is with Chevron (NYSE:CVX) and calls for the rig to conduct a two-year long drilling assignment off of the coast of West Africa. The contract also provides Chevron with an option to increase the length of the contract to three years; however, Chevron must exercise this option prior to the time that the rig leaves the shipyard and is delivered to Pacific Drilling. Chevron will provide total compensation to Pacific Drilling of approximately $527 million over the initial two-year term of the contract. This works out to a maximum potential contract revenue of $722,000 per day. Considering that this figure includes the only mobilization and demobilization fee (there is no performance bonus), it carries one of the highest dayrates that has been seen since the Great Recession. This provides evidence that the dayrates for offshore drilling rigs, particularly ultra-deepwater rigs, are climbing.
Further evidence of the strengthening offshore drilling market can be obtained from Transocean's most recent fleet status report. This report provides a summary of four new or changed contracts that Transocean has received over the past month. Every one of these changes resulted in increased revenues for Transocean. Three of the four rigs that witnessed a contract change saw an increase in its dayrate. The fourth is an old rig that saw its contract dayrate decline; however, the customer held an option for its new contract so it may not be directly comparable. Here are the contract changes that the company saw over the past month:
Discoverer Americas: Awarded a two-year contract for work in the U.S. Gulf of Mexico at a dayrate of $600,000. This is an increase from the rig's prior dayrate of $509,000.
GSF Grand Banks: Awarded a 32-month contract for work offshore Canada at a dayrate of $410,000. This is an increase from the rig's prior dayrate of $297,000.
GSF Monarch: Awarded an 18-month contract for work in the U.K. sector of the North Sea at a dayrate of $162,000. This is also an increase from the rig's prior dayrate of $95,000.
Transocean Winner: Customer exercised an option to use the rig to drill six wells in the Norwegian sector of the North Sea. The rig will carry a dayrate of $461,000 during this assignment.
These rigs are of types that span the market. The Discoverer Americas is an ultra-deepwater drillship, GSF Grand Banks and Transocean Winner are both midwater semisubmersibles, and the GSF Monarch is a high-specification jack-up. Thus, the fact that all but one of these rigs (Transocean Winner) experienced a dayrate increase over the past month indicates a strengthening market in all offshore environments. Seadrill (NYSE:SDRL) stated that it intends to use the proceeds from the sale of its tender rig division to invest in the improving market for ultra-deepwater and jackup rigs. The increases in dayrates that Transocean has seen thus provides some support for Seadrill's decision to expand its presence in this market. Seadrill is confident that the current upcycle is just getting started and these recent developments offer some support for its convictions.
There is more evidence that points to a strengthening market for offshore rigs. Here are the worldwide dayrates for all floating (drillships and semisubmersible) rigs:

Source: RigLogix
As this chart shows, the average dayrate for an ultra-deepwater drillship, defined as a drillship capable of operating in more than 4,000 ft. of water, is $457,000. The Pacific Khamsin and the Discoverer Americas are substantially above this. This also provides more evidence that dayrates are increasing. This is because the figures in the table are not just for new contracts but an average dayrate for every drillship operating anywhere in the world. Many of these are operating on contracts that were signed years ago or that were signed during the preceding downcycle. The fact that new contracts are carrying dayrates significantly above the worldwide fleet average indicates that dayrates are increasing.
The GSF Grand Banks and the Transocean Winner are both semisubmersibles that operate in up to 1500 ft. of water. This rig class has an average dayrate of $298,000. As with the drillships, this provides evidence that dayrates for this type of rig are also increasing. The GSF Grand Banks and Transocean Winner were both awarded dayrates that are well above this average. This average, like the drillship one, also includes older and less valuable contracts in addition to newer and more valuable contracts. Thus, the fact that Transocean's new contracts are at dayrates that are considerably above the average shows that dayrates for midwater rigs are on the upswing.
The same strength that is evident in the ultra-deepwater and midwater markets is expanding to the jack-up market, as evidenced by Transocean's contract for the GSF Monarch. Here are the average dayrates for the worldwide jackup fleet: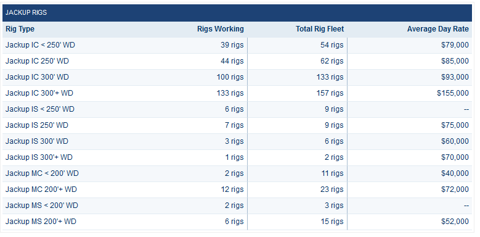 Source: RigLogix
The GSF Monarch is a high-specification jack-up rig, defined as an independent leg cantilever jack-up rig capable of operating in at least 350 feet of water. As the chart above shows, the average dayrate for this class of rig is $155,000. Transocean's dayrate is thus above this average, which indicates that jack-up dayrates are also moving higher. The dayrate that this rig was awarded does not appear to be significantly above the worldwide fleet average, at least not when compared to the ultra-deepwater and midwater rigs discussed earlier. This is due to the nature of jackup contracts. A typical jackup contract lasts for a relatively short period of time. The average length varies with the region, but it is typically no more than three years. In many areas, such as the Middle East, jack-up contracts have historically been for less than one year. That has begun to change, however. Compare this to ultra-deepwater rigs which typically carry contracts spanning several years. The point is that the jackup average dayrate includes fewer old contracts that would drag the average down. In April of this year, I posted an article that provided the average contract dayrate for a jackup rig. At the time, the average dayrate stood at $148,000. The fact that it now stands at $155,000 provides further evidence that dayrates are climbing.
Escalating dayrates are quite good for offshore drilling companies because they translate into higher revenue and, in most cases, higher cash flows and earnings. However, investors should choose the company that they invest in carefully. A company that has most of its fleet under long-term contracts already will not be able to take advantage of the higher dayrates because its rates are already locked in. Therefore, to profit from these rising dayrates, look for a company that either has a large number of contracts expiring over the next few years or has a large number of newbuilds relative to its rigs in operation. Seadrill and Pacific Drilling are two good choices. Ensco (NYSE:ESV) offers an excellent play on the jackup market, although a large number of its jackups are not the high-specification ones that are seeing the strongest demand. Rowan (NYSE:RDC) could also be a good way to bet on jackup rigs, although it is also being plagued with downtime issues.
Disclosure: I am long SDRL. I wrote this article myself, and it expresses my own opinions. I am not receiving compensation for it (other than from Seeking Alpha). I have no business relationship with any company whose stock is mentioned in this article.
Additional disclosure: I may take a long position in PACD on any weakness in the stock.