Apollo Residential Mortgage Inc. (NYSE:AMTG) is an REIT that invests in, finances, and manages RMBS, residential mortgage loans, and other residential mortgage assets in the US. It is externally managed and advised by ARM Manager LLC - an indirect subsidiary of Apollo Global Management LLC (NYSE:APO). As of September 30, 2012 AMTG's portfolio consisted of $4.23B in RMBS. Of these the fair value of the Agency RMBS was $3.67B, and the fair value of the non-Agency RMBS was $561 million. The CPR (Constant Prepayment Rate) of the Agency RMBS was an incredibly low 5.2% for Q3 2012. It was an even lower 3.4% for the non-Agency RMBS. AMTG has managed this great result by owning good amounts of HARP and low balance RMBS. The average cost basis of the Agency RMBS was 107%. The average cost basis of the non-Agency RMBS was 66%, so there is a lot of room for profit in this area.
The pie chart below shows ATMG's portfolio distribution at the end of Q3 2012.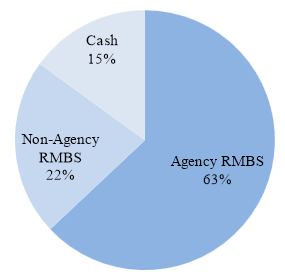 AMTG targets a 60% Agency, 30% non-Agency, and a 10% cash equity allocation. By using this allocation ATMG has been able to achieve the remarkable blended interest rate spread seen in the table below.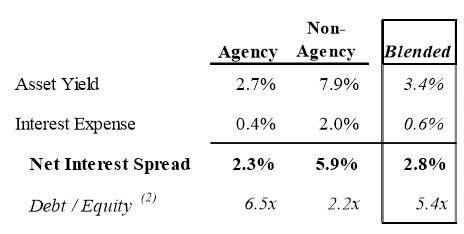 The Agency interest rate spread was 2.3% for Q3 2012. The non-Agency interest rate spread was 5.9%. The blended interest rate spread was an impressive 2.8%. If you consider AMTG accomplished this while many peers saw Agency interest rate spreads of 1.5% or even lower, you have to be truly impressed with ATMG's accomplishments. This speaks extremely well of the management.
The financing was done with repurchase agreements. The cost of the agreements was 0.4% for Agency related repos and 2.0% for non-Agency related repos. The blended cost was 0.6%. The Agency RMBS interest rate risk was mitigated with 5 year interest rate swaps. The overall leverage was a relatively safe 5.4x.
Perhaps the biggest highlight from Q3 2012 was the 13.3% increase in the dividend from $0.75/share to $0.85/share. The book value also saw a huge 9.2% sequential increase from $19.65/share to $21.46/share. Some of this was made possible by the sales of RMBS, which had appreciated measurably in value. AMTG sold $674.3 million in RMBS for a gain of $13.9 million or approximately $0.57/share. Given the tightening interest rate situation due to the Fed's new QE3 program, one might have thought operating earnings would have fallen sequentially in Q3 2012. However, this is just another area in which AMTG excelled. It grew operating earnings per share by 1.5% from $0.66 in Q2 2012 to $067 in Q3 2012. While many of its peers saw falls in operating earnings, AMTG truly impressed with a gain. It is a buy in this tough environment. The management team has shown that it knows what it is doing.
The two year chart of AMTG provides some technical direction to this trade.
(click to enlarge)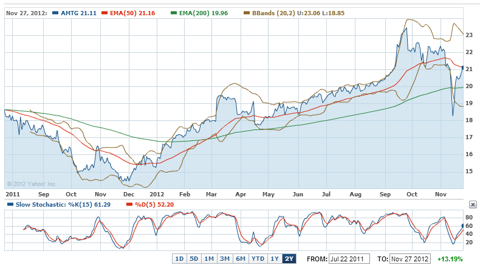 Click to enlarge
The slow stochastic sub chart shows that AMTG is neither overbought nor oversold. The main chart shows that it is in a weakening long term uptrend. Near term AMTG has just bounced upward dramatically. It may have a little farther to go after its stellar results reported Nov. 6, 2012. To know just how stellar these results were you just need to look at the CPR rates of a few competitors. For instance, American Capital Agency Crop. (NASDAQ:AGNC), which also had good Q3 results, had a CPR of 9.0% and a net interest rate spread of 1.5%. Capstead Mortgage Company (NYSE:CMO) did less well with a CPR of 18.7% and an interest rate spread of 1.3% in Q3. You can begin to see just how good AMTG's results were.
Still the OECD just warned of a global recession due to the continuing EU crisis and US fiscal policy risks. Both Morgan Stanley (NYSE:MS) and Goldman Sachs (NYSE:GS) seem to have negative views on the current market valuation. This all means that you should be very judicious in any buying you do. AMTG looks great; but you probably want to average in around the fiscal cliff results. Still that 16%+ dividend looks incredibly attractive. Plus AMTG does have a five star CAPS rating. Still you want to consider that Dr. Shiller (of Case-Shiller) said recently that he does not see a housing recovery yet.
Good Luck Trading.
Disclosure: I have no positions in any stocks mentioned, but may initiate a long position in AMTG over the next 72 hours. I wrote this article myself, and it expresses my own opinions. I am not receiving compensation for it (other than from Seeking Alpha). I have no business relationship with any company whose stock is mentioned in this article.