On November 27, 2012, ConAgra Foods (NYSE: CAG) announced that it was acquiring Ralcorp Holdings (NYSE: RAH). This will make CAG the biggest private-label food producer in North America, with sales of almost $18B annually. RAH was acquired for $90 per share, giving shareholders a nice +20% premium to where it was trading.
The rumors of RAH being acquired by CAG have been known for years. This wasn't the first time CAG tried to buy RAH. Back on June 24, 2010, CAG mentioned it was in acquisition mode. Analysts immediately figured RAH was on the block. On May 1, 2011, CAG tried to originally acquire RAH for $4.5B (Source: Capital IQ). RAH's board members unanimously rejected the offer, citing that it was not in the best interest of the shareholders. CAG was determined to buy RAH and just three days later, CAG increased the offering by $200M to $4.7B. Management believed that the merger would create "$250M in annual cost savings by the third year after closing, improve sales and EPS growth rates, as well as improve operating margin" (Source: Capital IQ).
A few months had passed by and on August 11, 2011, CAG revised the offer again to buy RAH for $5.2B in cash. This equated to $94 per share for RAH. RAH would turn down the offer on September 19, 2011. Just under a year later, CAG was rumored to be trying to acquire RAH again on August 23, 2012 (Source: Capital IQ). Finally, on November 27, 2012, it was announced that CAG would acquire RAH for $90 per share or $5B (which amounts to $6.9B including liabilities).
It sounds weird, right? The implied multiples for the two acquisition attempts are shown below (Source: Capital IQ):

Why would RAH turn down the $94/share deal and then accept a $90/share deal just over a year later? The first potential answer is the Post Holdings (NYSE: POST) divestiture. However, POST was operating as its own entity as of February 3, 2012 and this can't be the full answer by itself even if it was the case.
Upon reading through the Q3 2012 conference call, a reader would find a weak quarter. Private brands are a $100B industry, with RAH representing 6% of the market. Between 2001 to 2011, management at RAH said that the company's organic net sales grew at a CAGR of 3.6%. The results for the quarter though were weak and could show a sign of the business slowing down.
The company is known to grow via acquisitions, such as Refrigerated Dough and Petri. Volumes grew 2% as a result, but the base business volume was down 6% due to the loss of a Bloomfield customer and the needed increase in prices to offset strongly rising raw material costs. Raw material costs have plagued the food industry. The year 2012 was not as bad as 2011 though in terms of input costs.
Evidence of this is shown via other food producers like General Mills (NYSE: GIS), H.J. Heinz (NYSE: HNZ), and McCormick Inc. (NYSE: MKC). Consumers did what they naturally do when food producers raise prices: Cut back. Usually this cut back only lasts a year before normal volume returns. RAH saw sharp declines in consumer purchases of peanut butter and snack nut products due to the price increases.
Management even said that by excluding those factors, the "base business line was down 2%". Gross Profit Margin declined 100 bps during the quarter. The good news was that management was targeting cost saving initiatives, just like many other food producers. It decided to consolidate its three business units into one single center store for private brands on October 1. Guidance for FY13 was that input costs would be lower by 1.5% to 2.5%. Corn prices though increased this summer due to the drought in the U.S. crop belt. Corn is a major input for a company like RAH, as corn jumped 23% during the first three quarters of 2012. Wheat is the second largest input for RAH, which was up 17% since early July during the earnings call.
It seems to me that RAH was struggling to grow and create value for shareholders after the POST spin-off. The company is generating decent cash flow from operations, but last year's cash flow from operations is inflated due to the POST spin-off. If one were to back out the $367.5M (net of income taxes) cash inflow due to the spin-off, cash flow from operations was only $138.2M. Overall, this would have led to a cash decrease of ~$345M. This would have meant that management would not have been able to pay down the $348M in long-term debt that it did.
Overall, this acquisition may turn out to be a great deal for both sides. However, it is possible that CAG overpaid for a slowing company. The private-label trend is a fantastic business to be in but had to increase prices due to cost pressures. Brand-name labels had already increased their labels prior to the private brands.
The question really remains for those interested: Who's going to be acquired next? This is the juicy part of the food and beverage businesses. These companies are all seen as defensive in nature with modest returns. With interest rates being low and many companies in acquisition mode to boost future growth and return for shareholders, the acquisition era in the food business is not out of gas yet.
I ran a screen for companies in the food and beverage space in the United States that had a market cap north of $250M, an EV/EBITDA under 12, estimated 1-year EPS growth rate of 1%, and a P/E ttm under 25. The results I got were the following (excluding CAG and RAH - Source: Capital IQ):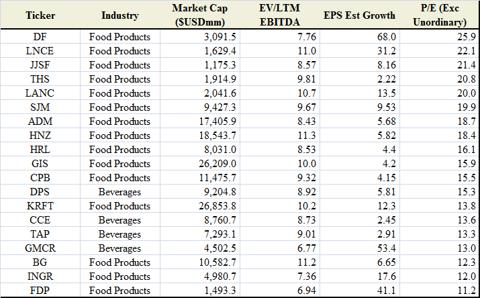 There are a few names right away that will not be acquired due to their size, were recent spin-offs, or can't be acquired due to regulation purposes. J.M Smucker (NYSE: SJM), Archer Daniels Midland (NYSE: ADM), HNZ, GIS, Campbell Soup (NYSE: CPB), Dr. Pepper Snapple (NYSE: DPS), Kraft (NYSE: KRFT), Coca-Cola Enterprises (NYSE: CCE), Molson-Coors (NYSE: TAP), and Green-Mountain (NYSE: GMCR), will not be acquired due to any one of the three reasons mentioned. The one's that are intriguing though are Dean Foods (NYSE: DF), Snyder's-Lance (NASDAQ:LNCE), J&J Snack Foods Corp (NYSE: JJSF), Treehouse Foods (NYSE: THS), Ingredion Inc. (NYSE: INGR), and Hormel Foods (NYSE: HRL). The reasons these are interesting are their smaller size and brands that they have. DF is projected to grow EPS 68% next year and is only at 7.76 EV/EBITDA!
THS and INGR are the most intriguing to me out of this group. THS has had a forgettable year as a stock. However, this has left valuation compelling given the private-labels that it offers for canned soups, dressings, sauces, cereals, dips, jams, pickles, and various other products. Cash flow from operations has been steadily increasing over the last 5 years, but stalled as of late. It would give a larger company cash inflow and private-label brands.
The more intriguing company though is INGR. INGR generates 61% of its revenue from outside the U.S., with 39% of it coming from Brazil, Mexico, Korea, and Argentina. INGR is estimated to grow 17.6% next year and is only trading at 12x earnings. The company manufacturers sweeteners used in many food and beverage products, including in glucose corn syrups, high maltose corn syrups, high fructose corn syrup, cooking oil, dressings, gluten feed, and many industrial and food-grade starches. Customers are in the food, beverage, brewing, pharmaceutical, paper, animal feed, corn oil, and personal care markets. INGR has $716M in ttm cash flow from operations, based off of $411.3M in net income. It has been increasing its capital expenses since 2009 (in fact at double what 2009 was). Debt is only 42% of capital, which is in-line with the industry norm. Net income has improved from 2009 by over 500 bps. It also pays a respectable 1.6% yield currently. To me, INGR smells like a buyout for a company like HNZ, which is looking to expand its emerging markets exposure. However, notice I said, "like HNZ". The CEO of HNZ, William Johnson, recently said that acquisitions would be smaller and classified as 'bolt-on'.
Two not included on this list due to the EV/EBITDA, EPS growth, and P/E requirements, are Monster Beverage (NYSE: MNST) and Diamond Foods (NYSE: DMND). These two companies could conceivably be acquired. MNST would be acquired by Coca-Cola (NYSE: KO) due to the energy drink growth and market share. KO's own brand has been struggling against MNST and has rumored to be a buyer in the past. Given MNST's beat-down due to regulatory concerns, KO could be ready to pounce. This comes with the recent FDA announcement that it has found nothing wrong with energy drinks at this point.
DMND is a very troubled company. In this recent article I wrote, I show that the brands are worth more than the stock price. Whether that value is ever realized is unknown as the recent accounting scandal and poor performance of the nut business by DMND shown in its recent results, is a huge detriment to DMND being acquired. If things start to turn around, expect Oak Tree Capital to buy them out.
The food and beverage sub-sectors are nothing to yawn at. There is a lot of movement going on here for long-term potential. There are three ways to increase value for shareholders: Dividends, buybacks, and acquisitions. Acquisitions give the long-term potential, especially as the initial cash outflow in a basic NPV model is so low due to the low costs of borrowing.
Disclosure: I am long HNZ, MKC, DMND. I wrote this article myself, and it expresses my own opinions. I am not receiving compensation for it (other than from Seeking Alpha). I have no business relationship with any company whose stock is mentioned in this article.