We've all seen it, we've all heard it. McDonald's (NYSE:MCD) has been struggling for most of 2012 and it appears it's not going to get any easier in the short-term. While I'm a big believer in McDonald's over the long-term, I think there will be issues moving ahead for the fast-food giant.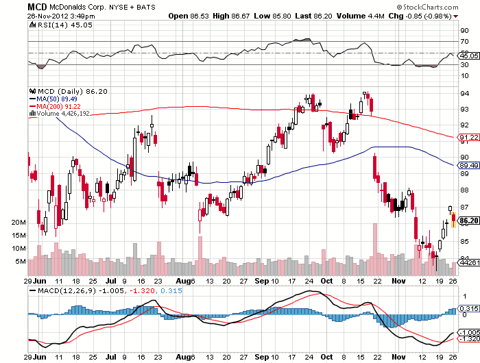 Source: StockCharts.com
Wendy's (NYSE:WEN) and Burger King (NYSE:BKS) have been able to render their own versions of the Dollar Menu, something that McDonald's has paraded for years, which has allowed them to claw back the market share that McDonald's has dominated for years.
It has also seen increased pressure from more than just the mainstream fast-food conglomerates. More specifically, companies like Chipotle Mexican Grill (NYSE:CMG), Panera Bread Company (NASDAQ:PNRA), and even Starbucks (NASDAQ:SBUX) seem to be grabbing market share from the king of fast food.
The issues are beginning to compound for McDonald's because each bit of market share that's grabbed by a different competitor, quickly adds up to be a lot of lost market share for it. Burger King even admits that its new menu items look quite similar to McDonald's and with the addition of breakfast items - something McDonald's has dominated alone for years - makes the competition even more fierce.
With customers already going to Starbucks for coffee and with a wide selection of al a carte items available, a stop at McDonald's might move to the back of customers' minds, rather than being the next stop on the way to work. Tim Hortons (THI), while much smaller, with a market cap of $7.18 billion compared to McDonald's $86.25 billion, has put together a pretty solid menu as well. With good coffee and healthy, tasty meals, Tim Hortons might be an alternative for customers too.
Aside from McDonald's blundering year, Yum! Brands (NYSE:YUM) is all the talk for 2012. Up over 25% year-to-date at the time of this writing, Yum! has had tremendous success since PepsiCo (NYSE:PEP) spun off its restaurant business, which of course, is now known as Yum! Brands. Yum! is comprised of Pizza Hut, Taco Bell and KFC, as well as some other smaller units. With Yum! Brands' explosive growth, coupled with increased competition from Burger King and Wendy's, and wider selections for customers at Starbucks, Chipotle Mexican Grill and Tim Hortons, McDonald's is in a bit of a pinch.
Now what's the one thing investors don't want to see at a time like this and after a year like 2012? That's right, insider selling. But from October 22 through November 9th, that's exactly what we saw, lots and lots of insider selling. Below is a graph displaying this recent selling:

Source: E-trade
As you can see on the graph above, insiders at McDonald's have unloaded plenty of shares in the last month, something that has likely attributed to the weak price action as of late. While selling can be for a number of personal reasons, it is usually not encouraging to see waves of insiders unloading. Below is a chart of all the insiders that sold in the period between October 22nd and November 9th:
| | | | | |
| --- | --- | --- | --- | --- |
| Insider | No. Of Shares Sold | Market Value | No. Of Shares Held | Date |
| Roger Stone | 10,000* | $847.2K | 0 | 11/9/12 |
| Tim Fenton | 28,315* | $1.3 Million | 39,944 | 11/1/2012 |
| Jose Armario | 40,568 | $3.5 Million | 29,071 | 11/1/2012 |
| Gloria Santona | 17,000 | $1.5 Million | 56,485 | 10/31/2012 |
| Gloria Santona | 44,522 | $3.9 Million | 73,485 | 10/24/2012 |
| Donald Thompson | 42,300* | $3.7 Million | 51,305 | 10/24/2012 |
| Janice Fields | 50,090 | $4.4 Million | 39,930 | 10/22/2012 |
| Douglas Goare | 14,199 | $1.3 Million | 17,501 | 10/22/2012 |
| | | | | |
| Totals | 246,994 | $20.45 Million | 307,721 | |
(*) Indicates this sale was planned. Figures without an asterisk would indicate an unplanned sale.
As you can see on the chart, these insiders have been dumping loads of shares from their holdings, 44.5% to be exact. This figure is derived from the number of shares sold (246,994), subtracted from the total number of shares that were held before the sale, which was 554,715. This figure was derived from adding the total shares sold and number of share still held (246,994 + 307,721 = 554,715).
44.5% is a lot for insiders to be selling, especially when the stock has performed so poorly as of late. While insider selling does not necessarily indicate the future movement of the stock price, it isn't very encouraging either, at least in the short-term. It's also discouraging that Santona, Thompson, Fenton and Armario are four of the top five top insiders, by share count.
The most recent issue has been the slowing sales growth McDonald's has experienced, recently posting its first drop in ten years. At first thought, many would pin Europe for the sluggish sales, but everyone contributed. Asia, the Middle East, Africa and even America all contributed to the -1.8% sales drop.
This isn't a play that's meant to make traders a quick buck in the next week or two. This is positioning investors in a long-term company with the potential to maintain a high return on investment. Jeff Stratton, the new U.S. president of McDonald's, will look to make changes at the slowing McDonald's, which will hopefully fuel sales in the coming quarters.
I expect to see increased pressure from competitors and by no means think McDonald's has experienced healthy price action lately. The chart is ugly, but this sell-off is definitely a gift for long-term investors, in my opinion. With McDonald's now yielding over 3.50%, I think it has become an income and a value play. A look at my recent article, shows the amazing 29% dividend growth rate McDonald's has provided shareholders over the past decade.
I think McDonald's is cheap on a number of metrics and with a P/E of 16, is now lower than YUM! and Starbucks, which have P/E ratios of 22 and 28, respectively. While it may take some time to regain traction, and while same stores growth may remain low or negative, I think this is an early Christmas gift for investors willing to hold for 5-10 years or more. I will be looking to establish a long-term position shortly, amidst all the short-term turmoil.
Disclosure: I have no positions in any stocks mentioned, but may initiate a long position in MCD over the next 72 hours. I wrote this article myself, and it expresses my own opinions. I am not receiving compensation for it (other than from Seeking Alpha). I have no business relationship with any company whose stock is mentioned in this article.