We are bullish on Duke Energy (NYSE:DUK) as it is a low risk, high return story. It has an attractive dividend yield of 5.1% and a beta of 0.15. The company also has cheap valuations, reflected in its low forward P/E of 13.75x.
Duke energy is among the largest utilities in the US. It has operations in the US and Latin America. The company operates under three reporting segments. It has approximately 7 million US customers and a power generation capacity of 37000 MW.
Key Performance Drivers:
DUK has a couple of pending rate cases, including cases filed with North Carolina Utility Commission and Public Utility Commission of Ohio. A favorable outcome of these cases can have a significant positive impact on the company's top line.
It is anticipated that synergies from the recent merger with Progress Energy will improve DUK's bottom line.
3Q 2012 Results:
Duke Energy announced its third quarter results in the second week of November. These were the first consolidated results since the company's merger with Progress Energy in July this year.
Total revenue for the quarter was $6.72 billion, beating the consensus estimates of $6.3 billion. DUK's EPS was down 2% YoY; however, the company was able to beat the estimates by 3 cents. In the recent third quarter, the company benefited from revised customer rates, which was partially offset by unfavorable weather conditions.
We analyzed the performance of the different reporting segments of the company and our observations are as follows:
The International Energy segment's EBIT for the quarter decreased 10% YoY to end up at $103 million. The decrease in EBIT was mainly due to fluctuations in foreign exchange rates. The US Franchised Electric and Gas segment reported an EBIT of $907 million. The segment was driven positively by price increases and improved efficiency. The Commercial Power segment reported an EBIT of $31 million, down from $74 million in the same quarter of the previous year.
The table below shows the margins for the company.
| | | |
| --- | --- | --- |
|   | 3Q 2011 | 3Q 2012 |
| Operating Income Margin | 19% | 16% |
| Net Income Margin | 11% | 9% |
Source: Earnings release and Qineqt's calculations.
The company reaffirmed its adjusted earnings guidance in the range of $4.2 to $4.35 per share. Analysts are expecting earnings per share of $4.28 for the current fiscal year.
Merger:
The company is to benefit from the expected synergies from the merger with Progress Energy. Operational and maintenance cost savings are expected to be $359 million, whereas fuel savings are expected to be more than $600 million. The company aims to achieve these synergies through a larger scale of operations.
Rate Cases and Regulations:
Last month, the company filed a rates case, requesting a net increase in retail revenue of $359 million, with the North Carolina Utility Commission (NCUC). Hearings for the case are expected to begin in March 2013, and if the decision given is in favor of Duke, the new rates are expected to be effective from mid 2013. Looking at Duke's commercial businesses, we find that the company has filed a request with the Public Utility Commission of Ohio for the recovery of cost based capacity. A hearing for the case is scheduled in April 2013.
Due to its international exposure, the company is vulnerable to the proposed 20% electricity tariff reduction in Brazil. However, it will not have much of an impact on the company's operations as they are all being conducted under contracts till 2014. Almost 60% of the company's operations are being conducted under contracts in 2015 and 2016.
Debt:
Duke Energy has a debt to equity of 95% and it aims to maintain its investment grade credit rating. Currently, the company has a credit rating of BBB+. Moreover, it has a decent interest coverage ratio of slightly more than 5x.
Dividends:
Duke Energy has a strong history of paying dividends. Currently, it offers an attractive dividend yield of 5.1% and has a payout ratio of 83%. Quarterly dividends have increased from $0.66 per share in 2008 to the current level of $0.765 per share. This represents an annual dividend growth rate of almost 4%.
The chart below shows the dividend coverage of the company in the last four years. The robust dividend coverage ratio reflects that the dividends being offered are sustainable.
(Dividend coverage = Cash flow from operations /dividends paid)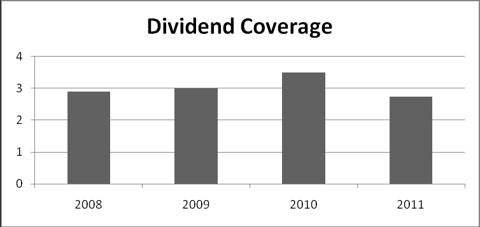 Source: Qineqt's calculations.
Valuations:
| | | | | |
| --- | --- | --- | --- | --- |
|   | Forward P/E | PEG | P/B | Debt to Equity |
| DUK | 13.75x | 4.6 | 1x | 95% |
| Southern Company (NYSE:SO) | 15.1x | 3.1 | 2x | 110% |
| Wisconsin Energy Corp. (NYSE:WEC) | 15x | 2.8 | 2x | 120% |
| Edison International (NYSE:EIX) | 17.5x | 6 | 1.4x | 125% |
| Average | 15.9x | - | 1.7x | 115% |
Source: Yahoo finance
Duke is currently trading at a discount when compared to its competitors. It has a forward P/E of 13.75x and a P/B of 1.0x, as compared to its competitors' average of 15.9x and 1.7x, respectively. Moreover, Duke has a lower debt to equity of 95% compared to its competitors' average of 115%. The company has an expected annual growth rate of more than 3% for the next five years.
Using competitors' average P/E of 15.9x and Duke's forecasted consensus EPS for 2013 of $4.39, we get a price target of $70 per share. This provides investors with an upside potential of 16%.
Disclosure: I have no positions in any stocks mentioned, and no plans to initiate any positions within the next 72 hours.
Business relationship disclosure: The article has been written by Qineqt's Utilities Analyst. Qineqt is not receiving compensation for it (other than from Seeking Alpha). Qineqt has no business relationship with any company whose stock is mentioned in this article.