While this year's presidential election was critical to the economic future of the US, it posed particularly significant ramifications for the healthcare sector and its investors.
After pushing the Patient Protection and Affordable Care Act [PPACA] through Congress in his first term, President Obama knew it was vital to win re-election and maintain control of the Senate to prevent a rollback of his landmark reform. Republicans had made it clear that repealing the PPACA would be one of their first priorities, if given control of the government.
On November 6, the American electorate decisively re-elected the president. In the Senate, the Democrats picked up two seats and expanded their thin majority, to 55-45. Although Republicans maintained firm control of the US House of Representatives, the GOP's aspirations of repealing "Obamacare" are dead.
Over the next four years, changes under the PPACA will become entrenched in the American health care system. On January 1, 2014, the individual mandate requiring all Americans to carry health insurance or pay a penalty to the federal government will come into force.
On that day, US companies with more than 50 employees will find themselves facing a "play or pay" mandate, requiring them to offer health insurance to employees or pay stiff penalties. The first state health insurance exchanges also are slated to open for business and Medicaid will see a radical expansion of its rolls.
Thanks to those new rules, it is estimated that as many as 32 million Americans will find themselves newly insured in 2014. All those covered patients will be a boon for the American healthcare system, especially since the population is rapidly aging.
Healthcare costs are expected to account for one-fifth of US gross domestic product by 2021 (see "Health Sector: In the Pink"). As healthcare companies compete for their share of this huge and growing money pool, the PPACA and other actions by Congress have created winners and losers.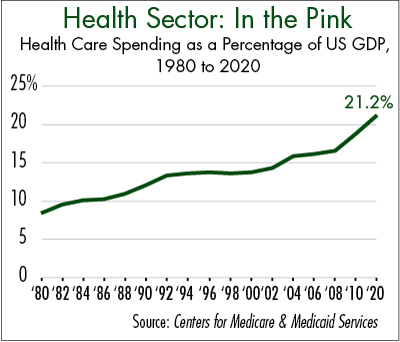 The Winner
America's hospitals are the most salient beneficiaries of the PPACA. The day following the election, shares of HCA Holdings (NYSE:HCA), the largest for-profit hospital system in the US with 163 facilities throughout the country, gained nearly 10 percent.
Regardless of whether a hospital system treats it as charity care or simply uncollectable debt, unreimbursed medical attention is a major expense for hospital operators. According to data from the American Hospital Association [AHA], uncompensated care on average accounts for about 6 percent of total hospital expenses.
In 2009, the latest year for which the AHA has complete data available, that amounted to more than $39 billion across its member hospitals. As a result of the recession and high unemployment, it's estimated that uncompensated care topped $45 billion last year.
HCA reserves about 9 percent of revenue in an average quarter for doubtful accounts, stemming from a federal law that requires all hospitals accepting federal funds to provide stabilizing treatment to every patient who comes through the doors. Without having to reserve so much against losses on uninsured care, HCA should see an almost immediate pop of at least 6 percent in revenue in the first quarter of 2014.
Given that HCA has proven extremely adept at controlling costs-it has one of the highest operating margins in the business-the positive effect could be even greater.
The Losers
While I disagree with Wall Street's assessment that most insurers involved with Medicare and Medicaid will be losers, this negative view is on target when it comes to most medical device companies.
Medical device manufacturing includes everything from artificial joints to hip replacements to heart stents. As part of the PPACA's funding mechanism, makers of medical devices will be subject to a 2.3 percent tax on device sales.
Lawmakers' rationale is that device makers will compensate for the tax with a higher volume of sales, but the new tax is likely to prove a major headwind regardless of whether more devices are sold.
Most recipients of artificial knees and hips tend to be older Medicare patients. Hospitals purchase the devices and pass the costs along to patients, making these purchases extremely cost sensitive because hospitals receive a fixed reimbursement from the government that will soon be subject to caps.
While the tax is kicking in, device manufacturers will also get hit with intensifying price competition, making it nearly impossible to pass along additional costs.
Consequently, a wave of consolidation is likely to occur in the medical device business over the next couple of years, as those with the strongest balance sheets either acquire or simply outlast their weaker competitors.
To grow earnings in the intermediate term, device makers will be forced to cut costs and buyback shares, a course of action many of them won't be able to afford.
Companies such as Stryker Corp (NYSE:SYK), which have low debt and broader exposure to foreign markets, should emerge from this transition period relatively unscathed. In addition, Stryker offers a broad line of medical equipment not subject to the tax, such as surgical tools and hospital beds.
Still, the entire device industry will experience a great deal of volatility, thanks to uncertainty in the market generated by the tax. This healthcare niche should be avoided by all but the most aggressive investors. For more winning and losing stocks under Obamacare, see Jim Fink's excellent July, 2012 article titled, Medicaid Nation.
Disclosure: I have no positions in any stocks mentioned, and no plans to initiate any positions within the next 72 hours. I wrote this article myself, and it expresses my own opinions. I am not receiving compensation for it. I have no business relationship with any company whose stock is mentioned in this article.