By Mitchell Hall
Caterpillar stock (NYSE:CAT) is scraping its 52-week low of $78.25, trading at $84.54 at the time of writing. This is down from its 52-week high of $116.95, and CAT has been recently downgraded by JP Morgan Chase from overweight to neutral. Is the blue chip emerging markets play still a good bet?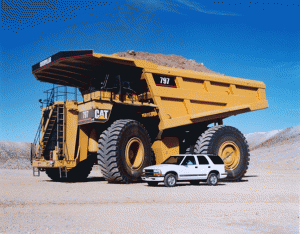 Blue skies ahead for CAT?
That depends. Caterpillar stock is being weighed down by reduced CAPEX in miners like (NYSE:VALE), combined with a large inventory overhang, and declining sales in China. Two thirds of its revenue comes from international markets, which in case you haven't noticed, haven't been doing so well lately. President Obama's re-election bodes well for green energy but poorly for the coal industry, which could hurt CAT's future revenues. Third quarter results were disappointing.
Seeking Alpha reports that a JPM analyst has reduced Caterpillar's FY12 earnings per share (NYSEARCA:EPS) estimate to $9 from $10.92, arguing that CAT does not have the balance sheet cushion to support share repurchases as a means to bolster the EPS.
"In the near term, the picture looks bleak", says Morningstar analyst Adam Fleck. "Many leading indicators for China's industrial economy have slowed materially over the past few months."
For those with a slightly longer term time horizon however, the skies look brighter. China's recently announced $250 billion infrastructure spend will start showing up next year, which should make a positive dent in Caterpillar's inventory overhang in the market. Brazil's infrastructure spending is already showing up in purchases.
In America sales of CAT equipment and machinery rose 9% in the third quarter. U.S. companies in October increased their orders of machinery and equipment that signal investment plans by the largest amount in five months, a hopeful sign for future economic growth.
The current P/E of 8.6 is at bargain basement historic lows, and lower than the P/E average of 11 for industrials.
The 2.5% dividend yield for Caterpillar stock will help you outpace inflation while you wait for future economic growth. The stock's five-year average dividend growth rate is an enticing 7%, and earnings are expected to grow 23% this year despite the stock's low valuation.
For those who don't want to wait, there's also an options play on Caterpillar stock you can take right now.