As a leading supplier of materials used to remove wastes from the blood of kidney disease patients on dialysis, Rockwell Medical (RMTI) is gearing up to introduce two new therapies to the dialysis market in the next two years: an iron drug candidate and a generic vitamin D.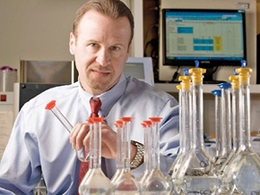 Rob Chioini
(Glenn Triest/Crain's Detroit Business)
"We think we can take a significant piece of these two markets based on benefits to patients and cost savings to the industry," CEO and founder Rob Chioini says in an interview with BioTuesdays.com. "Both of these products would move seamlessly into our existing customer base and through our current distribution channels servicing our operating business, so we expect to incur a minimal expense in the process."
Seventeen-year-old Rockwell currently manufactures and sells what's known as dialysate, a mixture of the company's bicarbonate and acid concentrates, such as sodium chloride, dextrose, magnesium, potassium, calcium and citric acid, coupled with clean water at the clinic.
In dialysis, dialysate is used to draw fluids and toxins out of the bloodstream while infusing calcium and bicarbonate into the bloodstream. This is a process that keeps patients with kidney failure alive, while hopefully they receive a kidney transplant at some point.
With a fleet of more than 50 tractor trailers, the company sends boxes of dialysate powder to dialysis clinics across the country where they get mixed with water into a liquid to treat patients. Rockwell's hemodialysis concentrates business, along with ancillary products, is cash flow positive on revenue of some $50-million a year. DaVita, which owns about one-third of the dialysis clinics in the U.S., is Rockwell's biggest single customer, accounting for approximately 45% of sales.
Rockwell and Germany's Fresenius Medical Care (OTC:FMCMF) are the two major manufacturers of hemodialysis concentrates in the U.S. However, Fresenius also owns about one-third of the dialysis clinics in the U.S. and supplies its own dialysate. "In the remaining two-thirds of the market, we have about a 40% market share," Mr. Chioini says.
2011 Dialysis Reimbursement Provides Additional Opportunity
Around 2008, Mr. Chioini moved Rockwell into the drug development business. He credits a change in dialysis reimbursement by the Centers for Medicare & Medicaid Services for improving the outlook of Rockwell's lead iron drug candidate and generic vitamin D. In January of 2011, CMS adopted a bundling plan for dialysis, making drugs a cost-center under the plan instead of the profit-center they had been, incentivizing clinics to cut costs.
"Prior to 2011, no generic drug had ever been used in dialysis and never would because clinics were paid more to use more expensive drugs," he claims. "Without the new reimbursement structure, our generic Calcitriol would never have gotten off the ground."
Rockwell acquired Calcitriol in the third quarter of 2011 and is preparing for a launch at the end of the first quarter of 2013. It will compete against two brand-name drugs - Zemplar and Hectorol - and address an approximate $350-million annual U.S. market for active vitamin D injection.
Mr. Chioini says Calcitriol will be the lowest-cost vitamin D generic on the market while matching the efficacy and safety of the name brands. "We'll be able to offer a more competitive cost-per-treatment price, which is the most important thing to the dialysis provider."
He figures that if Rockwell can get about half of its current customer base to purchase Calcitriol, the move would generate approximately $50-million in sales a year. "The difference is our concentrates are a low margin business, with gross margins around 15%, while Calcitriol is expected to generate 55% gross margins," he says. Calcitriol also gives Rockwell the potential to expand sales outside of its current customer base, selling to the entire dialysis market.
There are five stages in kidney disease, with dialysis being the final one for 400,000 patients in the U.S. now. Stages three and four afflict eight million people, with the U.S. market growing at 6% a year.
Rockwell's lead drug candidate is the company's main focus, and with it finds itself in the enviable position of having a major disruptive product for the dialysis market - Soluble Ferric Pyrophosphate (SFP) - which is completing two Phase 3 clinical trials. SFP is a continuous iron replacement treatment for use during dialysis and an alternative to existing IV iron therapy. In addition, SFP iron is a salt, without the carbohydrate shell of IV iron, and as a result, reduces the risk of anaphylactic shock associated with IV iron.
SFP iron simply replaces the 5-7mg of iron that is lost during the dialysis treatment
Mr. Chioini explains that patients lose five to seven mg of iron during every three-to-four hour dialysis treatment and they're generally on dialysis 156 times a year. SFP iron replaces the iron that is lost during dialysis. "It mimics the way healthy people receive iron in their diet and is the only iron in the world that can be delivered via dialysate," he contends.
IV iron, on the other hand, is administered once a week or once every two weeks and gets trapped in the liver, with maybe only about 20% getting out of the liver and into the bone marrow, where it joins with an erythropoiesis-stimulating agent (ESA), a drug called EPO, to form healthy blood cells and maintain normal hemoglobin levels. If hemoglobin falls, kidney patients are given additional iron and EPO.
Mr. Chioini says SFP is expected to significantly lower clinic costs by eliminating needles and syringes for IV iron, and reduce nursing time spent on dosing and anemia management of patients. In addition, SFP is expected to lower the use of EPO, and lead to significant costs savings for clinics.
EPO is one of four drugs used during dialysis and, at a cost of about $7,000 per patient per year, the most expensive. The others main dialysis drugs are IV iron, vitamin D and phosphate binders. "With approval of SFP, we would have two of the four drugs used in dialysis," Mr. Chioini notes. Replacing IV iron represents an estimated annual market potential of $600-million in the U.S. alone.
"Hopefully, we'll have some surprises in the future because we're working with companies to license SFP outside of the U.S., like in Europe and Japan," he says.
ESA Reduction + Hgb Increase Shown
Earlier clinical trials demonstrated that SFP, delivered during each dialysis treatment via dialysate, maintained optimal iron balance and had an excellent safety profile. Maintenance of iron improves the therapeutic response to ESA and decreases ESA doses needed to maintain hemoglobin in a target range in the body.
The first of Rockwell's two Phase III CRUISE studies will be completed in May of 2013, and the second in August. Mr. Chioini says the plan is to report data in October, file a new drug application before the end of 2013 and hopefully, be on the market during the second half of 2014.
Many dialysis providers are participating in the two pivotal trials. "If we get approval, we believe dialysis providers will use SFP because they will have had two years of experience with it and will have seen its benefit in their patients," Mr. Chioini says.
The company also expects to report data in the first quarter of 2013 from its PRIME marketing study, which is designed to demonstrate the reduction of ESA in SFP-treated patients versus IV iron. "If we can reduce ESA by 1% to 2%, that would be significant," Mr. Chioini says.

Annabel Samimy
In a recent report, Annabel Samimy, an analyst with Stifel Nicolaus, said positive PRIME data would represent a "transformational milestone for Rockwell because it [would] enable Rockwell to price SFP at a significant premium. If SFP shows 10% ESA-sparing, SFP can theoretically save about $700 per patient per year in costs of ESA, assuming an annual EPO cost of $7,000. Of that $700, Rockwell [could] share the savings with dialysis centers, resulting in improved SFP margins well above 90%."
She rates Rockwell as a "buy," with a $15 target price. The stock closed at $7.19 on Friday.
Disclosure: I have no positions in any stocks mentioned, and no plans to initiate any positions within the next 72 hours. I wrote this article myself, and it expresses my own opinions. I am not receiving compensation for it. I have no business relationship with any company whose stock is mentioned in this article.