Ball Corporation (NYSE:BLL) isn't a stock for those looking for emerging industry excitement. Instead, Ball is a proven company providing a necessary product to a stable and well established customer base.
The company's canning operations provide beverage and food companies with the ability to extend the shelf life of their product. Soups, vegetables, fruits, beer and soda are products reliant on Ball packaging.
It's a boring business. But, it's also a profitable business with clarity and few surprises. This gives Ball an advantage, providing it with opportunities to boost free cash and return more money to shareholders through future dividends and share buybacks.
The major catalysts set to boost earnings at Ball include:
A leaner, more margin friendly cost structure thanks to shrinking its North American 12 ounce can capacity;
A shift toward higher margin specialty packaging;
Emerging markets demand growth.
Cutting costs means earnings growth will outpace revenue growth.
The mature North American and European markets have decades of canning infrastructure and as trends shift toward developed market luxuries, such as on-the go serving sizes and eco-friendly packaging, this infrastructure outsize's demand.
Ball recognizes the shift and is freeing up cash flow by shuttering excess capacity, including the closure of two 12 ounce canning plants at the end of the year. Instead, Ball will focus more attention to its specialty can programs, which are growing.
At the same time its closing more expensive legacy capacity, its reinvesting in adding capacity in lower cost markets where emerging markets growth is helping fuel demand. While it may take time for all the benefits of its sharp pencil to drop to the bottom line, the company expects it will provide north of $25 million in savings.
Specialty packaging innovation helps mix, offering margin upside.
Right sizing portions is friendlier to plastics than metals, which presents challenges for Ball's rigid packaging products. Frost & Sullivan expect flexible packaging in North America will grow 3.8% to $30.63 billion in 2016, up from $25.4 billion last year.
But, with challenges come opportunity. Historically, Ball's customers have embraced canning for its utility. Today, they're focusing more on packaging as an integrated marketing solution. This trend is making margin boosting specialty containers the fastest growing segment in packaging.
As a result, Ball's innovation remains a key to improving price mix. While individual initiatives -- such as the company's new single serve wine containers -- won't move the needle on their own, they reflect a shift to earnings friendly value added products.
Such products include Ball's Alumi-Tek bottle, used for beer and energy drinks, and Eyeris graphics, which significantly enhances marketing power by printing photo quality images on cans.
To meet higher demand, the company expanded its re-closable Alumi-Tek production in Golden Colorado last year. Ball is also marketing the product to craft beer and soda makers. Additionally, the company has also had success with its new punch top cans for Molson Coors (NYSE:TAP), which it hopes to market to other customers too.
Now, let's take a look at Ball's customers.
The majority of Ball's revenue is generated from its canning business. And, the majority of this business is generated by a handful of the biggest food and beverage manufacturers in the world, many of whom have multiyear contracts for Ball's products. These companies aren't up and comers. Instead, they're proven leaders with significant global distribution, deep pockets and healthy balance sheets.
As a result, its unlikely Ball's customers are going out of business anytime soon. Instead, they're enjoying a bit of a growth renaissance.
Developed markets such as the United States and Europe offer little growth beyond product innovation. But, emerging markets are generating significant opportunity thanks to higher per capita income.
Higher incomes, represented in the following charts, are making countries such as China, Vietnam, Indonesia, India and Brazil hot spots for consumer goods growth.
GNI per Capita; PPP (US Dollar) in China
GNI Per Capita; PPP (US Dollar) in Brazil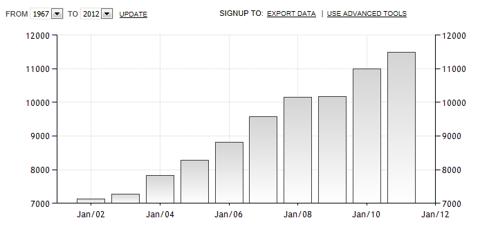 As emerging markets food processing shifts from manual labor to equipment, volume and pricing will help drive packaging demand - bullish for Ball's revenue.
Research firm Freedonia Group estimates worldwide sales of food processing equipment will grow 7.3% annually, reaching $53.3 billion in 2016. In China, sales will rise more quickly, increasing 9.5%. This increase in processing equipment should correlate to higher packaging volume over the next decade.
The potential for food and beverage companies overseas, and the nature of Ball's long term customer contracts, provide valuable insight for management. Contracts are negotiated to include inflation escalators to offset metal cost fluctuations, protecting margins. And, these contracts provide a level of confidence and insight necessary for effectively choosing capital spending products, such as new plants in China, Vietnam and Brazil. Such expansion helped Ball's global volume increase 7% in Q3 versus a year ago.
Ball Aerospace is a growing too.
In addition to canning vegetables and beverages, Ball operates an aerospace segment which sells specialty products to NASA and other Government agencies.
These products include satellites, sensors and antennas. Projects including the Solar TIM, a joint program from the NOAA, NASA and the USAF; participation in the F-35 Joint Strike Fighter and the James Webb Telescope helped the segments backlog climb 26% to $1.1 billion this year. This produced 5.3% year-over-year segment sales growth and an $800 million annualized sales run rate.
A look at Ball's recent revenue and numbers suggests upside.
The company's cost cuts, product mix and volume growth helped earnings per share increase 25% last quarter from a year ago, despite just 1% revenue growth.
The strength in volume, supported by emerging markets, and mix, driven by specialty products, has analysts expecting FY13 earnings will increase by 9% to $3.36 per share, up from $3.34 a month ago and following a 16% increase in 2012. With the company having beaten expectations in 3 of the past 4 quarters, we could see further positive analyst revisions next year.
The success is driving solid free cash flow, which Ball estimates near $500 million this year - most of which will return to shareholders via dividends and share buybacks.
Source: E.B. Capital Markets, LLC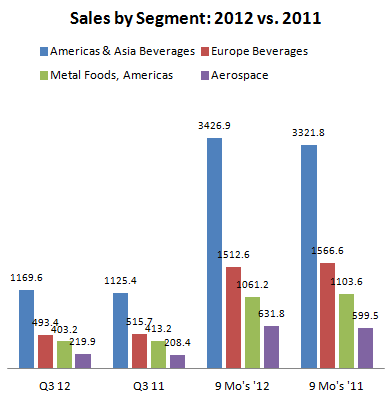 Q4 is historically a strong period for upside.
Ball shareholders have historically been rewarded in Q4. Over the past 10 years, shares have marched higher 9 times, producing a median return of 8.16%.
The company is also growing its aerospace business, which generates double digit margins and contributed $219.9 million of the company's in Q3 sales. The aerospace segment backlog has increased 26% this year to $1.1 billion.
Source: Seasonal Investor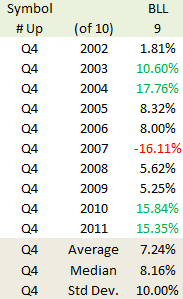 Relative to the S&P 500 ETF (NYSEARCA:SPY), alpha has been back end loaded with November and December both very strong.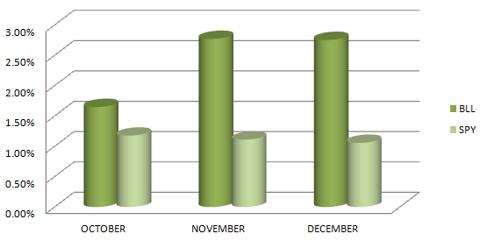 Additionally, with nearly 6 days to cover held short any positive news is likely to help support prices as short sellers unwind positions. At current 2013 consensus EPS expectations, which we think could trend higher, shares are trading 13.3x. If we assume investors will be willing to pay closer to 15x, which is what they're paying for current year EPS, we get a target price of $50.40, roughly 12.5% higher than current prices.
If our assumption is correct, lower fixed costs, higher average selling prices tied to specialty packaging and margin leverage thanks to emerging markets volume growth will allow Ball to continue to beat estimates and trend higher in 2013, making this a good time to buy shares.
Disclosure: I have no positions in any stocks mentioned, and no plans to initiate any positions within the next 72 hours. I wrote this article myself, and it expresses my own opinions. I am not receiving compensation for it (other than from Seeking Alpha). I have no business relationship with any company whose stock is mentioned in this article.