Background
A year ago, I would have been totally shocked to see Qualcomm's (NASDAQ:QCOM) market capitalization outpace Intel's (NASDAQ:INTC). Many seem to forget, but Intel was on a roll in 2011, smashing earnings estimates left-and-right, and ending the year with record sales (23% year-over-year growth!), gross margins, and profits. Intel showed its teeth as a well-oiled execution machine.
But 2012 has not been so kind to the company and certainly not to the shareholders of the company. While Intel's execution in its core businesses has been, once again, nearly flawless, the core businesses themselves began to show signs of weakness. PC sales are weakening, the data-center is growing but not as quickly as hoped (especially as mix shifted to lower ASP products), and Intel's mobile products have not yet had enough time in the market place to really be material to earnings.
To further add fuel to the fire, Intel's balance sheet has weakened slightly as it has been aggressively spending its cash, hurting "liquidation valuation". Not that Intel should be blamed for utilizing its cash, but it definitely makes investors a tad restless to not have valuation support provided by massive piles of cash. While other companies sit on big cash piles with no real use for it, Intel has been aggressively spending it in a lot of very interesting ways to fuel growth during 2012, including:
Buying a 15% stake in lithography tool vendor ASML Holdings (NASDAQ:ASML) in order to speed up the transition to 450mm wafers and EUV (the former is a gross margin improvement move, the latter is to enable future technological progress) for $4.1B
Buying InterDigital's (NASDAQ:IDCC) 3G/4G patents to bolster its foray into becoming a world-class wireless communications chip designer for $375M
Purchasing the engineering assets of and a patent license to the low power mobile graphics technology of ZiiLabs for $50M
While I and others are quite hopeful that Intel can resume a growth trajectory in 2013 and beyond with a healthier PC market, an increased presence in tablets and smartphones, and a vigorous defense of the datacenter business against ARM (NASDAQ:ARMH) based competitors, the market has rendered its verdict on Intel's valuation. Given today's data, Wall Street places Intel into single-digit P/E penalty box in anticipation of materially lower future earnings. If this turns out to be a temporary blip on an otherwise solid growth path for the company, I expect the share price to rebound into the $25 - $30 range over the next year as EPS increases and the P/E multiple expands. If the PC business is actually in structural decline and Intel is unable to offset the revenue lost there with expansion into other fields, then the share price will likely trade in the $19-$22 range for the foreseeable future.
So, what in the heck does this have to do with Qualcomm?
Qualcomm - 2012's Semiconductor Superstar
While Intel fell out of favor, Qualcomm has risen to take the place as the most valuable pure semiconductor company on the NASDAQ, with a market capitalization of $108B as of last close, versus Intel's $98B market capitalization. Note that Qualcomm's P/E is ~18 as of the latest close, a significantly richer valuation.
Qualcomm is in the same position that Intel was in last year; consistently beating earnings and setting records. The firm is led by a very focused and capable CEO who has been growing net-income and sales by double-digits each-and-every quarter during 2012.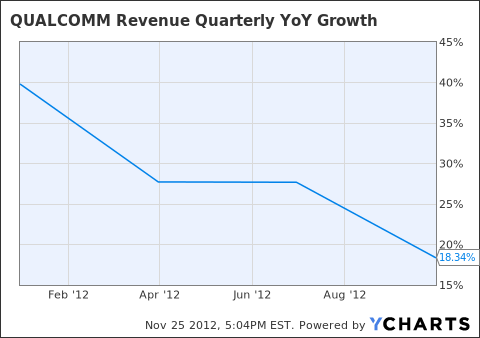 QCOM Revenue Quarterly YoY Growth data by YCharts
The bottom line growth has been driven primarily by licensing revenues from its wireless patent licensing division (QTL) while the top line growth has come more heavily from selling integrated circuits (modems, apps processors) for smartphones/tablets, among other wireless equipment technologies (QCT).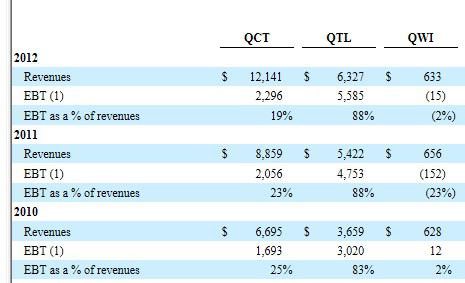 This is why Qualcomm's business model is not particularly capex intensive, nor is it particularly vulnerable in terms of competitive pressures in the near- to medium-term (although Nvidia, Intel, Samsung, MediaTek, and others are definitely starting to make progress against Qualcomm).
People seem to be under the impression that Qualcomm's actual chip business is what is "threatening" Intel, but it is clear from the financials that actually selling chips into mobile just isn't all that lucrative. This is why Texas Instruments (NYSE:TXN) jumped out of the fire, and likely why Intel did not aggressively pursue the segment for such a long period of time.
In short, Qualcomm profits from almost every wireless device sold out there. This is a very, very lucrative and high moat business.
Valuation: Lots Of Cash, Little Debt
Qualcomm has a fortress of a balance sheet. $26.8B in cash and $60M in debt. There's really not much more to say other than Qualcomm is very well positioned for the future. The company can afford to spend whatever it needs to in order to stay on top of the game with R&D, which is critical to sustaining the firm's business model. In addition, the firm has enough cash to acquire any company that it needs to stay very competitive or to grow into new, adjacent businesses.
Conclusion
Qualcomm now has the spotlight. It is superbly managed, derives the majority of its profits from licensing critical technology to a very fast growing industry, has a high quality balance sheet, and most of all, is quite in favor with Wall Street at the moment. On any significant pullback, it's worth a look.
Disclosure: I am long INTC. I wrote this article myself, and it expresses my own opinions. I am not receiving compensation for it (other than from Seeking Alpha). I have no business relationship with any company whose stock is mentioned in this article.
Additional disclosure: I am short ARMH