Early morning trading in the gold market today is providing another reminder of how volatile the yellow metal can sometimes be as the gold price plunged nearly $20 an ounce in a matter of minutes and then continued lower as shown in this three-day chart from Kitco below.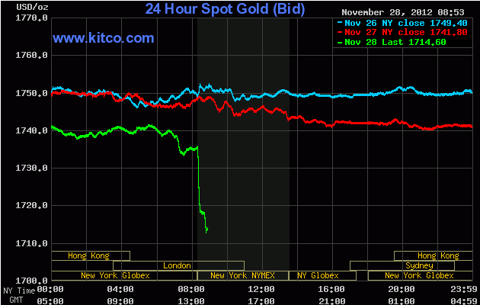 Click to enlarge
(Click to enlarge)
Most times, you never know what's behind a move like this, that is, other than the fact that there was a big mismatch in futures markets between the number and price of buy and sell orders, the latter winning out over the former.
To be sure, today appears to be a "risk-off" day as the price of stocks and commodities are moving broadly lower as the U.S. dollar strengthens, no doubt due to growing uncertainty around the world about how nations are dealing with their massive debts.
In Europe, traders appear less enamored with the latest Greek bailout deal than when it was first announced and the euro is tumbling against the dollar. After briefly topping the $1.30 mark yesterday, it's now down below $1.29, and, as noted in these commentaries many times before, it's exceedingly difficult for the gold price to do anything other than fall when the dollar strengthens.
Normally, the gold price doesn't fall this far this fast, but, it almost always declines when the dollar rises.
In the U.S., the reality of how difficult it is to deal with the budget appears to have sunk in up on Capitol Hill as elected officials aren't nearly as confident about making a deal to avert the looming "fiscal cliff". News reports that lead with the words "Little Progress" don't sit well with traders and, as year-end looms, more and more investors will choose to sell stocks in order to avoid the higher tax rate they'll pay if no deal is struck.
Of course, the gold price is not likely to stay low for long as there are a host of positive factors that should lead to a rebound. Just yesterday, holdings at the popular SPDR Gold Shares ETF (NYSEARCA:GLD) rose to a fresh record high of 1,346 tonnes per data at the company's website as shown below.
Long-term investors are clearly sticking with the precious metal.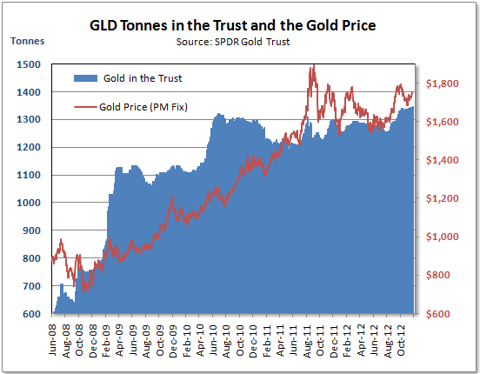 Click to enlarge
(Click to enlarge)
Also, November is the very best month of the year for precious metals, something that we've already seen evidence of in the last three weeks and, over the years, December has been quite good as well, notably two years ago in 2010 when the folks in Washington extended hundreds of billions of dollars in tax cuts and stimulus spending.
The Federal Reserve meets in less than two weeks and they're likely to announce another $45 billion per month in money printing to buy U.S. debt. This will be added to the current $40 billion per month in money printing to buy mortgage-backed securities and, based on what central bank officials have been saying recently, they may be creating a trillion dollars a year out of thin air for years to come.
This sort of thing is always positive for the gold price, though traders clearly aren't concerning themselves about it today. While market moves like this can be unsettling, they are really just a buying opportunity for the shrewd investor.
Disclosure: I am long GLD. I wrote this article myself, and it expresses my own opinions. I am not receiving compensation for it (other than from Seeking Alpha). I have no business relationship with any company whose stock is mentioned in this article. I also own gold coins.