MasterCard (NYSE:MA) is set to report earnings before the market opens on Monday, November 3rd. MasterCard Incorporated, together with its subsidiaries, provides transaction processing and related services to customers principally in support of their credit, deposit access, electronic cash and automated teller machine payment card programs, and travelers cheque programs.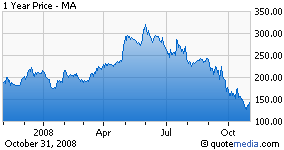 MA is expected to earn a profit of $2.25 for its 3rd quarter. We expect the processing company to announce earnings and provide guidance that will not live up to investors' and analysts' expectations.
With yesterday's news that the economy lost ground and consumers cutting spending at a 3.1 percent annual rate in the 3rd quarter, the biggest pullback since the recession of 1980, we don't see how MasterCard could avoid being pinched. Moody's recently reported,
"Credit card charge-off rates in the U.S. continued to rise in August and are expected to surpass the peak rate of charge-offs following previous recessions, according to Moody's Investor Services."
We understand that MA processes the transactions and doesn't issue credit; however, if the banks issuing credit are getting hammered, MasterCard will feel their customers' pain too. Business Week recently wrote about the impending problems with credit card defaults . The moral of the story is consumers feeling the heat will be less inclined to buy on credit.
MA's stock has recently reacted aggressively to the upside following its quarterly checkup. If we have made the Correct Call, MasterCard could trade near $120 per share.