Many investors believe that the fiscal cliff will be solved, and so do I for that matter. The question should be how it will be solved, and what type of impact will it have the markets? Equity and bond markets have a way of leading and discounting future news. Therefore, I always turn to the charts to see what the markets are communicating to us, and one sector that is standing out to me is the financials. This sector along with technology has always stood out to be a leading indicator for the rest of equities to follow. Whether it was the financial crisis in '08 or the debt downgrades of last year, financials should be monitored closely.
Let us start with one of the largest investment banks on the street, Goldman Sachs (NYSE:GS).
Take caution. Goldman Sachs has two very bearish potential setups here with a possible double top formation and a head and shoulders pattern. Looking at the head and shoulders pattern, the price target comes in at around the 200-Day Moving Average price of $109.00, which may act as a short-term support level.
Now let's take a look at the one the largest money centers in the world, the Citigroup Inc. (NYSE:C).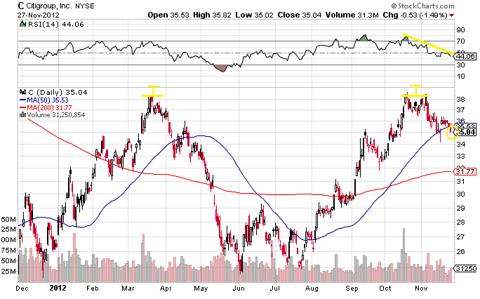 (Click to enlarge)
Citigroup is showing some very similar patterns that we saw in Goldman Sachs. Starting with a potential double top in this name, Citi looks to take the cliff lower. Citigroup closed below its critical 50-Day Moving Average which could act as a key level for lower prices to come. Some of these same warning signs came this past April and May when the market corrected 10%.
Lastly lets take a look at an international bank in the middle of the European Debt Crisis; Banco Santander (NYSE:SAN).
In previous writings, I would always look at the European banks to see whether the markets were likely to drop on some European news, and this time it appears to be no different. Banco Santander is trading in multi-year lower lows, and lower highs. Add to this bearish trend, the re-test of its critical 50-Day Moving Average. These together are very bearish. It appears that Banco Santander could potentially make a new low over the next few months at around $4.50 a share. This bank could be signaling a new twist in the European Debt Crisis, or potentially and fiscal cliff drop here in the United States. Either way, this chart is very bearish.
When asking yourself why these charts are so important, remember the true fundamental problems we have here in the U.S. and across the pond. The financial markets have a way of forcing politician hands of doing just something. It is clear to me that the markets and financials WILL force the hand the next couple of months to the politicians to do something. Unfortunately, this resolution may come after a nasty sell-off in the stock market.
Disclosure: I have no positions in any stocks mentioned, but may initiate a short position in GS, C, SAN, BAC over the next 72 hours. I wrote this article myself, and it expresses my own opinions. I am not receiving compensation for it (other than from Seeking Alpha). I have no business relationship with any company whose stock is mentioned in this article.