While we all have our ways of trying to determine if we're now in a recession or when the next recession is coming, it's simply very difficult to predict. The St. Louis Fed Research (FRED) website puts up a chart called: "Smoothed U.S. Recession Probabilities" that is quite good in my judgment.
This indicator has a very good track record in that whenever it has approached 20%, it has always resulted in a recession.
Here is the chart: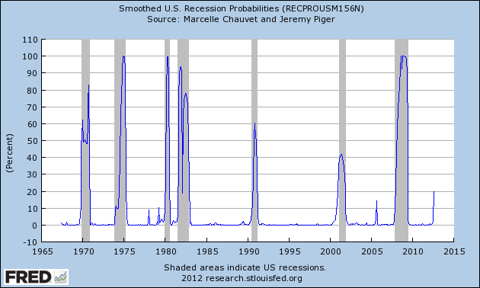 From the source of this chart:
"Smoothed recession probabilities for the United States are obtained from a dynamic-factor markov-switching model applied to four monthly coincident variables: non-farm payroll employment, the index of industrial production, real personal income excluding transfer payments, and real manufacturing and trade sales. This model was originally developed in Chauvet, M., "An Economic Characterization of Business Cycle Dynamics with Factor Structure and Regime Switching," International Economic Review (pdf), 1998, 39, 969-996."
The last reading of 19.56 for the month of August 2012 came on October 30. I'll be looking for the September reading to come this Friday, November 30.
In the event it shoots higher, as has always been the case in the past whenever it has approached 20%, I would say we're either at or very close to a confirmed recession.
Here is a chart I put together showing the aggregate total number of hours worked in the U.S. year-over-year percent change. I get this by multiplying the total number of employees by the average weekly hours worked and then calculating the percent change from a year ago.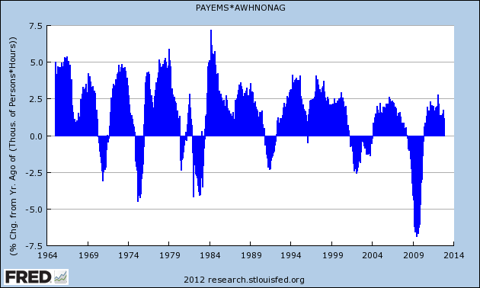 If this were a chart of the waves in the ocean, then right about now, I would be hunkering down because this next wave is about to come crashing down.
Historically, the stock markets don't like recessions.
I've included a chart of the S&P 500 with the U.S. Recession Probability chart to give a visual perspective on the relation between the two.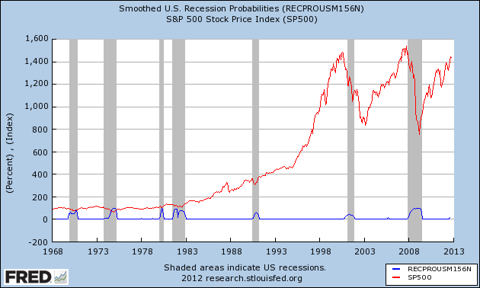 In the last 2 recessions, the performance of the S&P 500 post the month when the reading reached about 20 for the first time had started out rather flat in the initial months but then took larger dives 1 to 2 years out.
In December of 2000, the indicator hit 20.24%. The S&P 500 averaged 1330.93 for the month. The S&P 500 performed over the following time periods as follow:
1 month +0.4%
2 month -1.8%
3 month -10.9%
6 month -6.9%
1 year -13.8%
2 year -32.4%
The January 2008 reading of the U.S. Recession probabilities was 24.06%. The S&P 500 performed over the following time periods as follows:
1 month -1.7%
2 month -4.4%
3 month -0.6%
6 month -8.8%
1 year -37.2%
2 year -18.5%
This most recent reading of 19.56 comes from August. The S&P 500 averaged 1403.44 for the month of August.
The performance since then is as follows:
September +2.8%
October +2.4%
November -1.0% (based on average of 1389.84)
In conclusion, when this indicator reaches about 20, it has, so far always resulted in a recession. In the last two recessions, the stock markets suffered at least 30% losses from the average monthly closing price of the S&P 500 in the month the indicator reached 20. Those losses occurred between 1 and 2 years after that first reading of 20%.
Investors looking to profit from such a decline should consider owning inverse funds in the months ahead.
Pro-shares short QQQ is (NYSEARCA:PSQ)
Pro-shares short SPY is (NYSEARCA:SH)
Pro-shares short DIA is (NYSEARCA:DOG)
Disclosure: I am long SH. I wrote this article myself, and it expresses my own opinions. I am not receiving compensation for it (other than from Seeking Alpha). I have no business relationship with any company whose stock is mentioned in this article.