GlaxoSmithKline (NYSE:GSK) - the UK stalwart - is experiencing turbulent times in Europe and its stock is down 5.4% YTD. It provides a healthy dividend yield of 5.3% and generates strong cash flows to back the payments. Although the company has been battered by economic woes emanating from Europe, its diversified product portfolio and a strong balance sheet should help it to weather tough times ahead. It was one of the earliest pharmas to go off the patent cliff and looked into emerging markets to make up the lost revenues. We believe the stock is a long-term buy and hold and recommend the stock as a fundamental addition to your dividend portfolio.
The largest healthcare company in the UK, GlaxoSmithKline conducts business in three areas, pharmaceuticals, vaccines and consumer healthcare. The pharmaceutical segment is involved in establishing medicines for a broad range of medical conditions. The vaccines segment is amongst the largest in the world and has distributed 1.1 billion doses to 173 countries around the world. The consumer healthcare segment houses the well-known brands such as Panadol, Horlicks and Sensodyne.
The company has embarked upon a strategy that aims at minimizing its exposure to patent expirations and has moved into growth businesses such as emerging markets, Japanese pharmaceuticals and vaccines. The company also intends to expand its consumer healthcare business globally.
The company's revenue distribution is as follows:
Chart 1: Sales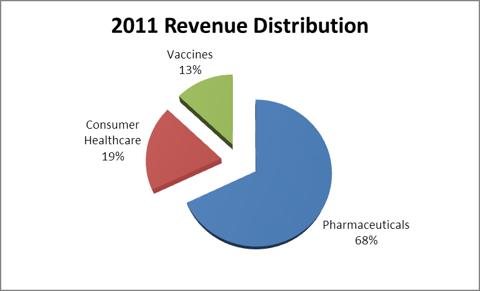 The Pharmaceuticals segment remained the largest contributor and its therapeutic area "Respiratory" contributed nearly 40% for the segment. The U.S. remains the largest market for the drug manufacturer and contributed more than 30% to the total group revenue for the full year 2011.
Chart 2: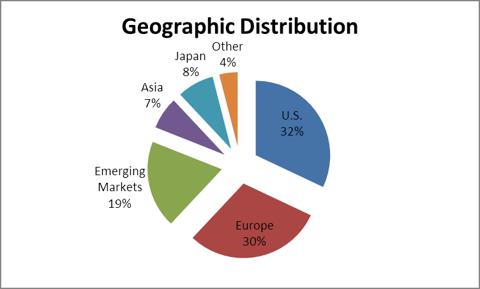 Patent Losses:
The coming years will witness the patent expirations for its anti-triglyceride product Lovaza, prostatic hyperplasia drug Avodart and HIV drug Combivir. Combined, the drugs accounted for $1 billion in sales in the U.S. alone.
Third Quarter:
In another difficult quarter, GSK generated sales of $10.50 billion or £6.53 billion. Core EPS went down by 13% and stood at 26.5 pence. These figures were below analyst mean estimates - specifically sales missed estimates by 2% and EPS missed the target by 5%. Part of the explanation for the tough quarter relates to the comparison to last year's third quarter, a quarter in which for example, Japan bought a large amount of the company's Cervarix shots against cervical cancer and shipped large doses of flu vaccine as well. By including the impact of product disposals and vaccine shipments, sales for the recent quarter were largely in line with last year.
After being hit by a wave of patent expirations prior to its competitors, GSK has made it a point to diversify into emerging markets and non-prescription consumer healthcare in order to marginalize the impact of price sensitivity and patent expirations of prescription medicines.
Problems emanating from Europe have cost GSK dearly and sales from this geographic unit were down 9%. Furthermore, government-imposed price cuts for medicines accounted for 7% of the total fall. CEO Andrew Witty expects the weakness in Europe to continue in the next quarter and in early 2013. Also, we expect material cost minimizing programs in response to the disappointing results, which will include layoffs.
The company has restated its earnings forecasts for the full year ending 2012, which were earlier cut in 2Q2012.
Emerging Economies:
GSK's plan to tap the emerging economies is a strategically sound move. We base this on a conclusion reached in our earlier article on the potential of economies such as China and India. Europe is set to be the problem child for the foreseeable future, and healthcare spending growth for this geographic area is expected to be 1-2%. Austerity programs and healthcare cost-containment programs will make sure that pharmas continue to have difficult times in raising revenue. Currently, Europe remains the second largest source of revenue after the U.S., a region itself grappling with fears of another recession. Sales in emerging markets grew by 6% representing 17% of the group's pharmaceutical revenue. With the expansion in regional emerging markets' economies, healthcare spending is bound to increase.
Balance Sheet and Cash Flows:
The company has a relatively high debt exposure with a debt-to-equity ratio of 280%. But with an interest coverage ratio of 8x, the debt seems to be manageable. To gauge its ability to finance its expansion projects and pay out dividends, we look at its operating cash flows over the years (Chart 2), which shows an upward trend.
Chart 2: Cash flow from operations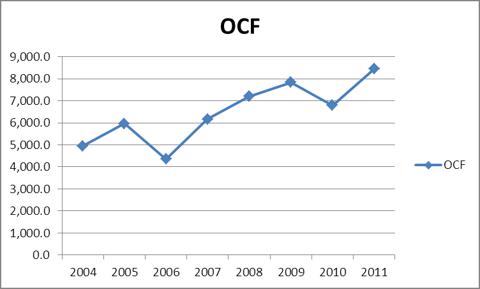 Chart 3: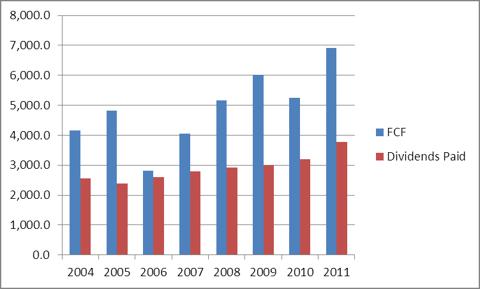 With a 7-year average dividend coverage ratio of 1.7x, the free cash flows have been enough to cover dividend payments. The stock offers a high dividend yield of 5.37%. Its 5-year average dividend yield has been 4.65% and exhibited a 5-year dividend growth of 7.8%.
Table 1:
| | | | | | | |
| --- | --- | --- | --- | --- | --- | --- |
| | 2006 | 2007 | 2008 | 2009 | 2010 | 2011 |
| FCF | 2,810 | 4,053 | 5,156 | 6,016 | 5,254 | 6,907 |
Valuation:
Based on discounted free cash flows, we place a value $47.60 on GSK. Estimates for valuation purposes were as follows: WACC = 7.3%; a long-term growth rate of 1.5% and cost of debt of 0.7%.
| | | | | |
| --- | --- | --- | --- | --- |
| | 2013 | 2014 | 2015 | Terminal Value |
| Free Cash Flow (MM) | 8,700 | 8,300 | 8,800 | 152,000 |
| Present Value | 8,100 | 7,200 | 7,100 | 123,000 |
Total Value of Firm= $145,000
Total Debt= $28,000
Total Equity Value = Total Firm Value - Total Debt= 145,000-28,000= $117,000
Total Outstanding Shares= 2,456 million
Value Per Share= 117,000/2,456 = $47.60 (more than 10% upside based on current price of $42.5)
Competitors:
| | | | | | |
| --- | --- | --- | --- | --- | --- |
| | GSK | Pfizer (NYSE:PFE) | Merck (NYSE:MRK) | Novartis (NYSE:NVS) | Johnson & Johnson (NYSE:JNJ) |
| Forward P/E | 11x | 11x | 12x | 11x | 13x |
| Dividend Yield | 5.37% | 3.59% | 3.79% | 8.15% | 3.51% |
The table above shows that the stock currently trades at a slight discount to its competitors and also offers a higher dividend yield than most of its competitors. We believe that although the company faces considerable headwinds from Europe, the company should be able to make uninterrupted dividend payments as it has a diversified product portfolio and has generated enough cash flows. Based on our calculation of the stock's intrinsic value, there is an upside of more than 10%.
Note: Dividend yields from foreign issuers will be affected by country-specific taxes and thereby affecting the effective yield.
Disclosure: I have no positions in any stocks mentioned, and no plans to initiate any positions within the next 72 hours.
Business relationship disclosure: The article has been written by Qineqt's Healthcare Analyst. Qineqt is not receiving compensation for it (other than from Seeking Alpha). Qineqt has no business relationship with any company whose stock is mentioned in this article.