The financial sector has acquired a pretty bad reputation amongst long-term investors over the past few years, and rightly so. Almost all financial stocks did extremely well during the period from the late '90's until around 2007. Only the stronger financials even made it through the recent financial crisis without either declaring bankruptcy or being scooped up for pennies on the dollar, like Washington Mutual, Bear Stearns, etc. Of those, shareholders were widely exposed to massive dividend cuts, dilution as a result of government bailouts, and worst of all, large losses in shareholder value. A select few actually continued to thrive during and after this period, and one of those is Toronto-Dominion Bank (NYSE:TD).
Based in Canada, TD Bank has assets of $806 billion (Canadian, $810 billion U.S.), making it the second largest financial institution in Canada. TD has over 14 million customers worldwide, mostly in Canada and the US. The company operates in four segments: Canadian Personal and Commercial Banking, US Personal and Commercial Banking, Wholesale Banking, and Wealth and Insurance. The first two divisions are self-explanatory and have one of the strongest loan portfolios by credit quality in the business, but the Wholesale Banking segment's services include underwriting and distribution of new debt and equity. The Wealth and Insurance segment focuses on investment products, through brands TD Ameritrade (of which it owns a 32.5% stake), TD Waterhouse and TD Mutual Funds.
TD is known for making frequent acquisitions, which some see as a risk. Most notably, it acquired Commerce Bancorp (March '08), South Financial Group (October '10), Chrysler Financial Corp (April '11), and MBNA Canada (December '11).
Before we look at TD's past performance, for comparison's sake, here is a 10-year chart of Bank of America (NYSE:BAC) to illustrate the impact of the crisis on less-strong banks: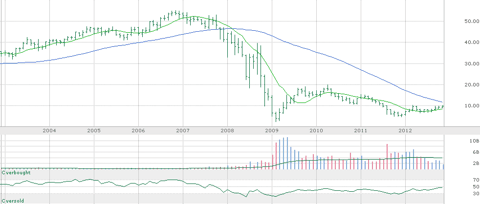 Even those that were better-positioned before the crash have not fully recovered, as seen by Wells Fargo's (NYSE:WFC) chart: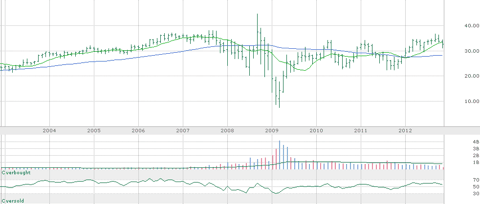 TD, on the other hand, dropped just like the rest in '09, but once the dust settled, the market saw just how strong and well-positioned the company is. TD's all-time high before the crash was $77.83, and it is above that now, trading around $82.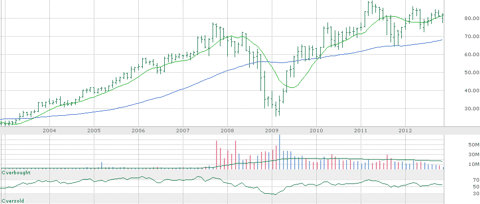 My regular readers know that I strongly advocate researching a company's track record of not only increasing share price, but increasing dividends over time. Unlike the other two companies mentioned, TD only decreased their dividend slightly during the crisis, and only for two quarters. After that, they continued to push the yield higher. For comparison, here are the past 10 years of dividend payouts for these 3 banks: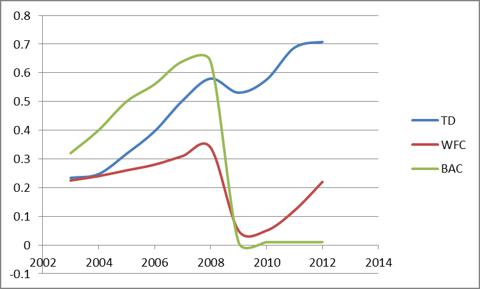 TD currently trades at only 11.8 times 2012 earnings, and is projected by analysts to earn $7.89 per share in 2013 and $8.68 in 2014. Even if the multiple stays this historically low, that gives us a price target of $93.10 for one year and a 2-year target of $102.42. When you add in the very likely chance that the dividend will continue to increase over time, TD looks like a great long-term investment for any portfolio.
Disclosure: I have no positions in any stocks mentioned, and no plans to initiate any positions within the next 72 hours. I wrote this article myself, and it expresses my own opinions. I am not receiving compensation for it (other than from Seeking Alpha). I have no business relationship with any company whose stock is mentioned in this article.