A few months ago, I wrote an article suggesting income investors to look for some Portuguese companies that offered high dividend yields. Moreover, I thought that with so much negative sentiment toward the Portuguese stock market already priced-in, these stocks could be close to making a bottom.
Given the very weak macroeconomic outlook in Portugal that hurt especially companies mainly dependent on domestic households, I recommended companies with exposure to foreign countries and from industries resilient to the overall economic activity (infrastructures, utilities and telecommunications). These criteria resulted in three companies that offered very high dividend yields, namely Portugal Telecom (NYSE:PT), Energias de Portugal (OTCPK:EDPFY), and Brisa (OTC:BRSAY).
Over the last few months, Portugal Telecom has cut its dividend guidance for 2013 and Brisa's two main shareholders launched a takeover offer with a 16% premium over the market price, which was successful and increased their joint stake to almost 85%. Brisa's management cancelled the dividend after the takeover offer, but Portugal Telecom and EDP paid the dividends has expected.
More recently, despite the credit crisis in Portugal these three companies have been able to issue bonds on the capital markets, with strong demand from international investors, showing that the negative sentiment toward Portugal risk may be shifting. This added liquidity is supportive for the company's dividends and a good reason to recess if the companies remain a good income investment.
However, investors should be aware that Portugal's fundamentals remain challenging. For more insights see my previous article "Does austerity work?" where I have analyzed the Portuguese economy in more detail. Since that article was published, the GDP and unemployment data for the third quarter of 2012 were released, maintaining the negative trend of the previous quarters.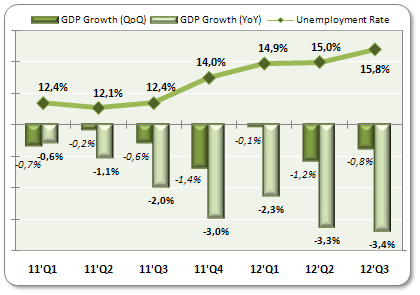 Source: Bloomberg
Next, I'll update on PT and EDP investment thesis. Given that Brisa's free float is now very low and its dividend was cancelled, I think it no longer offers value for investors.
Portugal Telecom: Its core business is the telecommunications services. The company's activity covers every segment of the telecommunications sector: fixed, mobile, multimedia, data and corporate solutions. Portugal Telecom also distributes television programming over the Internet. Abroad, PT offers some of its services in Brazil, Africa, and Asia.
PT relies on the domestic cash flow generation and the dividends received from foreign subsidiaries to cover its own dividend commitment. The group's exposure to Brazil and Africa, which together represent around 45% of revenue, enjoy significantly more positive macroeconomic environments than Portugal, and should be supportive for PT's dividends.
However, PT last June announced a dividend cut, following the footsteps of its peers like Telefonica (NYSE:TEF) or France Telecom (FTE). PT cut the dividend in half and guided for an annual cash dividend of €0.325 ($0.43) per share, for the period 2012-14. Additionally, it also announced a €200 ($260) million share buyback program, to complete over the next three years.
PT's dividend frequency is semi-annual. Considering only the ordinary dividend payments, it paid a stable dividend of €0.575 ($0.75) from 2008 to 2010, which increased to €0.65 ($0.845) in 2010. The payout ratio was high over the past years, except in 2010 when PT received a huge amount for its stake in its former joint-venture with Telefonica in Brazil. In 2011 the payout increased dramatically, leading to the dividend cut going forward and more aligned with the company's earnings. Currently, PT trades at 10.6x forward earnings and offers an attractive 9% forward dividend yield.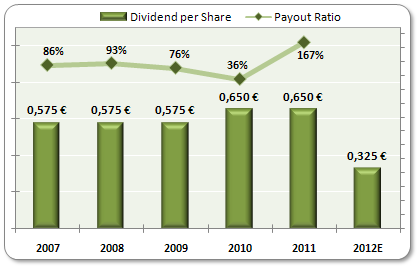 Source: Bloomberg and Company Data
EDP: Generates, supplies, and distributes electricity and gas in Portugal and Spain. Through subsidiaries, the company is involved with electricity distribution, generation and supply in Brazil, and wind power promotion, construction and operation in 11 countries. The Portuguese state recently sold its remaining 21% stake in EDP to a Chinese state-owned company, under its bailout program from the European Union and the IMF.
EDP business has a low risk profile, given that around 90% of its EBITDA is derived from long-term contracts and regulated activities. Portugal only represented 42% of EDP's EBITDA in 2011, with the remaining coming from Spain (19%), Brazil (18%) and 21% from EDP Renováveis (OTCPK:EDRVF), the wind-power subsidiary. EDP has invested heavily in wind power over the last years, making it a worldwide player in this business.
EDP's dividend frequency is annual. The dividend grew every year over the past 5 years, with a compound growth rate of 10.3%. The payout ratio was always between 50%-60%, a good level for a utility company with a stable business. For 2012, EDP's guidance is for a payout between 55%-65% of recurrent net income, with dividend per share from 2011 as a floor (€0.185/share). Currently, EDP trades at only 6.7x forward earnings and offer a very attractive 9.6% dividend yield.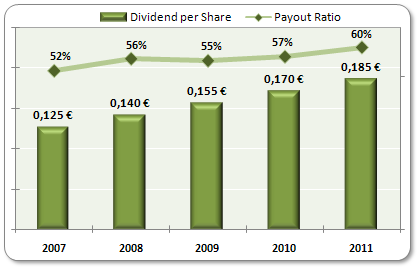 Source: Bloomberg and Company Data
Disclosure: I have no positions in any stocks mentioned, and no plans to initiate any positions within the next 72 hours. I wrote this article myself, and it expresses my own opinions. I am not receiving compensation for it (other than from Seeking Alpha). I have no business relationship with any company whose stock is mentioned in this article.