Enterprise Products Partners L.P. (NYSE:EPD) owns and operates natural gas liquids (NGSs) related businesses of Enterprise Products Company (EPCO). EPD is a Houston-based master limited partnership that transports and processes energy commodities, primarily natural gas liquids and refined products. As a partnership, EPD pays no corporate income tax; thus the tax burden is transferred to individual stockholders. With EPD's merger with TEPPCO Partners in 2009 and consolidation with its general partner in 2010, EPD has the asset base, liquidity position, and ability to undertake transformative projects to generate strong cash flow growth despite turbulent markets. Investors should take a look at EPD for a strong mix of income and growth.
Recent Earnings
On Nov. 1, 2012, EPD reported Q3, 2012 adjusted earnings of 68 cents per limited partner unit of 68 cents, beating Zacks Consensus Estimate by 13.3% and last year's earnings by 23.6%. Q3 earnings increased 24% as lower expense helped EDP boost margins, though revenue slid amid softer commodity price. "Enterprise reported record crude-oil and natural gas pipeline volumes; record fee-based natural gas processing volumes and near-record NGL pipeline and fractionation volumes for the third quarter of 2012," stated Michael A. Creel, President and CEO of Enterprise. "This volume growth in our fee-based businesses along with attractive sales margins led to another quarter of strong financial performance."
EPD has now delivered 12 straight positive earnings surprises with an average beat of around 10.0%. EPD has also set a track record of consistent distribution growth. On Oct. 10, the third quarter cash distribution was increased to 65 cents per unit ($2.60 per unit annualized), representing an increase of about 6.1% year-over-year and 2.4% sequentially. Looking forward, next quarter's average estimate for revenue is $11.61 billion. The average EPS estimate is $0.64 on the bottom line. The average estimate for revenue is $44.38 billion for 2013, with an average EPS estimate of $2.54. The earnings call transcript for Q3, 2012 management discussion from Seeking Alpha can be reviewed here. A great, insightful Q3 earnings and cash flow analysis can also be read here.
ON Nov 20, 2012, Zacks restated its "neutral" rating on EPD with a price target of $54.00. As directly quoted from Zacks'analyst,
"We are maintaining our recommendation for Enterprise Products Partners at Neutral following its third quarter results. The partnership registered increased transportation of crude, natural gas and other commodities through its pipelines. A 9% year-over-year drop in total costs and expenses was an added incentive. Based on a broad and vertically integrated asset base, steady cash flow generation ability and financial strength for strategic growth, we believe that Enterprise is well positioned to deliver impressive returns going forward. However, we remain apprehensive about the lower NGL pricing environment. Enterprise also remains vulnerable to macro conditions and unstable oil & gas prices, which in turn could hurt its margins in NGL, natural gas and other businesses. "
Fundamentals Overview and Technical Analysis
With the data gathered from MorningStar, EPD's key stats will be compared to the average in the oil and gas midstream industry within the energy sector. The main competitors include Kinder Morgan Energy Partners LP (NYSE:KMP), ONEOK Partners LP (NYSE:OKS), Wiliams Partners LP (NYSE:WPZ), and Energy Transfer Partners, LP (NYSE:ETP). The revenue growth (3 year average) of 7.7 and EPS growth (3 year average) of 9.0 for EPD have both outgrown the industry averages of 7.1 and -6.5. Despite the trailing operating margin of 7.4%, ttm, EPD's net margin of 5.9%, ttm, is higher than the average of 4.7%, ttm. EPD achieved higher ROE or 20.7, comparing to the average of 10.8, and has a lower debt to equity of 1.1, as compared to the average of 1.5. EPD is currently under-valued with P/E of 18.1, comparing to the average of 28.9.
EPD closed at $51.52 with 0.92% gain on Tuesday. The volume of 1.31M is slightly more than the 30 day average of 1.26M. EPD had been trading in the range of $44.52-$55.38 in the past 52 weeks. As seen from the chart below, the MACD (12, 26, 9) indicator started to show a bullish sign on Nov. 25. However, MACD difference was not able to show a clear direction in the past 3 trading days. EPD is currently trading between its 50-day MV of $52.77 and 200-day MV of $50.75. The momentum indicator, RSI (14), had been increasing and is approaching the 50 middle-line at 47.38. The short-term view for EPD is neutral, and a clearer sign is yet to be seen when EPD breaks down 200-day MV or trades above 50-day MV.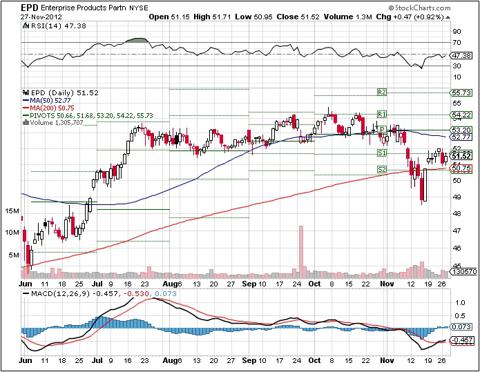 Source: StockCharts.com
Options Play
EPD is a quality long-term investment target for investors seeking the strong, consistent mix of cash flow and growth. Below, a bullish credit spread will be reviewed for investors who would like to acquire the EPD stock at a discount price while gaining some upside potential.
Short 1x March 16, 2013 Put at the strike price of $50.00 for the credit of $1.74
Buy 1x March 16, 2013 Put at the strike price of $45.00 for the cost of $0.52
The maximum profit is $1.22, and the maximum risk/margin requirement is $3.78 ($5 loss - $1.22 credit received). If EPD closes above $50 on March 16, 2013, 32.28% return on margin used will be gained. If EPD falls below $50 upon options expiration, the exercised cost to acquire EPD will be $48.78, which is 5.32% lower than the current price of $51.52. The annualized dividend yield will be 5.33% based on the acquisition cost of $48.78 with the projected dividend of $0.65 per quarter.
Note: All the prices are quoted from the closing of November 27, 2012 and all calculations are before fees and expenses. Investors and traders are recommended to do their own due diligence and research before making any trading/investing decisions.
Disclosure: I have no positions in any stocks mentioned, but may initiate a long position in EPD over the next 72 hours. I wrote this article myself, and it expresses my own opinions. I am not receiving compensation for it (other than from Seeking Alpha). I have no business relationship with any company whose stock is mentioned in this article.