On Wednesday, Green Mountain Coffee Roasters (NASDAQ:GMCR) reported exceptional fourth-quarter earnings in the wake of many naysayers. In response to the company's strong earnings, the stock rose 25%. Though much of this can be attributed to short-sellers covering their positions, the company's strength is showing investors the strength the company is beginning to embody from a fundamental and valuation perspective. The company's fourth-quarter and year-end results are as follows:
(click to enlarge)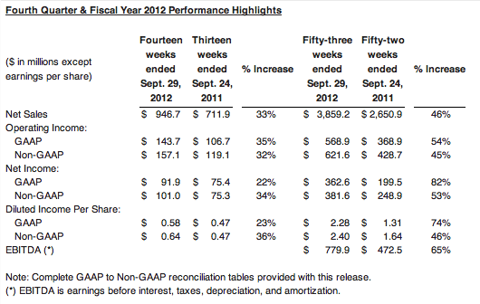 (Green Mountain Coffee Roasters Earnings Release)
This data across the board shows the growth the company has experienced both from a quarter and a year-end basis. With Net sales increasing 33% and GAAP income increasing 22% (year-over-year) the company is proving that it can drive revenue in a manner that increases profit and creates shareholder value. In response to this release, many analysts have raised their price targets on the stock. In particular, Canaccord Genuity, Suntrust, Keybanc, and Roth Capital all raised their price targets to $45. Scott Van Winkle of Canaccord stated, "[Green Mountain] vastly improved inventory situation from a year ago and a turn to positive free cash flow take the trends from good to very good." This, in addition to the companies low valuation places in the company in a strong position to grow shareholder equity.
Fundamentally:
Though Green Mountain has experienced trouble in the past with inventory and free cash flow, the company beat its own expectations in 2012 and is expecting free-cash flow of between $100 and $150 million in 2013. Behind these numbers is a strategy that is beginning to pay off and investors should take note. Green Mountain CEO Lawrence Blanford stated in the earnings release:
Our fourth quarter fiscal year 2012 revenue and earnings growth speaks to GMCR's continued strategic progress and we believe points to the significant opportunity still ahead for the Company...We continue to drive awareness of Keurig single cup brewing and consumers continue to embrace and adopt Keurig brewers and Keurig Brewed beverages as an integral part of their daily routine... The innovative spirit that pervades the entire GMCR organization is nothing less than inspiring," continued Blanford. "In the span of less than ten months, our organization has introduced two new brewing platforms, the Keurig Vue brewer and in cooperation with our partner, Lavazza, the Keurig Rivo Cappucino and Latte system. We also introduced a Vue model for our away-from-home customers and multiple new beverages, including the very first varieties in our new Wellness Brewed collection.
This sentiment and information from Blanford points to the strategic strength within the industry and specifically within the platform that Green Mountain has created with the Keurig. The recent entry by Starbucks (NASDAQ:SBUX) into the business of single-cup coffee machines with the advent of the Verismo speaks to the increase in demand that will come within this industry. Green Mountain has incredible strength and a strong platform to grow into business into the coming years. From a fundamental standpoint, Green Mountain appears to be on solid-footing. This being said, there are risk factors within any company and for Green Mountain the rising competition from companies like Starbucks and a past struggle with inventory are factors that could play into how successful the company can be in future quarters. These are two areas to monitor in the future.
Financials/Valuation:
From a valuation perspective and financial metric perspective, Green Mountain is priced very well for investors. Even with the 25% increase in stock value seen today, the company is trading at very low multiples. For comparison purposes, the numbers are set aside that of Starbucks. They speak for themselves:
Forward Price/Earnings: 13.61
PEG Ratio: .56
EV/EBIDA: 6.94
Profit Margin: 9.55%
Earnings Growth (yoy): 30.1%
Revenue Growth (yoy): 21.2%
These metrics illustrate that Green Mountain is priced extremely well for investors. Not only is the company "cheap", but it is also performing well from a margin and earnings/revenue growth standpoint.

Conclusion:
Green Mountain's strides in beating out its competition in its proven K-Cup and Keurig products, along with apparent ability to control inventory puts the company in a stable position once again. From both a fundamental and valuation perspective Green Mountain is positioned well. Being in an industry that is growing and stable, reporting both fourth-quarter and fiscal year success, along with being priced well from a stock perspective makes Green Mountain a strong play for investors who are seeking exposure in this sector of the market.
All financial metrics referenced above were obtained from Yahoo Finance, CNBC Analytics, S&P Capital IQ, and Thomas Reuters.
Disclosure: I have no positions in any stocks mentioned, and no plans to initiate any positions within the next 72 hours. I wrote this article myself, and it expresses my own opinions. I am not receiving compensation for it (other than from Seeking Alpha). I have no business relationship with any company whose stock is mentioned in this article.