The recent past for Green Mountain Coffee (NASDAQ:GMCR) has been nothing less than a nightmare. Its stock price fell to record low levels this year. Historically, GMCR was a company that enjoyed a monopoly through its K-Cups by licensing it to several companies. It used to charge a high price for K-Cups whereas a fair price for Keurig (GMCR's single cup coffee brewing machine). While 84% of its revenue came from both Keurig and K-Cups, the situation changed dramatically when the company's patent expired in September 2012. The company faced tough competition as many other companies, such as Kraft (KRFT), started producing their own K-Cups. The market perception regarding GMCR changed and the stock fell from $110 (September 2011 price) to $29 (26th November 2012 price).
Financial Overview:
While we have been advising investors to stay away from GMCR, the Q42012 earnings release has made us change our stance. If compared to Q42011, the company has reported a 33% increase in revenues. Gross margin went down to 33.4% from 35.7% in the same period of the prior year; however, this was mainly because of an increase in the labor and manufacturing costs of its new Vue system. While lower green coffee costs expanded the margin by 100bps, Vue related costs squeezed the margin by 280 bps. Operating income is up by 2% because of lower administrative expenses. Net income is up by 3% while EPS is up by 23% YoY. GMCR was able to beat the sell side estimates as well.

Click to enlarge
(Click to enlarge)
While the company relied more on debt financing in the previous quarters, Q42012 has come with a 9% decline in long term debt. The debt to equity ratio is now more conservative with a drop from 30% to 21%. From a financial perspective, the company seems to be in a better position in this quarter as compared to previous quarters.
From a relative perspective, GMCR seems undervalued with a fair growth potential. The stock is currently trading at a P/E of 10.8x versus competitors' average of 16.51x. Other multiples such as EV/EBITDA and P/S are also lower than averages and therefore point towards undervaluation in the stock. Based on its historical average P/E of 13.5x, we set a price target of $36.18 for GMCR, as shown in the following table.
A Relative Analysis Based on Multiples (NYSE:X)

Company

Trailing P/E

Forward P/E

PEG

P/S

EV/EBITDA

Starbucks (NASDAQ:SBUX)

28.43

19.42

1.33

2.86

15.36

Krispy Kreme Doughnuts (NYSE:KKD)

4.11

16.96

0.73

1.48

13.51

Einstein Noah (NASDAQ:BAGL)

17.24

12.72

0.77

0.61

7.17

Green Mountain Coffee Roasters

13.35

10.80

0.56

1.24

6.94

Yum! Brands (NYSE:YUM)

21.65

19.69

1.57

2.45

12.51

Tim Hortons (THI)

17.72

15.49

1.45

2.28

10.37

Dunkin's Brands (NASDAQ:DNKN)

69.02

20.52

1.44

4.92

16.65

Competitor Average

24.50

16.51

1.12

2.26

11.79

GMCR FORWARD EPS

$2.68

GMCR P/E Historical Average

13.50x

GMCR Price Based on Competitor Average

$44.26

GMCR Target Price

$36.18
So, is GMCR a good option for investors? We feel it is so based on the following reasons.
We see a decent growth in revenues in the coming quarter as GMCR is partnering and signing new joint ventures with other companies. One such example is that of its recent strategic partnership with Starbucks for using the Vue technology in its Keurig machine. While this is an example of a partnership for product innovation, the company is also forging partnerships with strong brands in order to attract more customers. A recent example is that of its partnerships with other strong brands such as Dunkin Donuts, JC Penney (NYSE:JCP) and Costco (NASDAQ:COST). Given its current revenue and future prospects, sell side projects revenue growth at 9.86%, which is higher than the competitors' average of 9%. While the company has been doubling its earnings for the past five years analysts project its earnings growth at 20% for the next five years.
Company

Revenue (NYSE:B)

EPS

Current Quarter (NYSE:A)

Next Quarter (NYSE:E)

Growth

Current Quarter

Next Quarter

Growth

Starbucks

3364

3840

14.15%

0.46

0.57

23.91%

Krispy Kreme Doughnuts

102.11

114.32

11.96%

0.07

0.08

14.29%

Einstein Noah

105.49

110.98

5.20%

0.2

0.34

70.00%

Green Mountain Coffee Roasters

946.7

1040

9.86%

0.58

0.67

15.52%

Yum! Brands

3569

4277.93

19.86%

1

0.85

-15.00%

Tim Hortons

858.45

825.8

-3.80%

0.66

0.72

9.51%

Dunkin's Brands

165.806

170.47

2.81%

0.26

0.33

26.92%

Competitor Average

9%

21%
The coffee business is particularly vulnerable to seasonal fluctuations. It sees peaks in the first and fourth quarters because of the winter season while suffers in the second and third quarters. This fact can be observed in the graph below. The red circles represent the boosts in revenue in the 1st and 4th quarters for GMCR. With a new line of products and partnerships with other companies, we expect GMCR to maintain sales momentum for this winter season.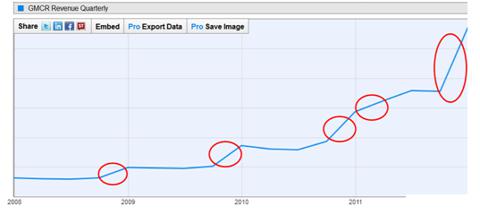 Click to enlarge
(Click to enlarge)
While a better financial performance can prove to be a good starting point, we feel that a significant difference will be created by the strategies of the new CEO who is expected to join the office next week. The company aims to turn around using strategies of the new CEO.
Our Stance:
Although analysts were concerned about the loss in revenues because of patent expiry, strategic partnerships and ventures have diversified GMCR's revenue base shunning many doubts. The stock is undervalued while revenues are expected to grow by 20% for the next 5 years. We not only expect value from its existing partnerships but also expect GMCR to strengthen its momentum under the new CEO. Therefore, based on the current financial performance, undervalued nature and strong future prospects, we have a buy rating on GMCR.
Disclosure: I have no positions in any stocks mentioned, and no plans to initiate any positions within the next 72 hours.
Business relationship disclosure: The article has been written by Qineqt's Retail Analyst. Qineqt is not receiving compensation for it (other than from Seeking Alpha). Qineqt has no business relationship with any company whose stock is mentioned in this article.