In our research, we looked at how solar companies typically do in the month of December to find any seasonal patterns. We looked at the average gains of eleven companies as well as their max drawdowns and gains for the past 10 years provided the company has been public during that period. December, unlike October, has been historically positive for solar companies as the subsequent analysis will show. The companies we investigated in the report were Yingli Green Energy Holding Company (NYSE:YGE), Trina Solar Limited (NYSE:TSL), Suntech Power Holdings Company (NYSE:STP), SunPower Corporation (NASDAQ:SPWR), ReneSola Ltd (NYSE:SOL), MEMC Electronic Materials (WFR), LDK Solar Company (NYSE:LDK), JA Solar Holdings Company (NASDAQ:JASO), GT Advanced Technologies (GTAT), First Solar, Inc. (NASDAQ:FSLR) and Canadian Solar Inc. (NASDAQ:CSIQ).
Below you can find their average gains for the month of December for the past 10 years.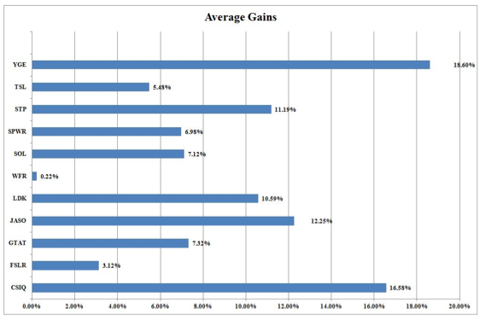 As can be seen from the chart above December seems to be a great month for Solar companies with all of them reporting positive gains in the period between November 30th and December 31st.
Why could this be when history showed us that in previous months the Solar Industry was in a never ending slide? Why does December seem different?
Firstly December is the month just before earnings period and in the past earnings has been one of the big selling point for solar companies. Expectations for earnings reports have previously always been high and this is a big factor when it comes to our results. Another reason for these high gains can be attributed to outliers during the period between '06 and '09 when the solar industry had a relative boom; these outliers will be taken into account later on in the article.
The companies with the most gains during this December period were, Canadian Solar Inc. with gains of 16.58% and Yingli Green Energy Holding Company with gains of 18.60%, while First Solar and MEMC Electronic Materials were the ones with the least gain.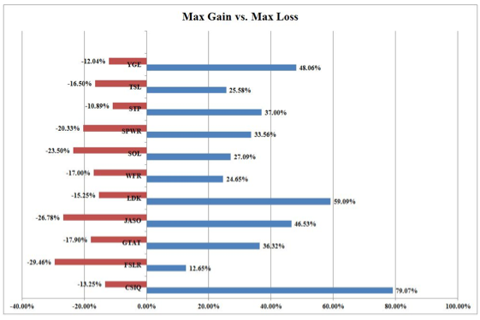 We continued our analysis by finding the max drawdowns and max gains that these companies usually have during the month of December. Solar companies are in an industry that stock prices are extremely volatile with the average beta of these 11 companies being 2.74. With all the companies we can see that there is much blue than red showing that there were higher max gains than max losses. We can see from this chart that the company with highest average gain is greatly affected by its max gain. CSIQ had an average gain of 16.58% (one of the highest) but it can also be seen from this chart that the highest max gain (79.07%) also belongs to CSIQ.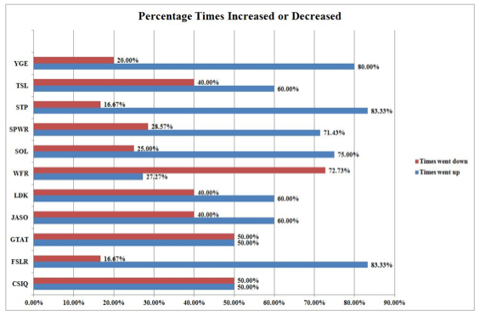 We consolidated this information by looking at the times the stock prices had increased or decreased over the 10 year period therefore allowing us to find out if any more outliers influenced our results.
After all our analysis we came up with two trades
Trade #1: Yingli Green Energy Holding Co. Ltd. , Jan21, $1 Sold Puts
Trade #2: Pair Trade: WFR Short, STP Long
Disclosure: I have no positions in any stocks mentioned, and no plans to initiate any positions within the next 72 hours.
Business relationship disclosure: The Oxen Group is a team of analysts. This article was written by Bruno Massinga, one of our writers. We did not receive compensation for this article (other than from Seeking Alpha), and we have no business relationship with any company whose stock is mentioned in this article.