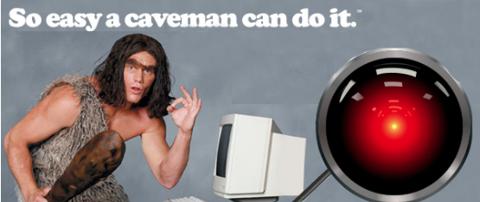 Wednesday started with poor overall news. New Home Sales plummeted, missing expectations (368K vs. 387K expected, and prior revised from 389K to 369K), which was quite a shock. Later, the large hedge fund SAC received an SEC Wells Notice meaning charges would soon follow, perhaps even implicating Steve Cohen. Rumors followed thereafter, indicating there was selling in what might be SAC-related positions to meet what was presumed to be their positions. Markets overall fell sharply, including financials (NYSEARCA:XLF) and other sectors with selling widespread. This included a bear raid on gold (NYSEARCA:GLD) and other metals post-options expiration, which can often happen, as those with big money can squeeze those holders of options now converted to futures contracts. But this selling implied a massive risk-off environment is present
To the rescue swooped in Boehner to suggest the fiscal cliff dialogue was moving forward and recent meetings were "constructive." (Let's remember Boehner likes trading stocks.) Obama followed shortly with brief comments, stating he expected to have a deal done by Christmas. Algos jumped on this news and arrested selling almost instantly. You see, they just look at headlines but don't spend much time looking under the hood. It was a remarkable turnaround, confirming who, what and how machines are dominating markets. And the day after Goldman Sachs CEO Lloyd Blankfein visited the White House, Thursday, Mitt Romney will be having lunch with Obama. He'll be served crow, no doubt.
Elsewhere, the Fed Beige Book showed economic growth to be modest, which seems to remain their primary description over the past six months. Markets yawned at the news.
Overseas, and probably faster than even the most cynical bear would imagine, German Finance Minister Schauble stated Greece will need more help. Wow, that was quick! Germany's most popular tabloid, Bild, published a scathing rebuke entitled "The Never Ending Story". In it, they state when referring to Greece: "The patient dies and the paramedic goes bust."
Chinese stocks fell to 2009 lows, as trading volume is drying in Shanghai. In a contrast, the Philippines (NYSEARCA:EPHE) reported GDP growth at 7.1% vs. 5.4% expected, and prior 6%), as the country is on a great growth path.
In Europe, most share indexes recovered from losses before the close in concert with the Boehner/Obama "happy talk."
The dollar (NYSEARCA:UUP) was nearly unchanged after rallying sharply early in trading. Gold, as indicated, was hit hard by selling, which is well-described here. Commodities (NYSEARCA:DBC) were dragged lower by energy (NYSEARCA:USO) in a "risk off" pattern clearly little noticed by the stock market. Bonds (NYSEARCA:TLT), sharply higher early on a flight to quality based on early news, reversed course with the stock market rally.
Volume on this crazy reversal day was higher as shorts were squeezed once again. Breadth per the WSJ was positive.
(click image to enlarge)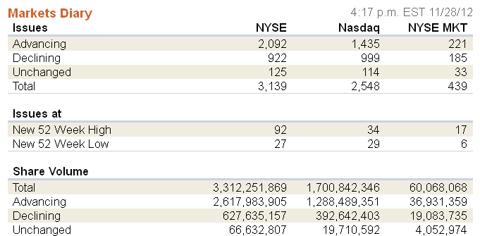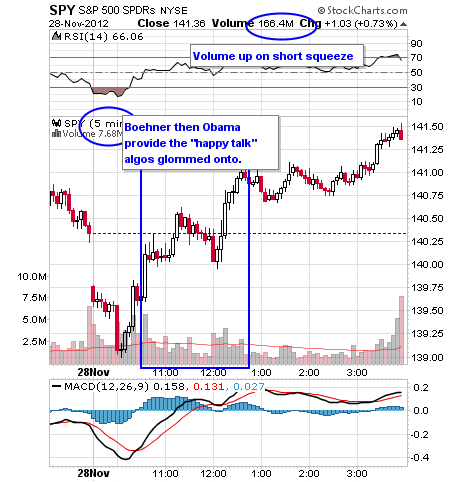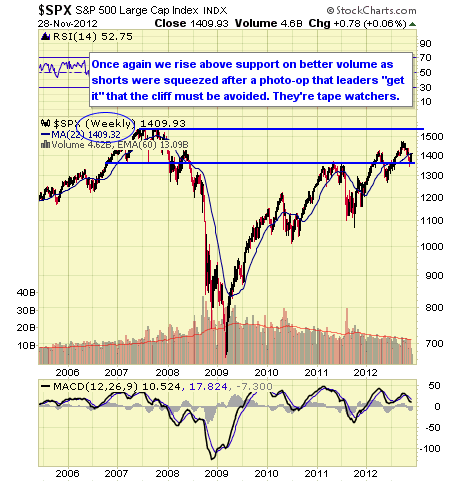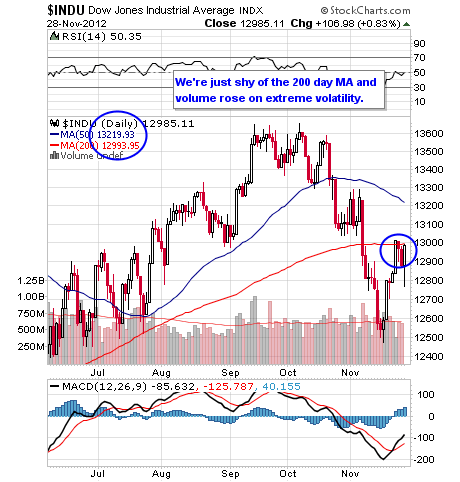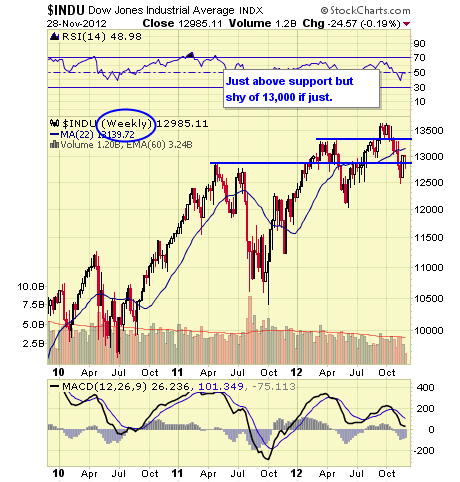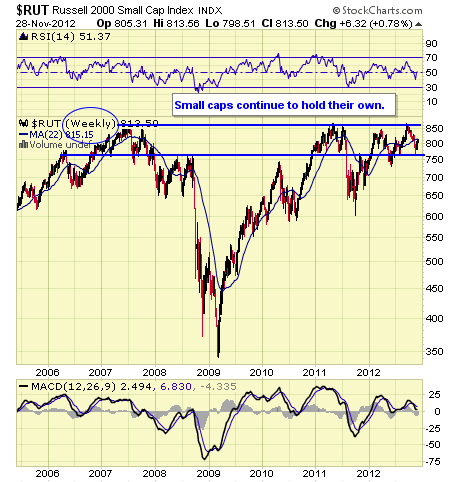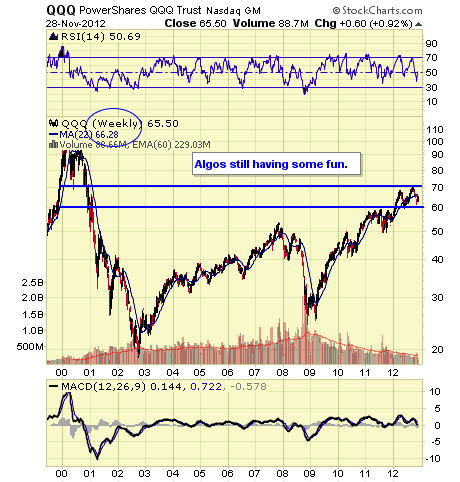 Continue to U.S. Sector, Stocks & Bond ETFs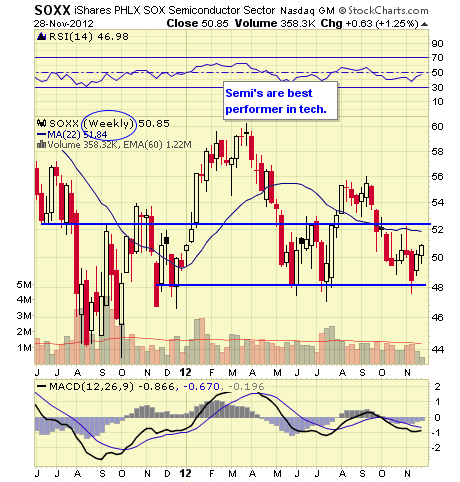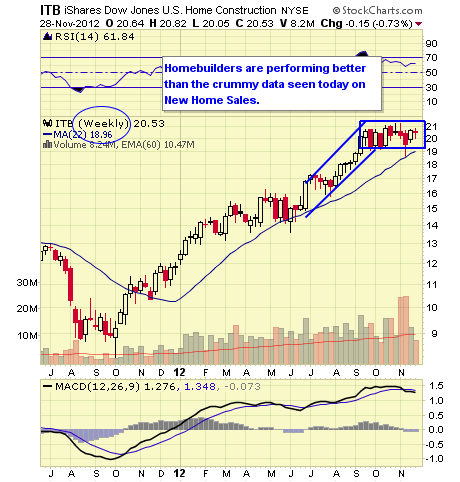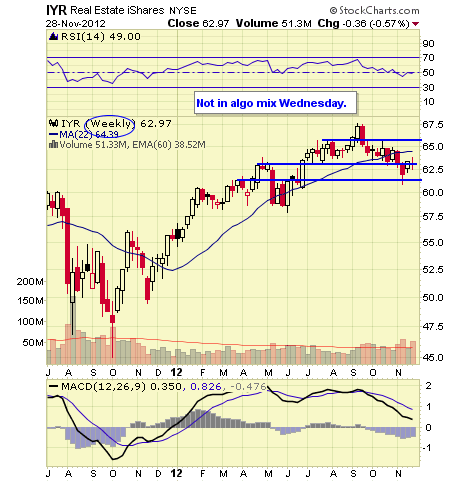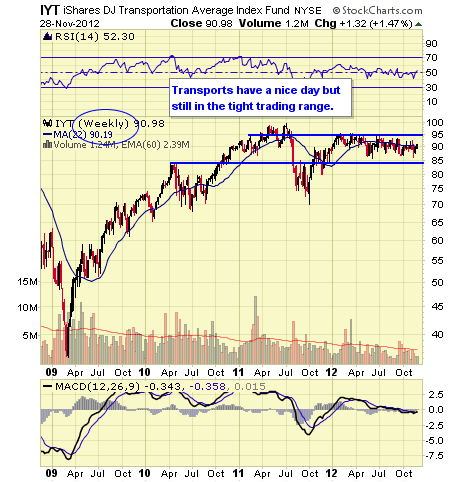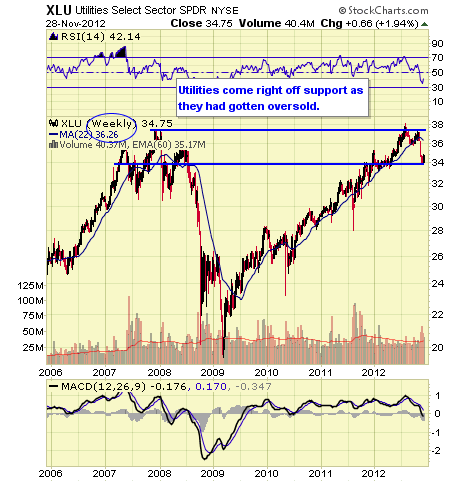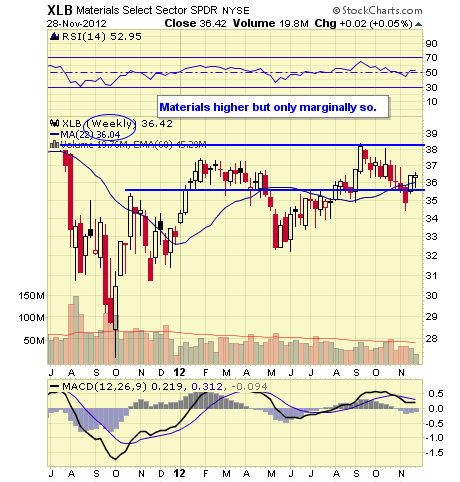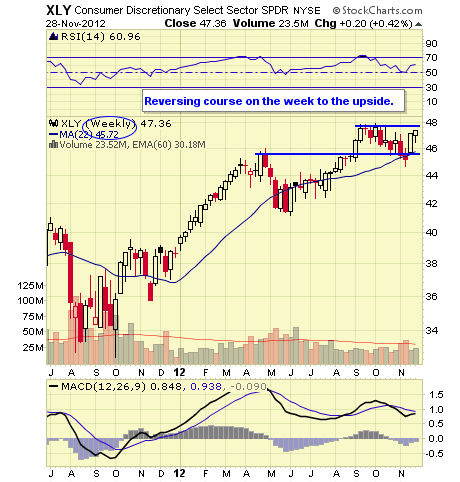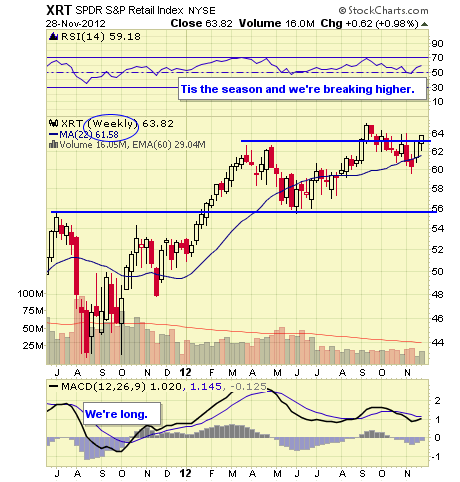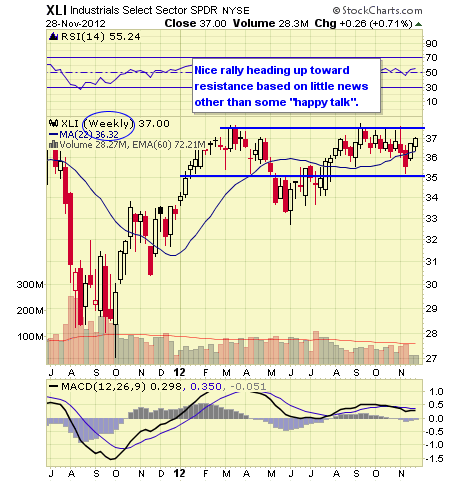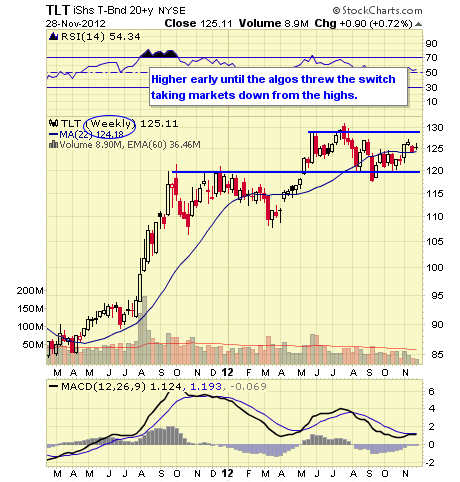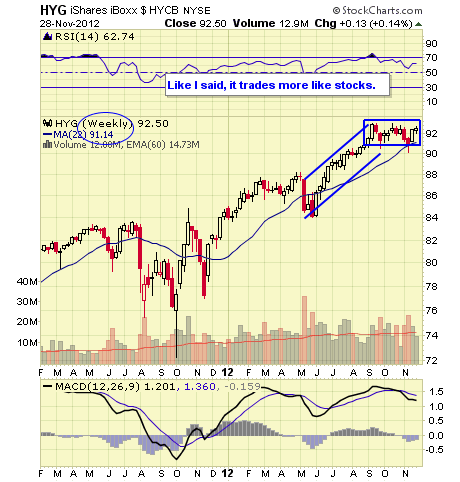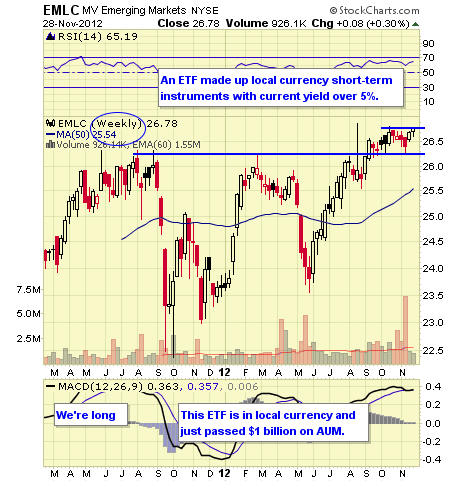 Continue to Currency & Commodity Market ETFs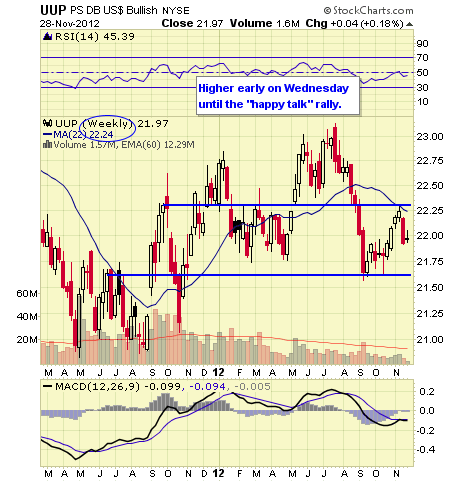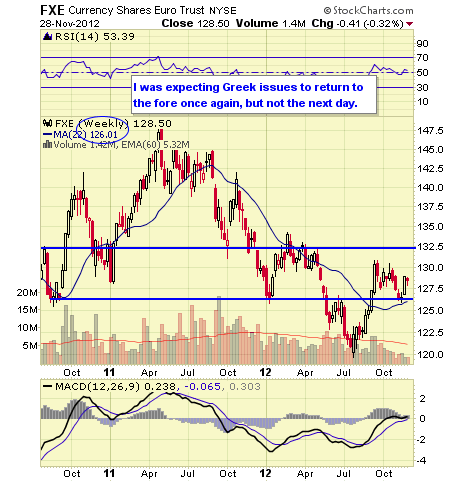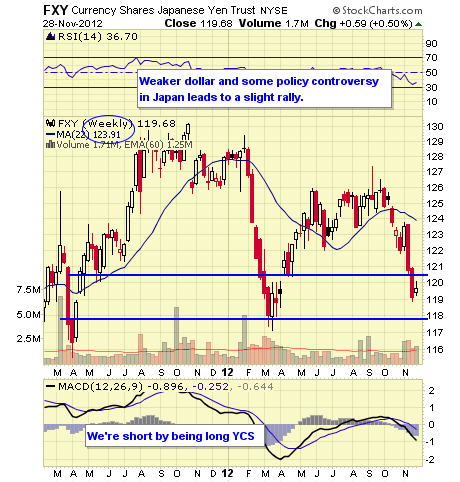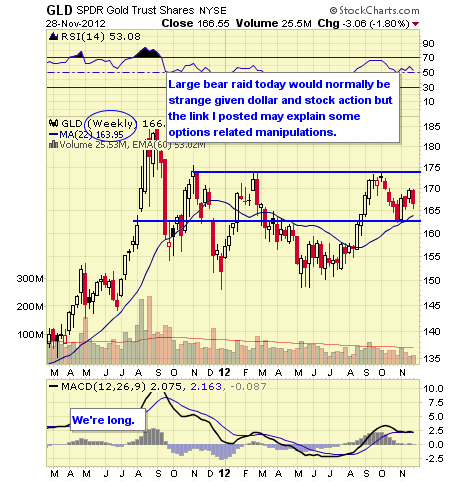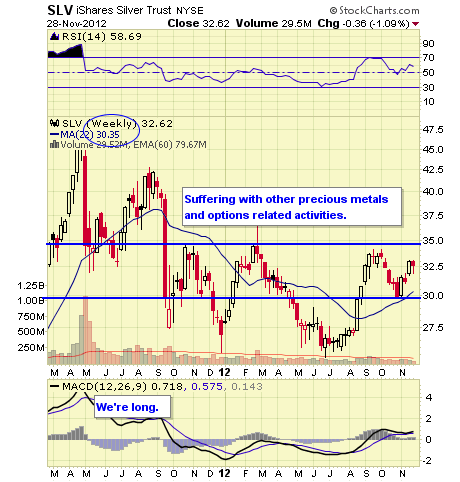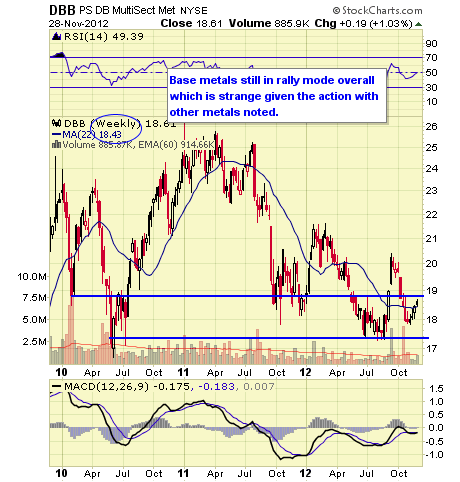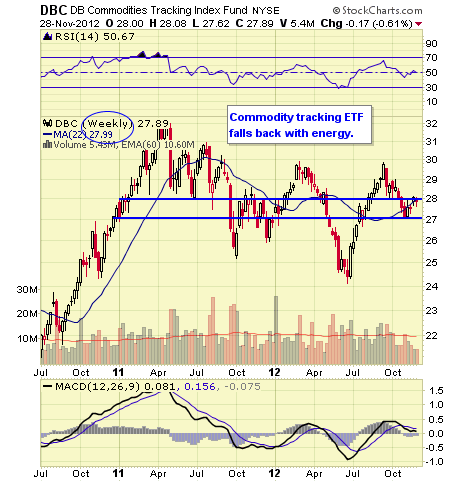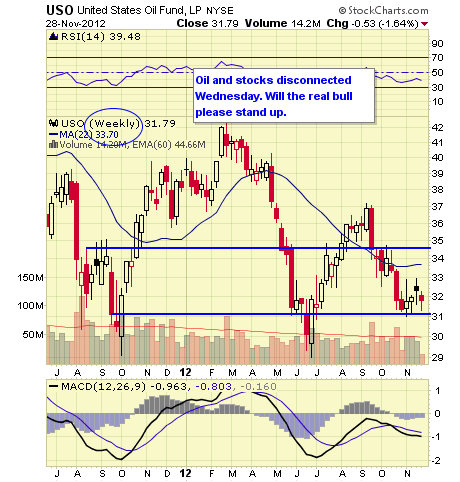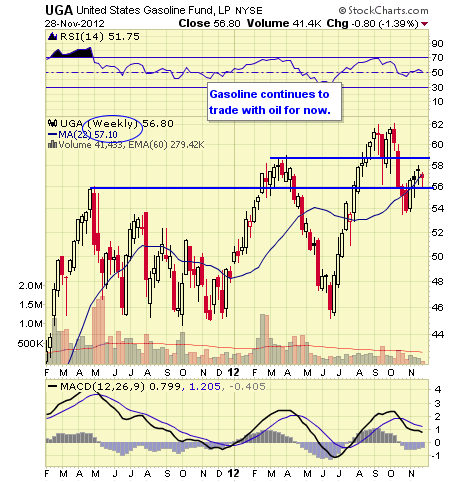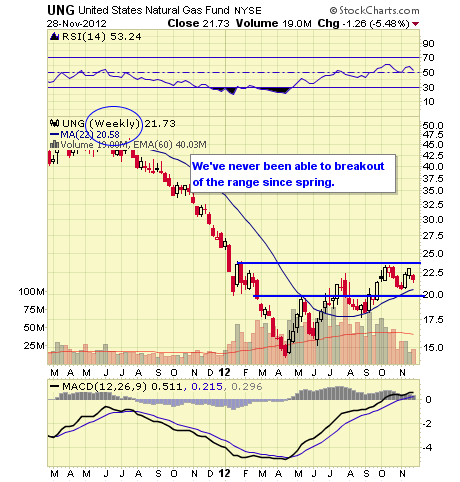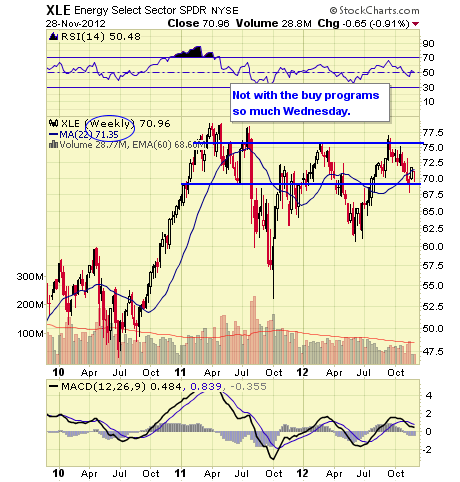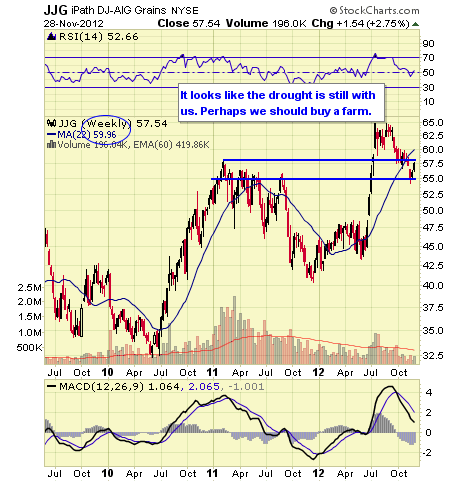 Continue to Overseas Sectors & ETFs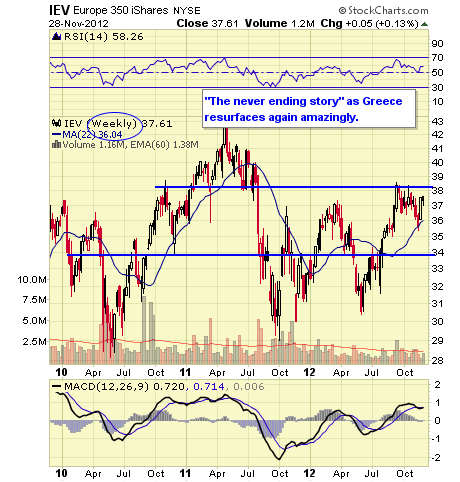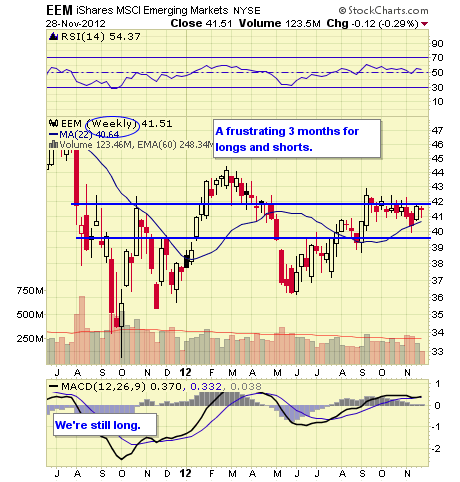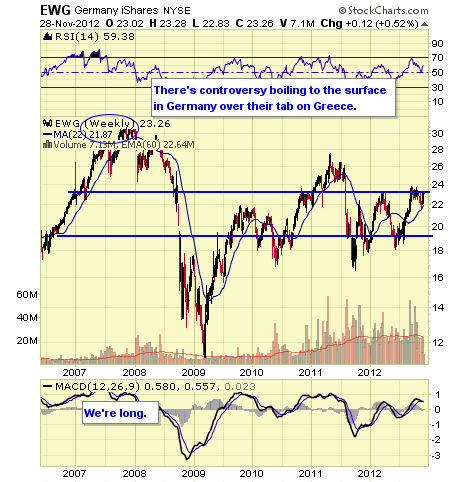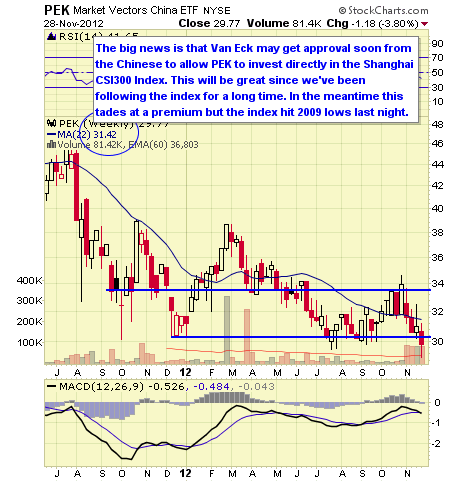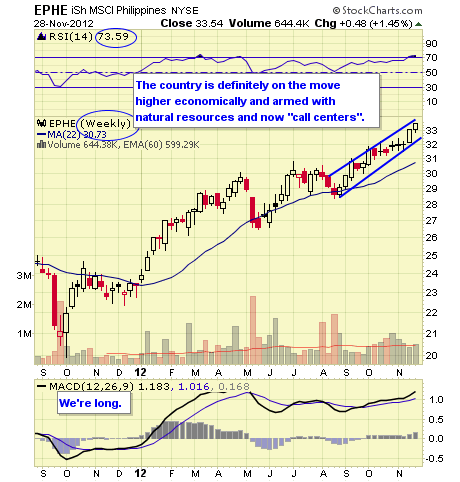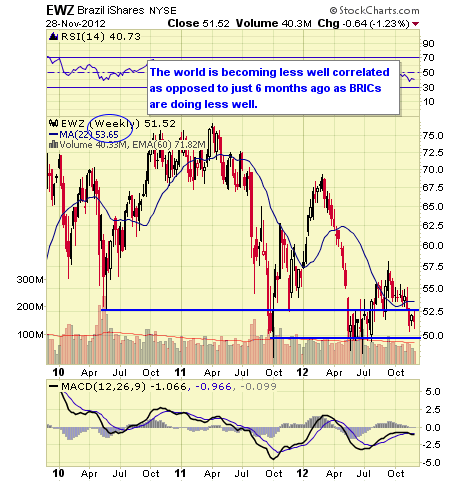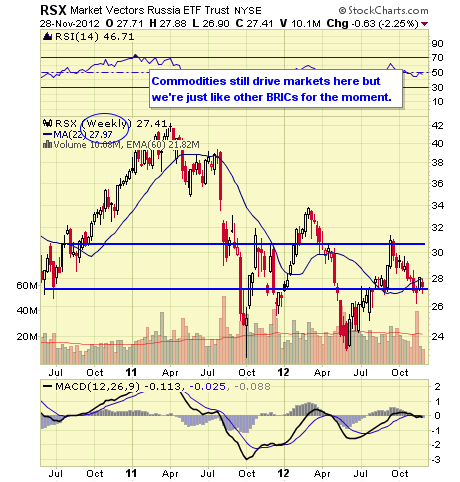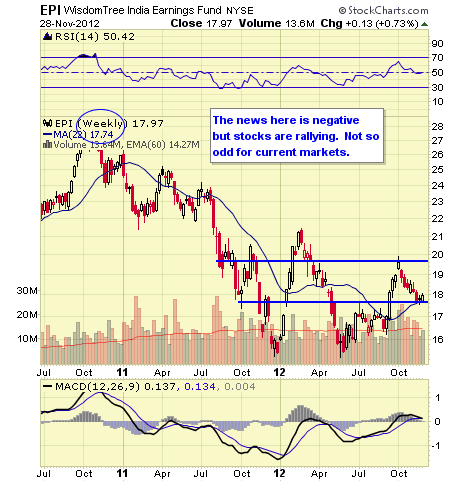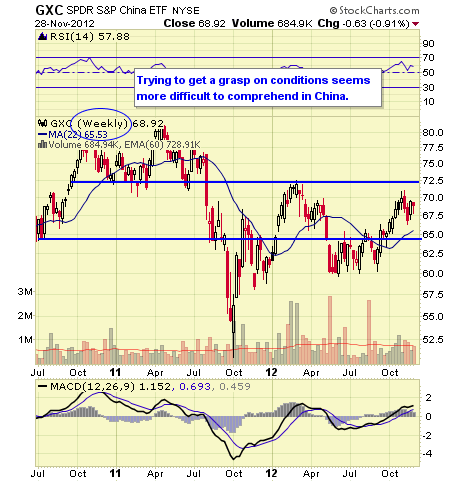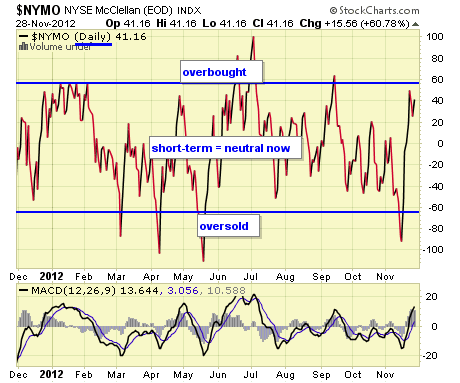 The NYMO is a market breadth indicator that is based on the difference between the number of advancing and declining issues on the NYSE. When readings are +60/-60, markets are extended short term.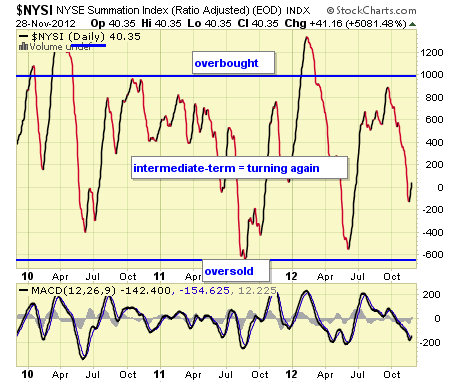 The McClellan Summation Index is a long-term version of the McClellan Oscillator. It is a market breadth indicator, and interpretation is similar to that of the McClellan Oscillator, except that it is more suited to major trends. I believe readings of +1000/-1000 reveal markets as much extended.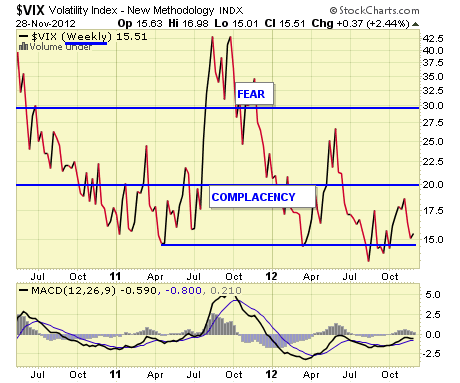 The VIX is a widely used measure of market risk, and is often referred to as the "investor fear gauge." Our own interpretation is highlighted in the chart above. The VIX measures the level of put option activity over a 30-day period. Greater buying of put options (protection) causes the index to rise.
Concluding Remarks
Thursday is GDP data and Jobless Claims once again. We're just about done with earnings, with some still to come primarily from retailers .
Disclaimer: The ETF Digest maintains an active ETF trading portfolio and a wide selection of ETFs away from portfolios in an independent listing. Current "trading" positions in active portfolios, if any, are embedded within charts: Lazy & Hedged Lazy Portfolios maintain the follow positions: VT, MGV, BND, BSV, VGT, VWO, VNO, IAU, DJCI, DJP, VMBS, VIG, ILF, EWA, IEV, EWC, EWJ, EWG, & EWU.
The charts and comments are only the author's view of market activity and aren't recommendations to buy or sell any security. Market sectors and related ETFs are selected based on his opinion as to their importance in providing the viewer a comprehensive summary of market conditions for the featured period. Chart annotations aren't predictive of any future market action rather, they only demonstrate the author's opinion as to a range of possibilities going forward.
Disclosure: I have no positions in any stocks mentioned, and no plans to initiate any positions within the next 72 hours. I wrote this article myself, and it expresses my own opinions. I am not receiving compensation for it. I have no business relationship with any company whose stock is mentioned in this article.