In our previous report, we recommended the largest cable company in the U.S., Comcast Corporation (NASDAQ:CMCSA), a strong buy and we reiterate our previous stance based on growth across major business metrics as well as strong cash flow generation. The company's video customer losses are slowing down consistently and the momentum in high speed internet is getting stronger. Comcast has historically produced impressive growth in operating cash flows, with a four-year CAGR of 15%. The company has maintained its policy of returning capital to its shareholders in the form of dividends and share buybacks. Dividends have grown by an impressive 27% over the last four years and based on its modest payout of 21%, further dividend growth can be expected. These shareholder-friendly policies along with strong operational momentum across key metrics warrant an upside to the stock that is up 56% since the start of the FY2012.
Cable Communications - the company's largest contributor in terms of revenues - continues to show growth, 7% growth in revenues to be exact in Q3 2012. Despite a slight drop in EBITDA margins from the year-ago quarter, which was largely due to higher programming and marketing costs, the segment has carried on with its strong momentum due to solid performance by its residential and business services. If the segment's operational metrics are analyzed, a consistent Year over Year improvement is visible.
Video Losses Slowing Consistently:
Even though the company lost 117,000 customers in the quarter, it is interesting to note that the losses are slowing down on a consistent basis quarter over quarter. Moreover, a rising number of customers are using the company's multiple products that include video, high-speed internet and phone services, which are the reason behind the most recent boost in the average monthly revenue per subscriber. ARPU increased by approximately 9% to $151 largely due to customers opting for more than one product offering by the company.
Customers

Net Additions

Q3 2011

Q32012

Q3 2011

Q3 2012

Video customers

22.3 mn

22 mn

(0.165mn)

(0.117mn)
As evident from the table above, the company reported 117,000 in video customer losses in Q3 2012, which is a significant improvement from 165,000 customers it lost in Q3 2011. The consistent slowdown in video losses is also reflected in the chart below, showing consistency in the upward trend over the past few years. The company's recently launched X1 - which is primarily aimed at triple-play customers (video, voice and internet) - is helping bring slowdown in video losses. The new X1 set-top box is an app heavy platform that provides various enhanced navigation features to its customers and has gained good traction with its user base. The cloud-based platform is now available in more than 5 markets, with a few more to be launched by the end of the current year. Going forward, we expect the service to bring growth in video customers.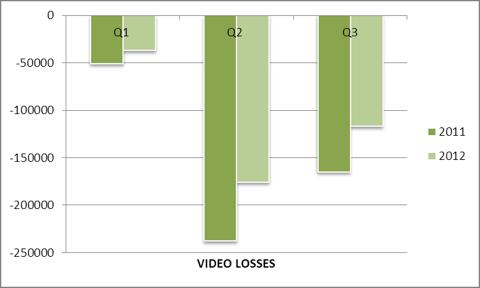 Source: Quarterly Reports
Momentum in High Speed Internet Getting Stronger:
The company added 287,000 internet customers in Q3 2012, up from 261,000 in the year-ago quarter. The high net additions for the quarter were helped by students returning to colleges and university as well as high speeds on the company's xFinity Blast. We expect strong momentum in internet performance to continue in Q4 2012 as the xFinity blast continues to attract customers for download speeds up to 50Mbps, up from 25 Mbps at no additional cost. Moreover, Extreme 305 customers can now receive speeds up to 305Mbps at no additional charge. According to the company's website, this is the seventh time since 2002 that the company has hiked speeds for its subscribers. Going forward, we expect the growth in data needs to translate into further customer additions in Q4 2012.
The chart below shows the momentum in data growth: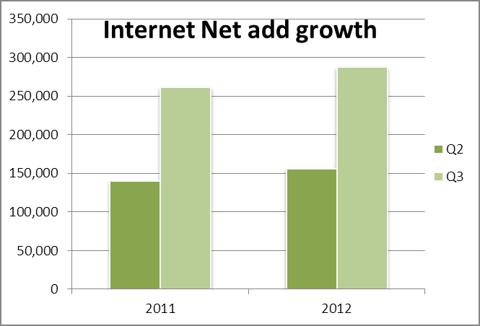 Source: Quarterly reports
Financial Review:
The company's balance sheet looks strong. It has a debt-to-equity ratio of 79% as of the most recent quarter end. The company ended the third quarter with a total of $38 billion in debt. Comcast's leverage (Debt to Ebitda) declined to 1.9x as of the last 12 months ended September 2012, compared to 2.11x as of FY 2011. Currently, the company is operating at the lower range of its leverage target of 2x to 2.5x. Based on the strength of the company's cable business as well as strong cash flow generation ability, Fitch has recently affirmed comcast s IDR at BBB+.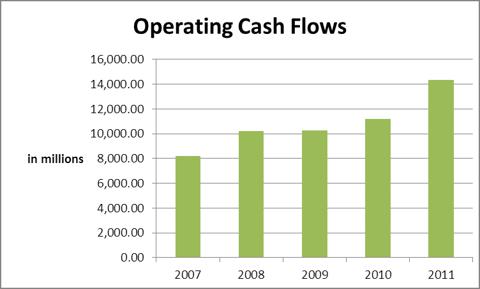 The chart above shows the strong cash flow generation ability of the company. CFOs have grown at a four-year CAGR of 15%. In the nine months ended September 2012, the operating cash flows increased over 10% to $11 billion.
Dividend hike in the cards:
The company uses its operating cash flows primarily for returning capital to its shareholders and analyzing the upward trend in its operating as well as free cash flows, it is safe to say that the current dividend payout is very much sustainable. In the three quarters ending September 2012, the company paid $1.2 billion dividends, which included share repurchases for $750 million. The company has a modest payout ratio of 21% which means that the company is retaining most of its earnings for investment purposes. It also indicates that there is further room for dividend growth. In fact, Comcast is a prime example of a company that has brought about an impressive boost in its dividends over the years.

The company generated OCFs of $11.2 billion during the first three quarters while incurring approximately $8 billion in capital expenditures and dividend payments, including share repurchases, which points at the comfortable margin of safety for dividend investors.
Valuations:
The stock is up 56% on a YTD basis and has outperformed its peers as well as the broad market benchmark.

CMCSA trades at 16 times its forward earnings, at a discount to the five-year average of 22x, as well as industry average of 18x. The said multiple for Dish Network Corp. (NASDAQ:DISH) is currently 15x. Over the next five years, earnings are expected to grow at a rate of 15%. Based on industry's price-to-earnings multiple of 18x and 2014 EPS estimates of $2.4 per share, we arrive at a target price of $43, which translates into a total return of 18.3%. The total return accounts for the 1.8% dividend yield as well.
Disclosure: I have no positions in any stocks mentioned, and no plans to initiate any positions within the next 72 hours.
Business relationship disclosure: The article has been written by Qineqt's Telecom & Media Analyst. Qineqt is not receiving compensation for it (other than from Seeking Alpha). Qineqt has no business relationship with any company whose stock is mentioned in this article.