Often times as a value investor I find myself constantly hoping great businesses will fall down to true bargain prices. Sometimes it will happen, and sometimes I find myself missing out on what should have been obvious buying opportunities in hindsight. Experience has taught me that it truly does make sense to pay a fair price for a great business. McDonald's (NYSE:MCD) is a business that I believe has an extremely wide-moat, and produces very high returns on capital. Over the last decade, few companies have innovated and executed as well as McDonald's, and while I don't believe the next decade will be as fruitful as the last in terms of margin expansion, I believe that at the current valuation there is still plenty of upside for the long-term investor.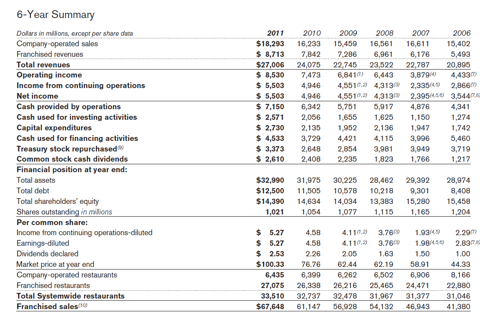 At the time of this writing McDonald's is trading around $86 per share, and has a market capitalization is roughly $87 billion. Over the last 12 months McDonald's has generated $5.31 in earnings per diluted share, or $5.445 billion in net income on roughly $27.438 billion in revenue. At current prices McDonald's trades at just over 16 times trailing earnings, and 15 times forward earnings. In a world where the 10-Year Treasury offers a meager 1.66% yield, McDonald's provides the investor with a solid 3.6% and growing dividend yield. A decade ago McDonald's was in trouble. The company's menus and stores had become somewhat antiquated, and the stock sold off as a reflection of returns on invested capital dropping to an astoundingly low 4.62% in 2002. In response management changed the business model through emphasizing the Franchise format where returns on invested capital are radically higher. McDonald's typically controls the land on its properties and will lock in guaranteed lease payments from its franchisees. The franchisee puts up the majority of the capital outlay on the stores, allowing McDonald's to earn steady and lucrative profit margins on the fees that the franchisee pays the company for the ability to operate. For this business model to be successful over the long-term, the franchisees must make money. McDonald's average revenue per restaurant is $2.5MM, which is significantly greater than many of their competitors that tend to average closer to $1MM.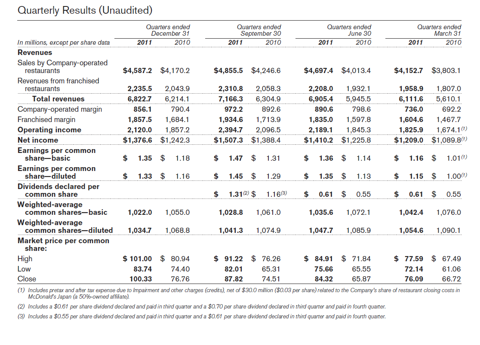 The table above shows the quarterly revenue breakdown of both company-operated and franchised restaurants. The franchise model is about 4 times as profitable on an operating margin basis, and is the primary factor behind McDonald's increasing returns on invested capital to the high-teens area. Return on equity over the last 12 months is a stratospheric 40%, highlighting the wonderful economics of this business. McDonald's returns on capital are actually significantly understated in relation to most of its competitors because it owns roughly 45% of its massive real estate portfolio. One of the company's strengths over the years has been its ability to find prime real estate locations on a global basis, and this land and property is valued on the balance sheet at cost minus depreciation. While there is no impetus to divest any of this real estate, I believe the investor should understand the hidden value that McDonald's has that won't be adequately measured in P/E or P/B ratios. If this real estate was divested, the company would lock in huge gains and taxes, while return on capital measures would increase greatly.
Currently McDonald's has around 34,000 locations in 120 countries, including roughly 27,500 franchises/affiliates units, and 6,500 company owned units. The company is a destination for 69MM customers every day. McDonald's success in reinventing itself was not limited to capital allocation but also menu innovation. A decade ago, I wouldn't have dreamed of eating at a McDonald's for breakfast, but the company has greatly improved its quality and selection. Part of the company's business model is to bring in traffic offering every day value selections, and then upselling into higher quality/margin products. Coffee has become a huge product for McDonald's and the company continues to increase its profit margins by offering more premium flavors. Because the coffee is cheaper and arguably as tasty (I'm not a coffee drinker) McDonald's was able to gain real market share against Starbucks (NASDAQ:SBUX), which if not for the wonderful management of Howard Schultz might have been in some real trouble. Another one of the company's great innovations are the smoothies, which are both cheaper and lighter than many of the competitors' offerings. It is really easy to add the high margin smoothie to your low-cost breakfast, and you find yourself spending more than you thought you would, but the quality is pretty good for fast food.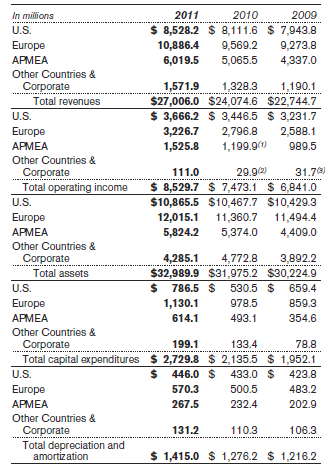 McDonald's is one of the most global companies in the world with only about 31.5% of revenue coming from the United States. They cater to local populations in terms of building their menu offerings. By constantly innovating and trying out new ideas on a smaller scale in one demographic, the company is able to take the best ideas and scale them across the global platform when it makes sense to do so. Another area where McDonald's simply has no peer in terms of the restaurant business is its ability to leverage its size in advertising and marketing its brand and offerings. McDonald's is one of the most valuable brands in the world and almost anywhere in the globe that you are, you'll find bustling McDonald's locations. McDonald's has attempted to reduce its reliance on its core hamburger, fries, etc. and is now offering more salads and wrap-type offerings that are healthier. I believe the increased selection is paramount to keeping traffic to the restaurants consistent in this much more health conscious society. Obviously the United States' increasing obesity issues show that we aren't winning the Battle of the Bulge, but restaurants must have a decent selection for health conscious moms, who might want to take their kids to McDonald's to partake in the atmosphere and kid's food offerings. I believe that there is a significant demographic of people that go to McDonald's regularly for coffee, smoothies, salads etc. that probably would never really go there if it weren't for these offerings.
As part of its drive to improve the customer experience, the company is aggressively renovating its restaurants across the globe to a more modern feel. In 2012, McDonald's invested about $2.9 billion into the business through a balanced approach of new restaurant openings and enhancement of existing restaurants. Through September the company has opened 812 restaurants and is on pace to finish the year with over 1,300 new restaurants. Because of the high returns that these new restaurants are generating, the company is able to improve its operating leverage over the long-term. This really creates a snowball-effect, where the scale, distribution and R&D advantages continue to increase over its competitors. There are a lot of competitors and taste preferences do change. McDonald's has misfired in the past, but I believe the company's brand, global distribution, and financial stability provide it with a wonderful opportunity to pick up market share in the future.
Currently McDonald's is experiencing some pressure from a weak global economic environment. Their comp store numbers were actually stronger during the "Great Recession" than the current stagnating environment, and I believe a real factor in this is the global nature of its business. The current economic environment is weak across the globe, with few if no real pockets of strength across the major markets for McDonald's. The company continues to increase market share and is making a very large investment in China, which offers huge potential for the company. In 2012, the company is on pace to open 225-250 restaurants and McDonald's is on pace to have 2,000 restaurants operating in the country by the end of 2013. I believe that McDonald's has every opportunity to make China just as big for the company as the United States or Europe is over the long-term, which could clearly have an incredible impact on profits. Africa and other parts of Asia also have wide-growth runways for the company to travel down. The company devotes just about all free cash flow not needed for the growth of the business into dividends and share buybacks. The McDonald's share count has been continuously dropping and we've already mentioned the great yield on the stock. McDonald's has tough earnings comps next year, but I believe the company's growth in Asia and an eventual recovery in Europe can be large catalysts for the stock.
I believe one good strategy an investor can use to invest in McDonald's is what we call the "hybrid" strategy. This would mean buying 100 shares of the stock at $86, selling the January 14 $85 puts for $7.45, and selling the January 2014 $95 calls for $1.95. Assuming you hold your positions till expiration there are 3 different things that can happen.
1) If MCD expires below $85, you would end up owning 200 shares of MCD at a breakeven price of $80.8, which is 6% below the current price. By owning the stock you'd have all of the upside or downside from that cheaper level.
2) If MCD expires above $85 but below $95, you'd still own 100 shares and have made the 3.5% dividend for the year. Your options would have generated $940 of premium, which is about 6% on the maximum risk of $16,160. You'd also have taken any gain or loss that the stock had during that time.
3) If MCD expired above $95, you'll be exercised on your call and will end up selling all of your stock with the put expiring worthless. This means that you would have kept the $940 of premium, the dividend, and have made $900 as the stock increased from $86 to $95. This would be an 11.4% return before the 3.5% dividend.
This strategy isn't designed to make you rich in one year but is instead structured to generate income while taking less risk, as defined by taking a permanent loss of capital. If McDonald's sells off below $80, I'd look to dollar cost average on the position.
Disclosure: I am long MCD. I wrote this article myself, and it expresses my own opinions. I am not receiving compensation for it (other than from Seeking Alpha). I have no business relationship with any company whose stock is mentioned in this article.