Investors have been hot on homebuilding stocks this year, driving the homebuilders ETF (NYSEARCA:XHB) up 54% versus the S&P 500's (NYSEARCA:SPY) 11% gain.
But while the big move may have some investors worried, there are still opportunities to buy housing and building materials stocks such as Lennox International (NYSE:LII).
The housing market is recovering.
A lot of investors haven't believed the nascent recovery in housing. I don't blame them. Compared to the historical averages, housing starts remain far below multi-decade levels. The credit bubble brought forward millions of units of sales and banks have hesitated to list foreclosed properties, helping inflate median sales prices.
However, the absence of cheap inventory is still limiting supply and homebuilders are responding with higher unit sales at higher prices.
New home sales in October came in at 366k, 17.2% above a year ago. Building permits, which have a much narrower standard margin of error, were 29.8% higher than last year. The month's supply of new homes fell to 4.8, down from 6.1 a year ago (see chart below).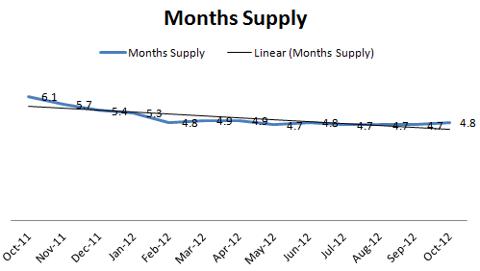 The following chart provides a longer view of month's supply. As construction picks up to meet demand I'd expect the ratio to run between 5-7 months.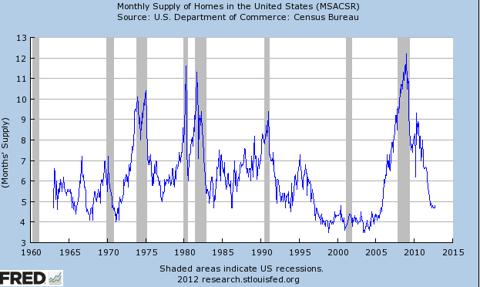 Median sales prices dipped in October to $237.7 k. However, prices remain in-trend and above the $232.6 k median price during June. As long as pricing remains solid, margins at homebuilders benefit.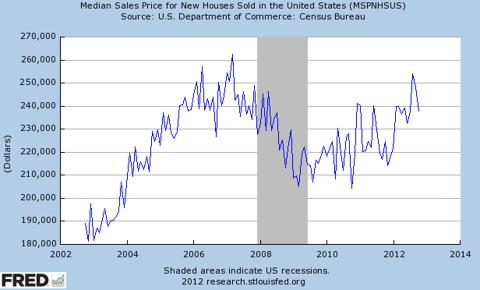 Median months on sale also continue to improve, dropping to 5.9 months from 8 months in June and 7.2 months a year ago. Faster turnaround in housing supports construction spending on building supplies, machinery and equipment.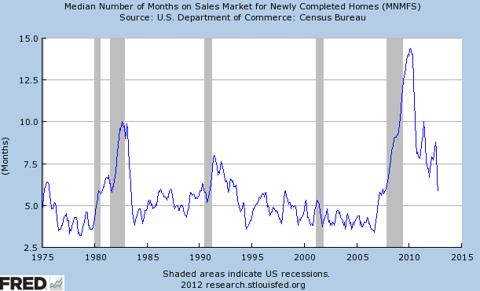 Finally, while housing starts are notoriously volatile, housing permits provide a more stable measure of construction trends. In October, permits were 29.8% higher than a year ago.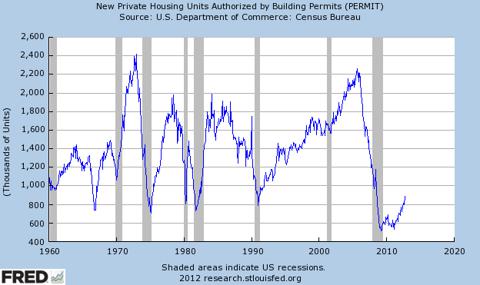 With permits growing and prices supporting profit growth at major builders, the wind remains in the sails for furnace and air conditioning demand, which is supporting Lennox revenue and profit growth.
Residential drove sales and profit growth last quarter.
Revenue in the most recent quarter climbed 3%, ex-currency. The growth came thanks to a 9% lift in residential sales to $386 million. Within residential, new construction sales grew 25%, making Q3 the third consecutive quarter where equipment sales for new construction have outpaced replacement and parts.
The number of residential units sold during the quarter increased 12% versus last year and pricing improved too.
The new home trends did however come with a downside. The dramatic lift in residential units, which tend to be less pricey, dragged on margins.
Despite that headwind, residential segment profit still improved by 150 basis points to 10%, driving a 20% increase in profits.
Some of Lennox's success in capturing growth is tied to building up its presence in key markets.
Its Lennox Parts Plus stores are allowing Lennox to capture more contractor demand, including more margin friendly emergency repair. The strategy's effectiveness supported the opening of 13 new stores in Q3, bringing the company's total to 100. In Q4, Lennox plans to add another 8 locations.
While residential has been strong, commercial has been lackluster.
The company saw large national accounts push out sales from Q3 ahead of elections and fiscal cliff worries.
As a result, commercial sales were only up 1% in constant currency. However, segment profit was up 5% on flat volume and higher prices and better product mix. This bumped up profit margins by 90 basis points to 14.8%.
Sales in Lennox's refrigeration segment were also pressured. Revenue dropped 6% year-over-year last quarter. But cost controls more than offset the revenue shortfall, increasing profit 22% thanks to lower input costs. Given a lot of last quarter's weakness was tied to big customers sitting on their hands, the company expects lost sales from Q3 to fall into Q4, suggesting sales will increase sequentially.
Additionally, while the trends supporting climate control equipment sales were already in place prior to Hurricane Sandy, the storms arrival and resulting damage will further support sales into next year.
Overall, analysts expect earnings per share to climb 21% to $3.32 in 2013, up from $3.16 60 days ago. That growth comes on top of a 29% increase in 2012 from 2011. The company has outpaced Street estimates in all 4 of the past 4 quarters, suggesting future positive revisions may be ahead.
Short sellers seem to be growing less optimistic too. In October, shares short fell to 2.09 million from 2.27 million.
Cold weather has been good for Lennox shareholders.
Over the past 10 Q4s, shares have climbed 8 times, producing an average 15.97% return for the quarter. Shares have gained double digits in 7 of the 8 years. The two down years were down 4.48% and 2.48%, respectively. Both occurred during recession.
Source: Seasonal Investor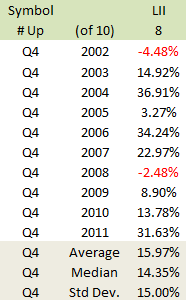 As you can see from the following chart, returns have historically improved as we've moved further into the quarter. In the month of December, shares have gained nearly 6%, far better than the average 1.06% return for the SPY over the past decade.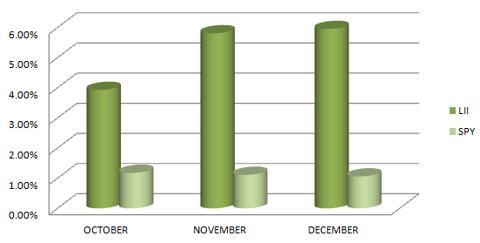 Lennox isn't cheap by my valuation measure. Its forward PE ratio is about 2.2x its 5 year PE low. That is higher than the sector, which checks in at about 2.05x. However, it is lower than the mid-cap universe, suggesting Lennox may not be cheap relative to its sector, but could offer some value compared to the broader alternative.
Source: E.B. Capital Markets, LLC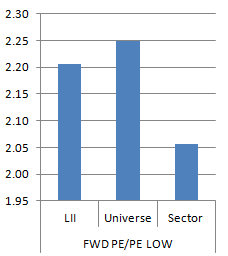 For investors looking for plays benefiting from improving housing markets, Lennox provides an intriguing option. Its residential growth clearly reflects higher residential home construction. And potential future growth may come if commercial projects pick up too. The overall increase in volume and price stability should help Lennox continue to outpace Street estimates, which could help shares move higher next year. If so, we could see shares remain at their current PE ratio near 19x, which would give Lennox a price target of $63, up 22%.
Disclosure: I have no positions in any stocks mentioned, but may initiate a long position in LII over the next 72 hours. I wrote this article myself, and it expresses my own opinions. I am not receiving compensation for it (other than from Seeking Alpha). I have no business relationship with any company whose stock is mentioned in this article.