The Gist
The five stocks covered in this article have recent news out regarding noteworthy catalysts for organic growth in 2013. This bodes well for share price appreciation in the stock. Most of the news items I am talking about have just come to light. Based on this fact, I do not believe the news has been fully priced in to the stocks in question by the market.
With Republican politicians willing to make a deal and Obama stating Wednesday he wants a deal done by Christmas regarding the fiscal cliff, this may be your last chance to start a position in these stocks at their current levels. I posit a deal will get done and the market will rally substantially on the news. This bodes well for the following stocks.
The Goods
In the following sections, we will perform a review of the fundamental and technical state of each company. Additionally, we will discuss the potential upside of the sector, industry or company specific catalysts that may drive growth in 2013. The following table depicts summary statistics and Wednesday's performance for the stocks.

AK Steel Holding Corporation (AKS)
The company is trading 61% below its 52-week high and has 35% upside based on the consensus mean target price of $5.39 for the company. AK Steel was trading Wednesday for $4.00, up over 5% for the day.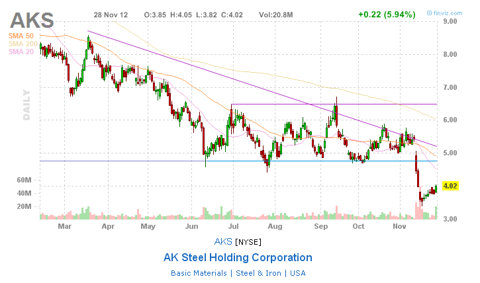 AK Steel has some fundamental positives. The company has a forward P/E of 16.48. AKS is expecting EPS to rise by 137% next year and by 34% over the next five years. The company trades for approximately 10% of sales.
Technically, the stock had been in a well-defined trading range since June until mid-November when they announces the sale of additional stock to shore up their balance sheet. The stock seemed to have found a bottom at $3 and began moving higher as it consolidates.
Goldman Sachs upgraded AK Steel from Sell to Neutral with a price target of $3.50. Goldman believes the recent capital raise has diminished balance sheet concerns near term.
Wednesday, Dahlman Rose upgraded AK Steel to Hold from Sell citing it believes the implications of recent debt and equity issues have been priced in and near-term liquidity risk has been removed.
Potentially providing additional impetus behind the recent move in AK Steel is Chairman and CEO James Wainscott's purchase Tuesday of 100K shares at $3.845 each. I like it when the CEO puts his money where his mouth is. I posit the selloff of shares has been overdone. This is a buying opportunity and I have started a position.
Ford Motor Co. (F)
The company is trading 13% below its 52-week high and has 32% upside based on the analysts' mean target price of $14.67 for the company. Ford was trading Wednesday for $11.14, up slightly for the day.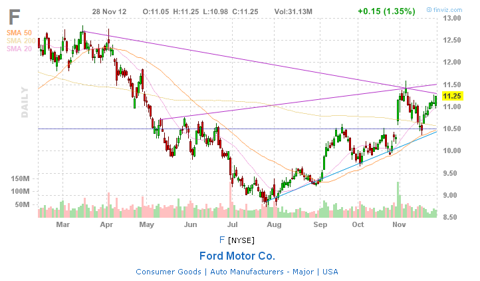 Fundamentally, Ford has several positives. The company has a forward P/E of 7.60. Ford is trading for 10.63 times free cash flow and slightly over two times book value. EPS next year is expected to rise by 10%. The company pays a dividend with a yield of 1.80% and has a PEG ratio of 0.48 and a net profit margin of 13.36%.
Technically, Ford is currently in a well-defined uptrend. The stock has been in a solid uptrend since the last quarter. The stock has posted higher highs and higher lows since the start of August. Look at the chart. The stock is about to achieve the coveted golden cross where the 50-day sma crosses above the 200-day sma. This is a significant event and should drive the stock higher as many technical traders use this as a bullish signal to buy.
Mulally is staying around till 2014, sales and profits are up and the recent storm has not affected production or sales. The stock remains a buy long-term. Uncertainty about the fiscal cliff isn't hurting demand for cars and trucks either, or at least not yet, Ford's global sales and marketing chief stated recently. Analysts expect relatively strong November sales to be up approximately 12% year over year. I like the stock here.
Groupon, Inc. (GRPN)
The company is trading 84% below its 52-week high and has 24% potential upside based on the consensus mean target price of $5.12 for the company. Groupon was trading Wednesday at $4.17, up over 5% for the day and 30% on the week.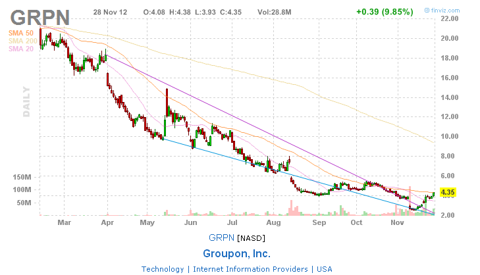 Fundamentally, the stock has positives. The stock has a forward P/E ratio of 16.50 and trades for 9 times free cash flow. EPS and sales are up substantially quarter over quarter. EPS next year is expected to rise by 41% and by 27% for the next five years.
Technically, the stock is in a well-defined downtrend, yet has leveled off and seemed to find a bottom at the $3 level. Since the stock has rebounded 60% and broke through the first level of resistance at the 20-day sma with no problem and has the 50-day sma in its sights.
The big news is Tiger Global Investments LP disclosed a 9.9% stake in Groupon on in a filing with the Securities and Exchange Commission at the beginning of the week. I see this as a very positive development and Tiger seems to be working behind the scenes to shake things up already. For instance, according to a recent article in Bloomberg, several board members have been thinking of ousting CEO Andrew Mason in favor of a "more experienced" leader, as well as making other changes. This sounds like good news to me. I posit the run has just begun for this name. The stock is down 85% from the IPO price and has Tiger Global Investments looking over the boards shoulder. I like the stock here, but hoping for a pullback to get in.
Nokia Corporation (NOK)
The company is trading 40% below its 52-week high and 20% above its consensus mean target price of $2.62 for the company. Nokia was trading Wednesday for $3.28, up over 3% for the day.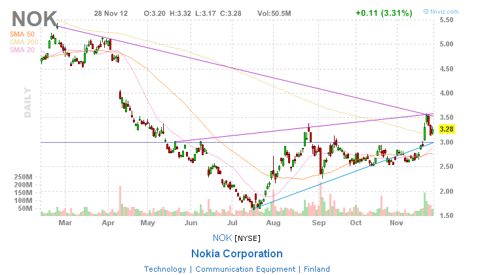 Fundamentally, Nokia has several positives. Nokia is trading for 1.2 times book value, 29% of sales and has $3.09 in cash per share. EPS next year is expected to rise by 77%. Nokia pays a dividend with a 7.97% yield.
Technically, the stock has rebounded nicely since July and has established an uptrend. The stock broke out massively to the upside recently and sold off as short term traders took profits and moved on.
Two major pieces of news have come out bolstering my bullish sentiment on the stock. First, Nokia is aggressively pricing product and reportedly the Lumia 920 has sold out in stores.
Secondly, Nokia is seeking to block the sale of most RIM (RIMM) products in the U.S., Canada and U.K. through the enforcement of a recent ruling by an arbitrator. The arbitrator found in favor of Nokia in a dispute over patents related to its wireless local access network (OTCPK:WLAN) technology. The arbitrator ruled that RIM is "not entitled to manufacture or sell WLAN products without first agreeing royalties with Nokia." This is a potential huge windfall for the competitive position of the company.
With a dividend yield of nearly 10% and Microsoft's backing, the risk/reward ratio looks positive for the stock. The stock is a buy here.
Vringo, Inc. (VRNG)
The company is trading 38% below its 52-week high and 183% above its consensus mean target price of $10.00 for the company. Vringo was trading Wednesday for $3.55, up nearly 1% for the day.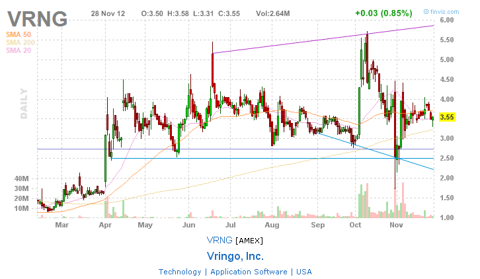 Fundamentally, Vringo has few positives. The company has a gross margin of 74%. EPS this year is up 40%. Vringo has $0.66 in cash per share. Nevertheless, the reason investors may start a position in Vringo will most likely not be based on fundamentals but upside potential.
Technically, the stock has leveled off and been under accumulation for several months. The stock has been in a trading range between $3 and $6 with volatile swings from top to bottom of the trend channel. This is standard behavior for patent lawsuit plays. Currently the stock is resting near the bottom of the channel just above the 20-day sma.
Vringo recently jumped 5% after the U.S. federal court overseeing its patent suit against Google, AOL, and others confirmed the jury's infringement verdict and its recommended 3.5% royalty on U.S. AdWords revenue. Shares had calmed down in recent days after seeing tremendous volatility during the trial.
In other news, Vringo recently filed a lawsuit against ZTE in Germany alleging infringement over wireless network infrastructure components that could vastly impact the value of the company.
Vringo is a speculative play, but is now trading near the bottom of the recent trend channel. I believe a portion of a portfolio should be dedicated to speculation. Vringo definitely fits the bill and analysts' mean target estimates, giving the stock a potential upside of 183%.
The Bottom Line
I posit the fiscal cliff and usual year-end tax loss selling may provide the opportunity to pick up shares in solid stocks with noteworthy catalysts and upside at a discount. I may be wrong, but I do not see Washington pulling a Thelma and Louise. They will come together and broker a deal that will send the markets higher prior to year end. Based on this assumption, the catalysts underpinning the stocks and the current upside potential I posit these stocks are buying opportunities for 2013 gains.
If you choose to start a position in any stock, I suggest layering in a quarter at a time on a weekly basis at a minimum to reduce risk. Set a 5% trailing stop loss to minimize losses even further if you wish.
Disclosure: I am long AKS. I wrote this article myself, and it expresses my own opinions. I am not receiving compensation for it (other than from Seeking Alpha). I have no business relationship with any company whose stock is mentioned in this article.
Additional disclosure: This is not an endorsement to buy or sell securities. Investing in securities carries with it very high risks. The information contained within this article for informational purposes only and is subject to change at any time. Do your own due diligence and consult with a licensed professional before making any investment.