It is hard to rationalize a market shifting on the words of leaders lending their own sentiment to coming events, but that is exactly what's happening. The E-Mini S&P 500 shifted from its gloom and doom downtrend based on Senate Majority Leader Harry Reid expressing "little progress" has been made at the budget talks Tuesday, to closing higher Wednesday based on Republican House Speaker John Boehner expressing his optimism that we can "avert this crisis sooner rather than later". President Barack Obama further extended his hopes to reach an accord before Christmas.
Thursday, President Obama is putting Treasury Secretary Timothy F. Geithner into the mix to talk with congressional leaders. The issues seem to be extended tax cuts for the middle income families and individuals but perhaps expired tax cuts for the top wage income families and individuals. This market will remain vulnerable to the remarks on the "fiscal cliff" talks until an agreement has been reach or we fall off the cliff on January 2nd.
The Congressional Budget Office has projected if a resolve is not found, a recession and a 9% unemployment rate may ensue. The Organization for Economic Cooperation and Development projects further contraction may occur in the US economy without an agreement in place. It is thought that some tightening may be built-in to the market already.
The Fed Funds rate remains extremely low for the near-term. The next Fed policy meeting is December 11th and 12th. Operation Twist is set to expire at the end of the year and no mention has been made of any further extensions. From now until the year's end, the budget negotiations will impact the sentiment in the markets. Of course, the plans may have to materialize before any tension is taken out of the marketplace. Without a compromise, it is possible the tax increases and spending cuts could cause the US GDP to contract 0.5 % in 2013 and/or possibly increase unemployment to 9.1%.
US Fed Chairman Bernanke also clarified he has no magic left to curtail any of the damage that could be done should an agreement not be reached. Fitch's credit rating agency has warned the US could be downgraded next year unless the budget deal is finalized and the debt ceiling is raised in time. Standard & Poor's credit rating agency downgraded the US in August of 2011, creating quite an impact in the marketplace. Moody's credit rating agency warns that a very convincing and sustainable solution must be implemented for the US to keep their AAA rating with them.
US New Home Sales decreased by 0.3 % to a seasonally adjusted rate of 368,000 while the previous reading was 369,000. The median price for a new home is at $237,700. The inventory of existing homes may take precedence for a while as inventories perhaps remain fairly high. Fannie May and Freddie Mac have reduced their dependency on US government support, but there may be restructuring issues within the budget talks.
The US Federal Reserve November Beige Book Summary concluded that economic activity expanded at a measured pace in recent weeks. Consumer spending seemed to increase while manufacturing decreased. There seemed to be a higher loan demand for consumers than for businesses. Many other segments of the report were mixed, but overall it was optimistic for increased consumer spending which makes up about 70 % of the GDP.
The Federal Reserve uses this data to structure monetary policy. The market seems to expect a continued loose monetary policy going into 2013. Hurricane Sandy destruction is still being evaluated and may not be built in entirely yet. US Durable Goods Orders were unchanged from September at a seasonally adjusted $216.95 billion. Excluding transportation, October orders were +1.5 %. The non-defense portion of the report increased +0.1%. Defense capital orders decreased 7.1% in October. The demand for new cars and planes slowed but was offset by increased demand for machinery. US Consumer Confidence increased to 73.7 in November while the previous reading was at 73.1. Consumers are much more optimistic particularly about the next six-months.
Tuesday, Euro leaders agreed to give Greece funding ($34.4 billion euros) even though the same debt concerns may be plaguing them for years to come. Parliamentary approvals will be sought for each tranche of aid to come, reforms will have to be ongoing and the debt buyback will have to be continuous and successful. They reached an accord to contain the Greek debt to 124% of the GDP by 2020. Greece is expected to transact a bond buyback at 35 cents on the euro, but details are still rough and not finalized. At this point much of the news on Greece may be built into the market and viewed somewhat as a non-event.
There is still quite an issue as the International Monetary Fund (IMF) has suggested that the loans given to Greece be forgiven. The IMF has contributed $245.7 billion euros in rescue funds to Greece. Price stability is the mandate for the ECB and both Spain and Greece have an unemployment rate over 25%. The Germans have skirted the issue of write-downs on the Greek loans to Greece, but now they may have to discuss the possibilities. The GDP in the Euro Zone decreased to 0.1 % from the previous quarter as the recession intensified.
European Central Bank President Mario Draghi reflected his satisfaction with the "visible progress" made noting his views on inflation remaining moderate or under 2% potentially. Interest rates in the Euro Zone were kept unchanged at 0.75% by the ECB and 0.5% by the Bank of England. We still await a formal bailout request from Spain.
On the stock side - last traded: JP Morgan Chase and Co. (NYSE:JPM) was up 0.20 % to $40.83. Citigroup Inc. (NYSE:C) was up 0.09 % to $35.07. Bank of America (NYSE:BAC) was up 0.83 % to $9.74. Alcoa Inc. (NYSE:AA) was up 1.45 % at $8.40. Boeing Co. (NYSE:BA) was down 0.54 % to $74.09. Caterpillar Inc. (NYSE:CAT) was up 1.11 % to $84.94. General Electric Co. (NYSE:GE) was up 1.29 % to $21.14. Halliburton Co. (NYSE:HAL) was up 1.15 % to $32.41. Hewlett Packard Co. (NYSE:HPQ) was up 2.99 % to $12.73. SPDR Select Sector Fund - Financial (NYSEARCA:XLF) was up 0.38 % to $15.70.
E-Mini S&P 500 Chart.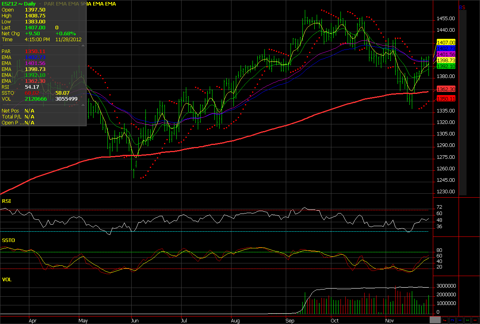 Click to enlarge
Thursday, what to expect? We maintain a bullish bias unless the (December) E-Mini S&P 500 penetrates $1350.25. Today, we anticipate an inside to higher day. Wednesday's range was $1408.75 - $1383.00. The market settled at $1407.00. Our comfort zone or point of control for this market is $1399.00. Our anticipated range for Thursday's trading is $1411.50 - $1399.50.
Disclosure: I have no positions in any stocks mentioned, and no plans to initiate any positions within the next 72 hours. I wrote this article myself, and it expresses my own opinions. I am not receiving compensation for it. I have no business relationship with any company whose stock is mentioned in this article.