Cliffs Natural Resources (NYSE:CLF) has been receiving mixed reviews by analysts lately and it's hard to gauge which ones are right. Some believe the stock is oversold and others think that the share price still hasn't fallen enough.
Cliffs Natural Resources recently had their rating raised from a "hold" to a "buy" by CRT Capital despite the recent bearish behavior of the stock. CRT Capital also put a price target of $50.00 on the stock. Other analysts, such as Goldman Sachs, have stamped a more negative outlook on Cliffs though, saying that the stock will fall to $25.00.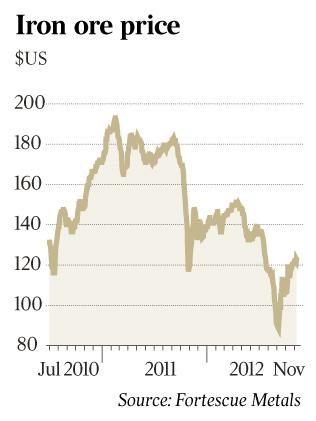 So which way will the stock go and why? I personally believe that Cliffs could be a good long-term play as the price of iron ore is dipping and will eventually recover. However, if you're looking for a short-term stock choice, avoid Cliffs.
The global economy is entering an iron ore downturn cycle. While the demand for iron ore and steel is going to continue to increase, foreign customers such as India and China both were clever and bought up surpluses back in 2009 while the prices were cheap. Therefore, the current demand for iron ore isn't as high as it should be which is negatively affecting companies such as Cliffs, Vale (NYSE:VALE), Rio Tinto (NYSE:RIO), and BHP (NYSE:BHP) for the time being. Once China and India use up their reserves though, global demand will rise once again and iron ore companies will flourish. This next year and a half to 2 years might be a rough patch though.
Although Cliffs appears to be extremely bearish right now due to an oversupply of iron ore, if you're eyeing a long position in the company you might be able to buy in around $20.00 per share. By 2015, global consumption of iron is expected to exceed 1.7 billion tons. China and India will be driving this demand once they use up many of their reserves.
Basically, this situation all comes down to whether you are willing to wait and play the iron ore trend long-term, or if you are looking for a more short-term play. I would consider waiting to see where Cliffs levels out at before purchasing anymore shares. As a long-term option here though, I see this being a very smart purchase down the road.
Shares of Cliffs Natural Resources traded down 1.33% during mid-day trading on Wednesday, hitting $29.61. Cliffs Natural Resources has a 52 week low of $28.33 and a 52 week high of $78.85. The company has a market cap of $4.450 billion and a P/E ratio of 4.63.
Disclosure: I am long CLF. I wrote this article myself, and it expresses my own opinions. I am not receiving compensation for it (other than from Seeking Alpha). I have no business relationship with any company whose stock is mentioned in this article.