In my earlier article about Pitney Bowes (NYSE:PBI) I made the case that the company's cash flow sufficiently covered the dividend and that the stock was undervalued due to these cash flows. The reason for the decline in share price seems to be related to the decline in revenue at Pitney Bowes and a fear of a possible dividend cut or reduction. In order to better grasp this situation we will need to take a closer look at revenue and EBIT at each business segment.
Pitney Bowes business segments can be put into two wide groups: SMB Solutions and Enterprise Business Solutions. The SMB Solutions group consists of the company's global Mailing operations. The company aligns its SMB business segments into North America Mailing and International Mailing to reflect how the business is managed. North America Mailing includes the operations of U.S. Mailing and Canada Mailing. International Mailing includes all other SMB operations around the world. The Enterprise Business Solutions group includes the company's global Production Mail, Software, Management Services, Mail Services and Marketing Services operations.
So basically, PBI's business subsegments are the following:
North America Mailing
International Mailing
Production Mail
Software
Management Services
Mail Services
Marketing Services
Let us first take a look at the overall revenue at PBI for Q3 2012: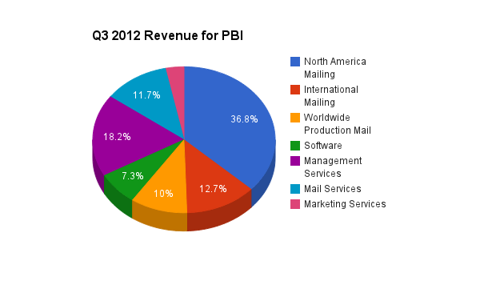 Click to enlarge
As you can see, traditional mail dominates PBI's revenue. North America and International mailing made up nearly 50% of revenue in Q3 2012. However, PBI offers other mail related services and software which made up the other 50% of its revenue.
Now let us take a look at Q3 2012 EBIT: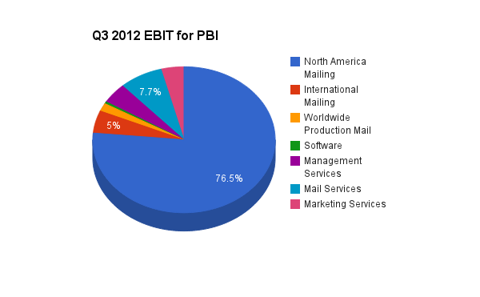 Click to enlarge
Now this chart is much more concerning. North America mailing made up 76.5% of EBIT for Q3. PBI needs to diversify its earnings away from this dying segment.
Let us now look at some of the trends for revenue at PBI over the last 8 quarters.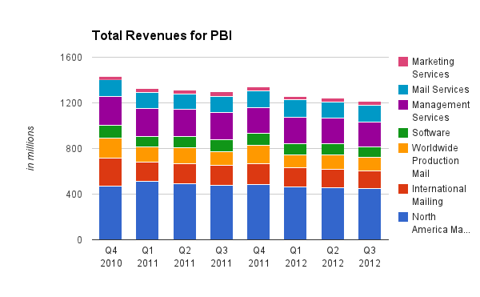 Click to enlargeDuring the last 8 quarters we can see a gradual decline in revenue of about 15%. However, the decline in the stock price has been much more severe than the decline in revenues. Let us now look at the EBIT trend for the last 8 quarters to see how it has fared: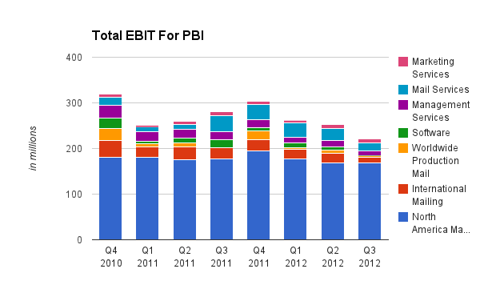 Click to enlarge
EBIT is showing a sharper decline than revenue. EBIT is down roughly 30% in 8 quarters. However the stock is down a much more severe 55%. These numbers do not add up. The market is mispricing PBI badly. Let us take a look at each of PBI's business groups over the last 8 quarters, to see if we can glean some insight.
Here are the revenue and EBIT trends for the Enterprise Business Solutions group over the last 8 quarters: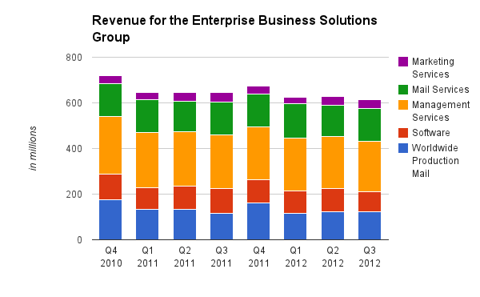 Click to enlarge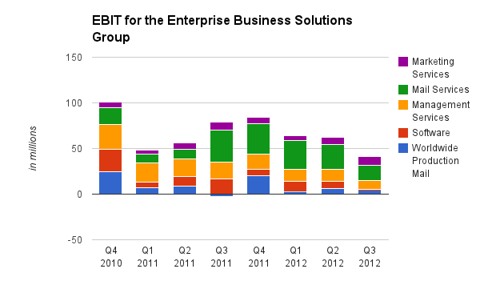 Click to enlarge
The revenues for this group were as expected. Over the 8 quarters, revenue for the group was down nearly 15%. However, EBIT went off a cliff. EBIT is down nearly 55% in this group over the last 8 quarters. EBIT margin would have been approximately 540 basis points higher for Q3 2012 excluding the investment in Volly. Also consider that this segment of PBI is receiving the most investment, still the drop decline in EBIT is worrying.
Here is a look at revenue and EBIT at each sector in the EBS group relative to each quarter: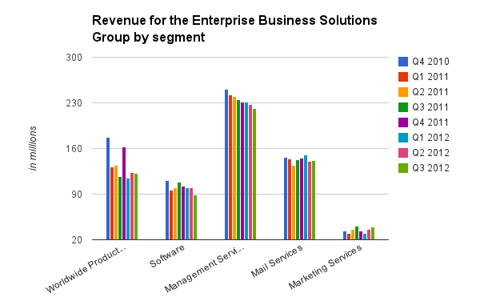 Click to enlarge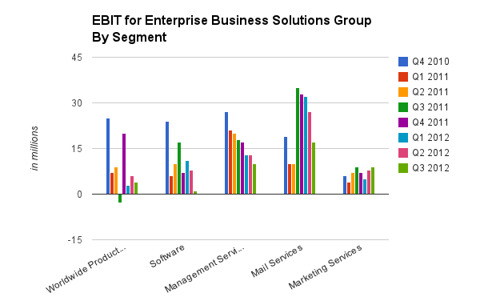 Click to enlarge
We can see the EBIT declines were mostly from the management and mail service segments. Revenue declines came mostly from the management service sector. EBIT and revenue in the other sectors were either flat or too erratic to form a clear trend.
Finally, lets take a look at the revenue and EBIT trends for the SMB Solutions group: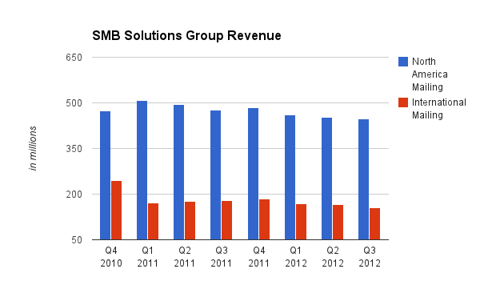 Click to enlarge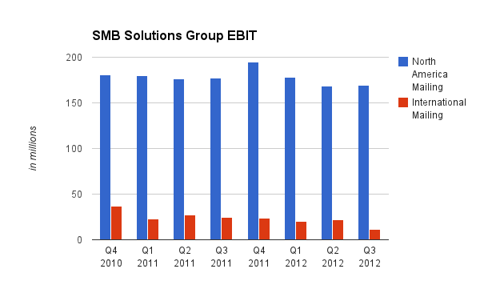 Click to enlarge
We can see that revenue has declined in both segments during the last 8 quarters. North American mailing revenue is down about 6%, while International mailing revenue is down about 35%. EBIT declined 7% in the North America mailing segment during the last 8 quarters. While EBIT in the international mailing segment declined 66%. Please bear in mind that in Q4 2010 Canadian revenue and EBIT were added to the international mailing segment. SMB Solutions group revenue is down 17% since Q4 2010. SMB Solutions group EBIT is down 18% since Q4 2010.
On Jan. 1 2011, PBI was trading at $24.18. today the stock is trading at $11.00. This is a 55% decline. In the revenue and EBIT numbers I do not see a reason for this dramatic decline. PBI is still profitable. At its current price, the stock offers a 13.64% yield. High-Risk, High-Reward defines PBI at the moment.
sourced from PBI earnings releases
Disclosure: I am long PBI. I wrote this article myself, and it expresses my own opinions. I am not receiving compensation for it (other than from Seeking Alpha). I have no business relationship with any company whose stock is mentioned in this article.