"If you give a man a fish he is hungry again in an hour. If you teach him to catch a fish you do him a good turn."
-Anne Isabella Thackeray Ritchie, Mrs. Dymond, 1885
The U.S. economy has been slowly on the mend over the last several years. After suffering a dramatic setback following the outbreak of the financial crisis back in 2008, U.S. economic output has not only stabilized but has since rebounded to new heights. But this fact does not imply that we are necessarily on the right track with the recovery. For the composition of how the post financial crisis rebound has been derived raises genuine concerns about the sustainability of our long-term growth prospects.
At first glance, it appears that the economy is well on its way to getting back on track. The chart below shows the quarterly reading of Real Gross Domestic Product (GDP) issued by the Bureau of Economic Analysis (BEA) at the U.S. Department of Commerce. This inflation-adjusted value of goods and services produced domestically in the United States shows that the U.S. economy had fully recovered beyond its pre-crisis peak in 2007Q4 of $13.326 trillion starting in 2011Q4. And since breaking out above its previous highs, domestic output has since risen to $13.616 trillion in the latest quarter of 2012Q3. So in short, it took four long years, but the U.S. economy appears back and better than ever based on this headline measure after what looks like nothing more than a solid bump in the road along the way.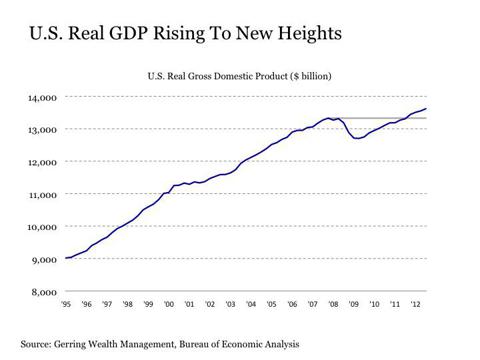 Click to enlarge
Of course, it is always worthwhile to dig below the headlines to better understand how the U.S. economy is doing. And this closer look reveals some points of concern.
The headline Real GDP reading can be broken down into four components as part of the Expenditure Approach, which is shown below:
GDP = C + I + G + Xn
Where
C = Personal Consumption Expenditures (Consumer Spending)
I = Gross Private Domestic Investment (Business Spending)
G = Government Consumption Expenditures & Gross Investment (Government Spending)
Xn = Net Exports (Exports - Imports)
The household consumer (the "C" component) is certainly a critical force in driving GDP. Overall, it is by far the largest factor in determining total domestic output at nearly 71% of total Real GDP. This is a primary reason why we hear so much talk in the media and among policy makers about the importance of getting consumers to spend. The thinking goes that if we can give people the confidence that they will keep their jobs or will soon be back at work so they will use their disposable income, get real estate prices on the mend so that people can once again borrow against their home equity, and send the stock market (NYSEARCA:SPY) surging higher so that people will spend their speculative winnings as part of the "wealth effect", the economy will increasingly find itself on the mend. And priorities such as these have helped in driving consumer spending past previous peaks to new highs.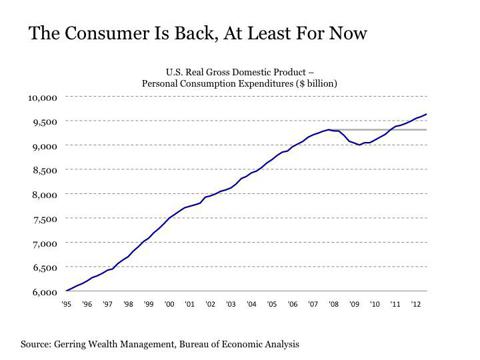 Click to enlarge
Government spending (the "G" component) has also played its part in supporting the recovery. During the depths of the crisis, an increase in government spending was deployed in an effort to fill the gap left by the drop off in private sector in the wake of the crisis. Some of the thinking behind this public spending effort is that if the government distributes enough money into the economy through transfer payments and incentives that it will result in additional support for the economy. Although government spending has scaled back some in recent quarters, it is set to rise at an accelerating rate in the future unless reforms are made to current spending programs.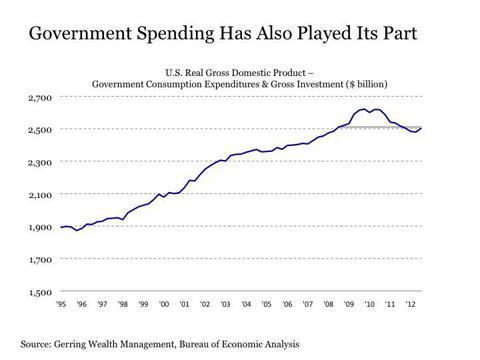 Click to enlarge
While consumer and government spending have gone a long way in propelling U.S. real economic output to new heights, it is problematic for the growth outlook for the following reason. The focus of spending from both of these segments is largely on current consumption. This includes spending money on consumer goods that we all need like food, clothing, automobiles and washing machines. It also includes spending on things like government entitlement programs to provide income and health care services to those in retirement.
But the problem with the focus on current consumption is that it does little to promote the future growth potential of our economy. For once these goods and services are consumed today, they provide little if any productive support for the economy in the future. In short, the efforts to jump start the economy over the last few years has been largely focused on giving a lot of fish to the American public through various policy channels. And the U.S. economy may be left hungry in short order as a result.
Policy efforts to effectively teach people how to fish have unfortunately fallen short since the outbreak of the crisis. The type of spending that is typically most supportive of future economic growth is gross private domestic investment, or business spending. This is due to the fact that expenditures in this area are mostly focused on the creation of capital goods such as factories and machinery. Such spending is positive for an economy because it leads to increased production that enables an economy to provide more goods and services for consumption in the future. In other words, if policy makers want to increase the growth potential of their economy going forward, they are best served to focus on capital goods through gross private domestic investment.
So where do we stand with business spending today? We still remain well short of levels last seen prior to the financial crisis. Looking back, gross private domestic investment peaked in 2006Q1. Since that time, it first faded lower for several quarters before cratering following the outbreak of the financial crisis in late 2008. By 2009Q3, real business spending had fallen by nearly -40% before finally bottoming. And while expenditures in this area have since scaled back, they have recently stalled in recent quarters at levels that still remain over -15% below the previous peak on an inflation-adjusted basis. While gross private domestic investment is a notoriously volatile component of GDP, it still does not take away from the fact that business spending remains well below levels last seen roughly seven years ago.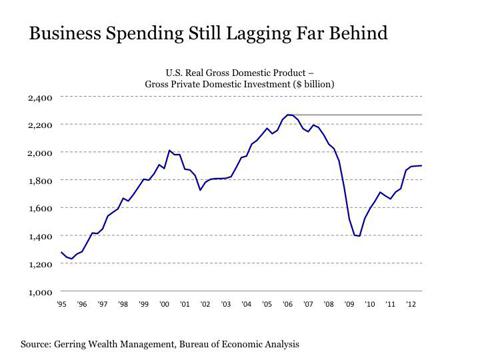 Click to enlarge
Making matters worse, the outlook for further improvements in business spending is poor in the upcoming quarters. Corporations are facing overall declining earnings growth with profit margins that are already at historical peaks. This implies that businesses in general are likely to have less to spend on new capital goods going forward, which is already being evidenced by the fact U.S. corporations are scaling back investment plans at the fastest pace since the recession according to the Wall Street Journal.
Moreover, the corporate sector has hardly been the recipient of outward expressions of support in Washington, as it has been a regular target of vocal criticism by the current administration in recent years. This, coupled with the ongoing regulatory uncertainty that is presenting itself in its latest form through the U.S. fiscal cliff debate, has created an environment that has been less than encouraging for businesses to spend on new projects and initiatives.
The policy focus of effectively giving out fish at the expense of teaching people how to fish is particularly problematic for the U.S. economic growth outlook. While the emphasis on boosting current consumption has helped jolt the overall economy back to life, it will amount to little more than a sugar high in the end if it is not supported by an equivalent if not even greater focus on promoting the production of capital goods through business spending. And the longer policy makers pontificate and wrangle over the looming U.S. fiscal cliff in Washington, the more businesses will opt to pull back the reins on future spending plans, which will be to the detriment of finally trying to bring our economy back to a sustainable growth path.
Thus, the sooner policy makers in Washington get an agreement done on the U.S. fiscal cliff the better, as businesses can finally get on with figuring out their spending plans at least for the near-term. In the meantime, the U.S. economy is left to hold its breath at the expense of our future potential growth.
Disclosure: I have no positions in any stocks mentioned, and no plans to initiate any positions within the next 72 hours. I wrote this article myself, and it expresses my own opinions. I am not receiving compensation for it (other than from Seeking Alpha). I have no business relationship with any company whose stock is mentioned in this article.
This post is for information purposes only. There are risks involved with investing including loss of principal. Gerring Wealth Management (GWM) makes no explicit or implicit guarantee with respect to performance or the outcome of any investment or projections made by GWM. There is no guarantee that the goals of the strategies discussed by GWM will be met.