Chimera Investment Corp (NYSE:CIM) issued an important press release after the bell yesterday. In the release, the Board of Directors of CIM declared a fourth quarter 2012 common stock cash dividend of $0.09 per common share (which is in line with the $0.09 per share paid to shareholders in the third quarter 2012). In addition, the company gave investors some guidance about what to expect for the first few quarters of 2013:
As previously announced, the Company initiated a regular quarterly dividend of $0.09 per share for each of the third quarter and fourth quarter of 2012, portions of which may be ordinary income, capital gains or a return of capital. The Board of Directors has reviewed this program and has decided to maintain a quarterly dividend of $0.09 per share for each of the first quarter and second quarter of 2013. The Board of Directors will review this program after the conclusion of the second quarter of 2013. For the first three quarters of 2012, Chimera has paid cash dividends totaling $0.29 per common share. Of this amount, $0.06 is currently expected to be characterized as a return of capital for federal income tax purposes, although this estimate will not be finalized until the Company files its 2012 tax return.
This is welcome news to CIM investors, who have been treading with caution over the past several years as the company cut its dividend in 5 of the last 8 quarters. It appears that CIM is finally showing some signs of stability (see chart below).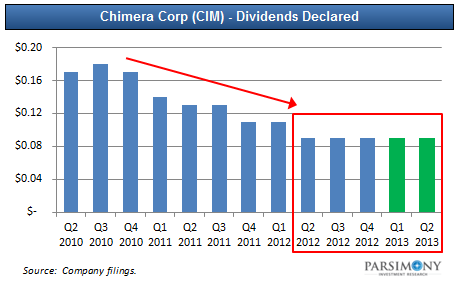 Yield and Valuation
Below is a comparative table including some of the more actively traded mREITs. These stocks have historically offered investors a very compelling risk-reward profile, with yields in excess of 10.0%.

Based on its current stock price, CIM's forward dividend yield is now 13.7% and it is currently trading around 0.80x book value. Chimera has historically traded at a discount to many of its mREIT peers due to the company's focus on non-agency securities (over 70% of CIM's portfolio is allocated in non-agency RMBS). In addition, investors have historically also expected a much higher yield from Chimera. Whereas agency mortgages are guaranteed by government sponsored entities (implying limited credit risk), non-agency securities do not carry a similar implied guarantee. As such, non-agency securities are inherently more risky as they are exposed to the credit risk of the underlying borrowers. Note: MFA Financial (NYSE:MFA) is also a hybrid mREIT (which invests in both agency and non-agency securities).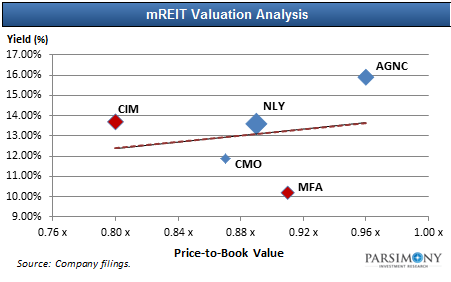 That said, Agency-focused mortgage REITs, like American Capital Agency (NASDAQ:AGNC), Annaly Capital (NYSE:NLY), and Capstead Mortgage (NYSE:CMO), have taken it on the chin since September thanks to the Fed's open-ended promise to buy agency mortgage backed securities (Note: Bernanke's MBS buying spree has driven up the price of agency securities, which has put agency mREITs in a precarious position).
As shown in the chart below, hybrid mREITs (like MFA and CIM) have actually held up relatively well since the Fed's QE3 announcement on September 13 (due to their lower exposure to agency securities). Conversely, pure agency mREITs are all still down over 10%.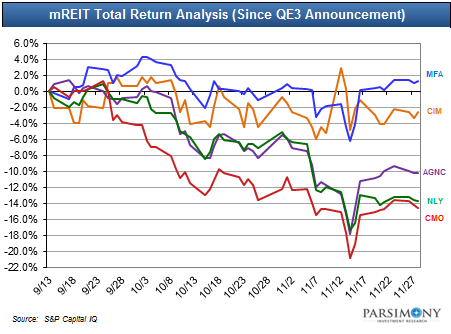 Is Now The Time To Buy?
Despite CIM's recent dividend stability and it's recent relative outperformance compared to many of its peers, we still think that CIM is a risky bet.
As many CIM investors know, the Company hasn't reported financials in over a year, so there is still quite a bit of uncertainty surrounding the stock.
The company gave the following update in its recent press release:
The Company had previously announced that it would delay the filing of its Annual Report on Form 10-K for the year ended December 31, 2011, and its Quarterly Reports on Form 10-Q for the quarters ended March 31, 2012, June 30, 2012, and September 30, 2012. The Company announced that its previously filed Annual Reports on Form 10-K for the years ended December 31, 2010, 2009 and 2008, and the Quarterly Reports on Form 10-Q beginning with the quarter ended September 30, 2008, and for all subsequent quarters through the quarter ended September 30, 2011, will be restated and can no longer be relied upon.

The restatement is not expected to affect the Company's previously announced GAAP or economic book values, actual cash flows, dividends and taxable income for any previous period. The Company is currently unable to estimate the timing for filing its 2011 Form 10-K, and expects to file its Form 10-Q for the quarter ended March 31, 2012, within 60 days after it files its 2011 Form 10-K and any subsequent unfiled Quarterly Reports will be filed as soon as practicable.
It's hard for us to have any conviction around a stock that hasn't reported financials in over a year (and claims that their historical filings can no longer be relied upon) and we recommend that investors wait for some more clarity before diving in to CIM.
That said, we have focused our attention lately on agency mREITs due to the major QE3-driven selloff in these stocks. We believe that agency mREITs are oversold and that current valuations are very compelling. Note: We have recently purchased AGNC and CMO for our Model DIY Dividend Portfolio.
Disclosure: I am long AGNC, CMO. I wrote this article myself, and it expresses my own opinions. I am not receiving compensation for it (other than from Seeking Alpha). I have no business relationship with any company whose stock is mentioned in this article.