Microchip Technology (NASDAQ:MCHP), a US$4.54BN firm, develops and manufactures specialized semiconductor products which are widely used in a variety of industries. Microchip's flagship product, microcontrollers, are used in variety of applications ranging from automotive comfort to home appliances, computers, telephones and cell phones, consumer electronics, power supplies, and gaming applications. With a proven product line, strong balance sheet, increasing dividend payouts for the past twenty quarters and astute leadership at the top, this stock surely deserves good consideration for long term investments.
Microchip's product portfolio includes a series of widely used microcontrollers, power management devices and development tools for designers to help develop complex application for different semiconductor devices. 
The harsh market scenario has certainly impacted 2008 financial results but the company still fared well compared to other companies in the semiconductor space. Revenue in FY08 stood at US$1.03BN and net income at US$29.77MN resulting in US$1.4EPS compared to US$1.62EPS in FY 07. The company recorded average 11% revenue growth and 25% net income growth in the last five years. Its operating margin is strong and stood at 29.13%, lower than FY07 at 31.86%. Net income margin, at 28.75%, is slightly lower than FY07's net income margin of 29.46%. Microchip increased the R&D spending YOY in the last five years, and FY07 R&D spending is 20% more than FY06 R&D spending, whereas FY08 R&D spending is 6% more than FY07's.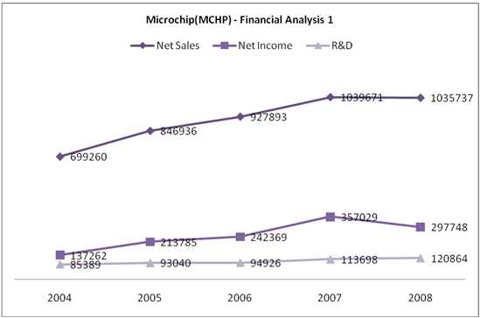 In FY 08, Microchip generated US$476.2MN free cash flow, resulting in higher dividend payouts, including twenty quarters of consecutive increases in dividend payouts. Microchip paid US$1.2 as a dividend in FY 08, an increase of around 24.9% over last year's dividend payout of US$0.965. In FY 08, Microchip paid  a total of US$252MN as dividend payouts. The last five years' EPS and dividend payout details are below:
Microchip historically has maintained substantially low levels of debt, and in FY 2008, it sold US$1.15BN of 2.125% of junior subordinated debt. These debentures are convertible, representing an initial conversion price of approximately US$34.16 per share of common stock. In FY 07, the long term debt was zero though. Microchip has a healthy current ratio and stood at 899% in FY08 and 425% in FY07.
As negative market sentiment has virtually affected all of the stock, Microchip has taken several strategic and financial initiatives to boost its share price. Some key steps taken, as well as strengths which will help sustain its performance in the near future, are articulated below:
In FY08, a total of 36.5MN shares of common stock were purchased for US$1.14BN.
Microchip recently sold its idled FAB 3 plant in Washington for US$27.5MN resulting in reduced operating expenses.
Current capacity can support up to US$2.2BN revenue, 37.5% more than FY08 revenue.
In FY 08, Microchip has 60,000 customers, with the top 10% of customers representing 9% of total sales.
Over 70% sales came from outside the USA, which will help sustain the company's revenue growth trajectory in current uneven times.
The company has an excellent manufacturing strategy, such as acquiring a FAB 4 factory during down time when valuation is depressed. Low cost manufacturing strategy in its plants resulted in lowered operating expenses, and the company witnessed excellent manufacturing yields so far.
With strong product foundation, proven management team, global presence and a new product pipeline, Microchip's stock is certainly poised to do well in the near term.
Disclosure: None.