After Google's (NASDAQ:GOOG) latest earnings report, I described how the stock had lost $100 a share on the poor quarter. In addition to Google's revenues and earnings being way below expectations, many were troubled by the accidental early release of the results. But regardless of when the numbers came out, they were bad. Google has now reported two quarters since the acquisition of Motorola Mobility was completed, and one thing is for sure. Margins have crumbled. I'm sure that some of this decline was expected, but maybe not to this extent. Google will be looking this quarter for a margin rebound. Today, I'll explain why margins have crumbled and what impact that has on Google's valuation, especially when compared to competitor Apple (NASDAQ:AAPL).
The falling margins:
When I reported on Google after the earnings report, I presented the following table to show Google's GAAP margins over the past 2 years.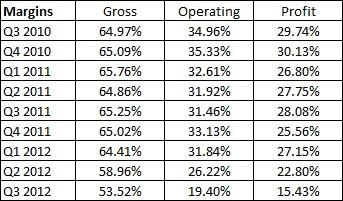 As you can see, the last two quarters have not been very good for margins, and I want to focus especially on those quarters. The table below shows the breakdown of the four primary expenses Google incurs on the income statement. I've shown Q1 from before the acquisition as a point of emphasis. The first total below the black line is total of operating expenses, not including the cost of revenues. The following total is the sum of all four. Some totals may be 1 basis point off due to rounding.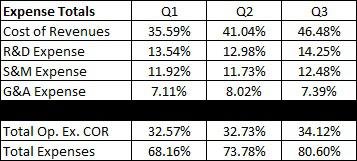 The cost of revenues has certainly jumped each quarter, and that is why gross margins have fallen so much. Google will need to get this expense, its biggest one, to stabilize first. But Google will also need to work on the other operating expenses. Even in the quarters where one or two expenses declined from the previous quarter, they were offset by rises in the other expenses. Google can make up for lost gross margins if operating costs are kept in check. But when operating expenses also rise, operating margins will be decimated, as they have been.
Google has also faced a similar situation when it comes to the effective tax rate. Google's effective tax rate in Q1 was 18.48%. The rate rose to 19.44% in Q2 and jumped to 22.26% in Q3. While tax expense as a percentage of revenues is fairly low, a jump in the tax rate like the one above will definitely hurt net profit margins. When you add this into the declining gross and operating margins, you get a culmination of a "perfect storm" of events that can take down margins substantially.
Not the only margin faller, but to a larger degree:
Google is not the only large cap tech name experiencing a bit of margin declines, Apple is too. The ever present battle between the two has increased the cost of products and tablets are lower margin products to begin with. I put together the following table to show how each company's margins have come down in each of their last three fiscal quarters. Remember, Apple is on a different fiscal year, and all margins are GAAP.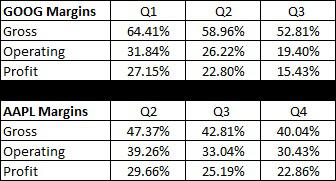 Now you'll notice that despite Google having higher gross margins, Apple still had higher operating and net profit margins. Google doesn't only have a larger percentage point decline in each margin, but the change of that decline is even more staggering. For instance, the 1159 basis point decline in gross margins for Google from Q1 to Q3 is a decline of 18.00% overall, in terms of the percentage change. Apple's percentage change of the gross margins is 15.48%, which is almost similar. But when you get to the bottom line, the distance is staggering. Apple's percentage change decline in profit margins is 22.91%, while Google's drop is 43.16%.
Now you may remember that Apple launched a ton of products during the quarter and as a result, they guided to 36% gross margins. Thus, Apple's margins are expected to continue their decline for at least a quarter, but there's no guarantee that Google's margins won't decline as well. Also, consider the following fact. For Apple's profit margins to fall the 43.16% that Google's did, Apple's net profit margin would have to come in at 16.86%. That's another 600 basis points from here, and probably will not happen.
Does Google deserve a premium?
In their latest respective quarters, Apple delivered an extra 743 basis points on the bottom line. That means that for every $100 of sales, Apple's profit was $7.43 more than Google's. On a percentage basis, that's more than 48% more. Apple is a profit monster right now, and Google's profits are starting to dwindle a bit.
So when you have two companies like this, it is often a good idea to look at their valuations. I've put together a chart showing the P/E values for each name today, as well as 3, 6, and 9 months ago. These numbers are based on the trailing twelve month earnings for each. In Google's case, I've presented them on both a GAAP and non-GAAP basis. I also included a premium comparison, to show the premium Google's stock has traded at in comparison to Apple.

As of late, the premium has really spiked. Analyst estimates for Google are usually on a non-GAAP basis, so let's look at that number. Google currently trades at a 33.7% premium to Apple on a TTM P/E basis. Now, there's always an argument here. Does that mean Apple is undervalued or Google is overvalued? Well, it could be a little of both.
Now, you might wonder if Google's growing faster than Apple. It all depends on how you look at things. Google's non-GAAP revenues for 2013 are expected to grow by 24.9% and non-GAAP earnings are expected to grow by 16.54%. However, part of that growth number includes Q1 of 2013, the fourth quarter since Google acquired Motorola Mobility. Google's growth rate is a little inflated because of the extra revenues from that purchase.
On the flip side, analysts currently project 23.3% revenue growth and 11.62% earnings growth for Apple's fiscal year, ending in September of 2013. However, if you normalize Apple's period (since last year's Q1 was 14 weeks instead of 13), Apple's projected normalized growth would be 25.95% for revenues and 14.18% for earnings. So the growth for these two names is mostly similar.
Google going forward:
Google is already working to streamline operations after the closing of the Motorola Mobility acquisition. Google has started shutting down most of Motorola Mobility's international websites. This is part of the company's plan to downsize operations, including reducing headcount by 4,000. Motorola's international operations have been struggling, with too many poor products, and the inability to get the good ones to the consumers that wanted them.
The ongoing legal battles between many of these tech firms will also be key going forward. A patent trial between Google and Microsoft (NASDAQ:MSFT) has come to a close. Google is claiming that Microsoft's Xbox game console and Surface tablet use Google's patented wireless technology. The key impact of this trial is found in the article quote below, and I've bolded the key part.
"Motorola had sought up to $4 billion a year for its wireless and video patents, while Microsoft argues its rival deserves just over $1 million a year...If U.S. District Judge James Robart decides Google deserves only a small royalty, then its Motorola patents would be a weaker bargaining chip for Google to negotiate licensing deals with rivals."
For those also interested in Google financials, S&P recently raised its ratings on Google's debt from AA- to AA. At the end of the most recent quarter, Google had almost $47 billion in cash and investments against $6.2 billion in debt. Of that debt, as per the 10-Q, Google had $2.7 billion in short term commercial paper outstanding, and $2.988 billion in long term debt. $1 billion of the long-term debt is due in May of 2014, and a $468 million note is due in December 2012. That note was used to purchase a New York City office building. The key takeaway here is that between Google's improved credit rating and the payback of any short-term debt and the note, the company should be able to borrow at even better rates going forward. I'm not sure if Google would be interested in refinancing their notes due May 2021. But since Amazon (NASDAQ:AMZN) just issued $1.25 billion of 10-year notes at 2.50%, Google could probably get a better rate on its $1 billion of notes with a stated rate of 3.625%. Google could possibly save $10 million to $15 million in pre-tax interest expense per year if they could get the rate down to Amazon levels or below. That may not seem like much, but given their current margin problem, every little bit would help.
Final Thoughts:
Google has seen its fair share of margin declines, and we'll be looking to see if those margins rebound in Q4. Hopefully for Google shareholders they do, because net profit margins have nearly been cut in half just in the past few quarters. Apple is also seeing margins cut, but not to the extent of Google. This is worrisome for Google, because shares currently trade at a significant premium to Apple, and you're getting less on the bottom line and a similar amount of growth.
I'm calling Google a short candidate for the valuation issue and for the margin problems until they can prove that conditions are improving. Now, that doesn't mean I'm recommending you short Google right now. All that means is that if you believe Google margins will continue their downward trend, you might want to short Google because the stock would appear to be overvalued in that situation.
Disclosure: I have no positions in any stocks mentioned, but may initiate a long position in AAPL over the next 72 hours. I wrote this article myself, and it expresses my own opinions. I am not receiving compensation for it (other than from Seeking Alpha). I have no business relationship with any company whose stock is mentioned in this article.
Additional disclosure: Investors are always reminded that before making any investment, you should do your own proper due diligence on any name directly or indirectly mentioned in this article. Investors should also consider seeking advice from a broker or financial adviser before making any investment decisions. Any material in this article should be considered general information, and not relied on as a formal investment recommendation.