Barron's thinks JPMorgan (JPM) is due for some feisty returns after scooping up Bear Stearns and WaMu on the cheap.
"When you look at who's got the best earnings power in 2010 or 2011, relative to the share price, JPMorgan stacks up very well," T. Rowe Price's Jason Polun says. Shares are down just 10% since December, compared with a 40% loss in SPDR KBW Bank ETF (KBE).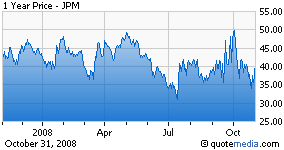 CEO Jamie Dimon's acquisition of Bear Stearns in March for $10/share gives JPMorgan instant exposure to highly-coveted hedge-fund clients. His subsequent purchase of WaMu for $1.9B from the FDIC gives it a long-desired presence in California and Florida. "They are busy capturing market share," portfolio manager Anton Schultz says. "People view them as the safest of the safe."
With its WaMu acquisition, JPMorgan moves to the #1 spot in deposits with almost $1T in accounts - viewed as perhaps the safest and least costly source of funding for a bank. The government's $25B cash injection will allow it to either boost its lending, make another strategic acquisition, or both.
Schultz says EPS - estimated at $3 in 2009 - could hit $5 in 2010 if the economy firms. If its P/E multiple can move back to a historic norm of 12, shares ($41) would rise to $60 - a 50% gain.
::::::::::::::::::::::::::::::::::::::
Avery Goodman wants to know if JPMorgan's recent results were juiced after the FASB recently allowed banks to return to "mark to fantasy" accounting. "Although commercial banks, unlike investment banks, could always hide investment losses, by categorizing certain losing bets as 'not for sale,' when acquiring a company, like WaMu, they were previously required by the accounting rules to write down all the losses to market value." No more.
JPMorgan was in the news this weekend. It launched an ambitious plan to renegotiate 400,000 mortgages worth $70B in the hopes of saving homeowners from foreclosure. The move suggests banks may be better off with mass modifications rather than foreclosures and/or case-by-case negotiations.