Green Mountain Coffee's (NASDAQ:GMCR) Q4 2012 earnings report on November 27, 2012, impressed investors enough to send shares of the Vermont-based coffee concern skyrocketing. GMCR shares were up a whopping 27% during Wednesday's regular trading session.
While the surge in GMCR shares is due in some part to the headline news, a larger driver of its stock prices is attributable to short covering.
However, despite the "good press," examination of the 10-k filing reveals additional questions and concerns regarding the quality-of-earnings reported. Highlights of our dual cash-flow and accrual analysis are below:
Disparity between earnings, revenue and balance sheet (Q4 vs. Q3): GMCR reported a 26% increase in Q4 2012 earnings-per-share. Q4 revenue grew a more modest 8.9% during the similar period. Accounts receivable and inventory rose 19% and 15% respectively in Q4, dwarfing the 8.9% sales growth. Accounts payable surged 30% in the latest quarter.
Balance sheet maneuvering is prevalent in many industry and sector groups. However, in the case of GMCR, when we see reported earnings and asset/liability values significantly outpacing revenue growth, red flags are raised.
Operating Cash-Flow: Dual cash-flow analysis reveals that operating cash-flow (OCF) as a percentage of revenue declined significantly in Q4. Also, balance sheet cash-flow (BSCF) increased significantly during the same period.
This would indicate that non-cash accounting maneuvers contributed more to the earnings construction than actual cash generated by operations and paying customers.
Accruals: Although GMCR's accrual ratio moderated significantly going into Q1 2012, the accrual ratio "trend" remains bearish and worsened in Q4. The Q4 reading of +10.32 suggests a further reliance on accruals when compared with the +3.69 figure posted in Q3.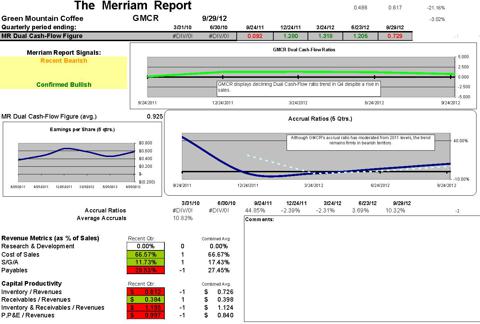 Generally, rising "positive" accrual ratios indicate that earnings may be much higher than the cash flows generated by the firm. Moreover, the time-series behavior of accruals and the performance characteristics of firms with high discretionary accruals add to the concerns of potential earnings manipulation and quality-of-earnings.
Capital Productivity: The effect of Q4 inventory levels rising faster than sales can be seen in the deteriorating capital productivity of inventory costs (per each dollar of sales) during Q4 when compared with multi-quarter periods. The increase in capacity costs (i.e. property. plant & equip.) during Q4 is also an indication that excess capacity might inhibit ROA until it is absorbed by demand or rationalized.
Many companies during expansion phases build capacity in anticipation of future growth. However, GMCR management did disclose in its Q3 earnings call that it expected future growth rates to moderate from previous and historical levels.
Management Credibility Risk: Although outgoing CEO Larry Blanford looks to be leaving on a high note, his previous guidance and outlook for GMCR in recent quarters were a contrast to results. As a result, it is difficult to trust with any degree of certainty that his parting assumptions of the future will be accurate.
Despite numerous acquisitions made by GMCR in recent years, the inability of management to realize meaningful cash-flows and synergies suggests potential integration risk(s) that have yet to manifest. Also, the rosy Q4 earnings report and management's claim of generating free cash-flow ahead of schedule raises additional questions.
We believe this contrast is observable in the financial statement analysis and metrics discussed above. It is also notable that free cash-flow in FY 2012 was helped by significant cuts in capital-expenditures.
The future of GMCR will soon be in the hands of incoming CEO Brian Kelley. While Mr. Kelley appears well suited to lead GMCR, little or nothing about his plans are known at this time. Thus, "transitional" risk is yet another potential issue for investors to ponder.
Declining gross margins might not be the only problem Mr. Kelley will need to address. As we mentioned in an earlier article on GMCR, it would not be a surprise if CEO Kelley initiates some form of restructuring or asset rationalization early on. His experience with integrating Coca-Cola's (NYSE:KO) North American and Coca Cola Enterprises operations leave the door open to potential asset write-downs at GMCR.
Estimated Fair Value: Based on our five-quarter analysis of GMCR (through Q4 2012), we assign a fair value of $22.55 to GMCR shares at this time.
Investment Thesis: Following the Q4 and fiscal year 2012 earnings report, GMCR shares are up more than 27%. In addition, GMCR shares ($36.86 as of close 11-28-12) are 63.49% above our current FV estimate.
While further upside resulting from a short "squeeze" is likely, price movements since the earnings announcement appear to reflect a serious disconnect from the fundamentals.
Anecdotal evidence of short-crusher sentiment is abundant in Twitter posts, investment chat rooms and the blogosphere. A plethora of option strategies are being proffered by traders and bullish sentiment is extreme.
Yet, we have seen this picture before and for many GMCR bulls, it did not end well. While a CEO change is probably the most constructive aspect to the future of GMCR, current valuations do not justify the numerous risks still facing the company.
For investors who "must" trade the equity, maintain tight stops at all times. Relevant comments on GMCR options can be found here. For obvious reasons we are reluctant to call GMCR a good short candidate now.
However, if post-earnings momentum retraces to the $50 area (absent any verifiable change to fundamentals) a short opportunity would be compelling.
The complete financial statement analysis on GMCR (five quarters ending 9-29-12) can be viewed here.
Disclosure: I have no positions in any stocks mentioned, and no plans to initiate any positions within the next 72 hours. I wrote this article myself, and it expresses my own opinions. I am not receiving compensation for it (other than from Seeking Alpha). I have no business relationship with any company whose stock is mentioned in this article.