The most recent-and what now appears to be the last-edition of the Gold Mine Cost Report, a joint venture between ABN AMRO Bank NV and VM Group/Haliburton Mineral Services, found that the gold mining industry's average cash cost of production during the first quarter of 2011 was USD620 per ounce.
This survey was based on data from 111 gold mining companies around the world.
On a year-on-year basis, the average cash cost advanced by 13 percent, continuing the double-digit year-on-year growth seen in every quarter since the third of 2009, when costs fell by 0.4 percent. Median costs of production rose by almost 4 percent, to USD583 per ounce in the first quarter of 2011.
Lower quartile production costs for the bottom 25 percent of projects surveyed fell for the first time since the first quarter of 2009, to USD435 per ounce, down 5.4 percent from the previous quarter. Upper quartile costs, meanwhile, rose to USD764 per ounce.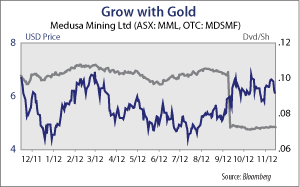 A big part of the rise in average production costs over the last several years is the weakening US dollar, the currency for gold pricing. Another is increasing input costs. Energy and raw material costs have all increased.
According to the June 2011 Gold Mine Cost Report's region by region review, "the pick of the bunch" in the section covering Asia and the Commonwealth of Independent States/Europe was Medusa Mining Ltd's (OTCPK:MDSMF) Co-O mine in the Philippines, at just USD191 per ounce.
Medusa has no debt, USD54 million in cash on its books and a low payout ratio. The company paid its first cash dividend in November 2010, a payment of AUD0.05 (USD0.052) per share for fiscal 2010. It followed with interim and final dividends of AUD0.05 (USD0.052) per share for fiscal 2011.
The interim dividend for fiscal 2012 was AUD0.05 (USD0.052), but management reduced the final payment to AUD0.02 (USD0.02) in order to preserve cash as it pursues an aggressive development program that will see gold production spike to 400,000 ounces per year by 2015 from forecast production of 100,000 to 120,000 ounces for fiscal 2013. Co-o in the Philippines is the key to meeting this target.
Analysts who cover the stock are bullish: Nine rate the stock a "buy" according to Bloomberg's standardization of broker recommendation-speak, one rates it a "hold" and one rates it a "sell." The average 12-month target price among the nine analysts who provide one is AUD7.70 (USD8.04).
A steep selloff has left fellow mid-cap gold producer Kingsgate Consolidated Ltd (OTCPK:KSKGF) at around AUD4.75 (USD 4.96) on the ASX, well below its 2012 high of AUD8.04 established Feb. 9.
Looking at Kingsgate from a Benjamin Graham perspective, it appears a compelling value. Its price-to-earnings ratio is 8.83, while its price-to-book value is just 0.93. That equates to a Graham Factor of just 8.21.
Analyst opinion on the stock is about as split as it can be. Five analysts rate the stock a "buy," while three rate it a "hold" and five rate it a "sell." The average 12-month target price among the 10 analysts who provide one, however, is AUD6.47 (USD 6.75), with a high of AUD10.50 (USD10.96) and a low of AUD5.00 (USD 5.22).
Even the low-ball estimate builds in upside of 5 percent, while the average implies a price rise of 35.9 percent.
Kingsgate is currently yielding 4.2 percent, but the dividend payment history over the past 10 years is decidedly rocky. Management made its initial payment a "final" dividend in October 2002 of AUD0.15 (USD 0.156) per share. It followed up with interim and final dividends of AUD0.125 (USD0.13) in 2003 but reduced to AUD0.10 (USD0.1) and AUD0.12 (USD0.125), respectively, in 2004.
Drastic reductions followed this incremental step, to AUD0.02 (USD0.02) and AUD0.05 (USD0.05) in 2005 and AUD0.05 (USD0.05) and AUD0.05 (USD0.05) in 2006. Ultimately management "omitted" dividends in 2007 and then "discontinued" payouts in 2008.
Management resumed dividends with a final payment for fiscal 2009 of AUD0.15 (USD0.156) per share. It followed up with an interim dividend for fiscal 2010 of AUD0.15 (USD0.156) and a final dividend of AUD0.20 (USD0.208). For 2011, however, Kingsgate paid AUD0.10 (USD0.104) and AUD0.05 (USD0.05) for interim and final dividends.
Fiscal 2012 saw another upswing, as the company paid AUD0.10 (USD0.104) in March and AUD0.10 again in October. That shows up as a 33 percent year-over-year dividend increase. But in this case the statistic is definitely misleading. Kingsgate is no place to be for investors expecting consistent income.
It does, however, present a compelling value opportunity at these levels. And the yield of 4.2 percent-if management can sustain it-is attractive relative to those of other dividend-paying gold stocks.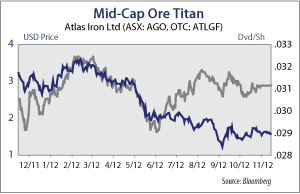 Newcrest Mining Ltd (OTCPK:NCMGF) is still my preferred vehicle for establishing dividend-paying exposure to the Midas Metal. Newcrest is about to emerge for a cycle of heavy capital investment in what should be a fruitful development program and will soon have a lot of free cash available for dividend increases.
For those whose risk profile and long-term investment goals avail them of such opportunities, however, Kingsgate could have significant upside from here. For more high-yield dividend opportunities, see this free report.
Disclosure: I have no positions in any stocks mentioned, and no plans to initiate any positions within the next 72 hours. I wrote this article myself, and it expresses my own opinions. I am not receiving compensation for it. I have no business relationship with any company whose stock is mentioned in this article.