The S&P 500 has had a stunning recovery following the brutal sell-off post-election. In two weeks time, the index has climbed from probing important technical levels around 1340 to 1415 with basically little pause. The first real instance of weakness on Wednesday was furiously bought. In my previous article, I cited negative sentiment and thin trading surrounding Thanksgiving as conducive to big moves, and the positive "conciliatory" statements coming from both parties as a catalyst for a big move up. The strength of this move has met and somewhat exceeded my expectations.
In this article, I want to examine whether this big move up is the beginning stages of a multimonth rally or simply an oversold bounce that should be faded. Although there is the possibility that this is the first stage of a trending move higher, I think the lack of leadership in this rally and risk from the fiscal cliff negotiations are strong reasons to consider reducing risk at these levels and waiting for better prices.
Bounce Vs. Trends
It is important to clarify the difference between a bounce and an uptrend. The best way to illustrate this is by showing the three most recent uptrends:

Click to enlarge images.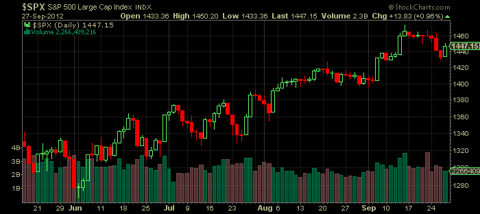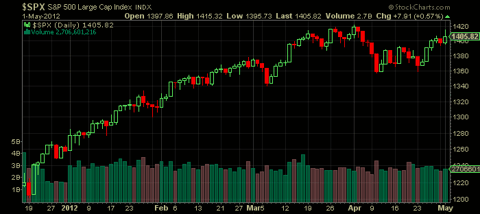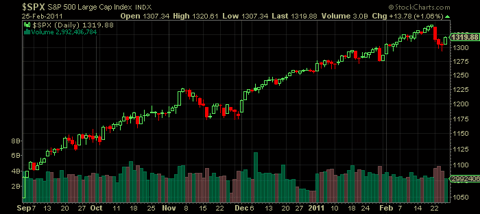 Bounces come out of deeply oversold markets amid bearish sentiment. In bear markets, they help form lower highs, in the process shaking out bears and sucking in bulls who are convinced that the bottom is in. In bull markets, they are typically found in rangebound markets during periods of weakness or consolidation, routinely catching the majority off guard when consensus becomes that the market has turned.
Depending on my interpretation of the move up, I am more inclined to be patient if I believe we are in an uptrend. But if my interpretation is that this is more of an oversold bounce, I would manage risk more vigilantly via stops and profit taking.
Every uptrend begins as a bounce out of oversold conditions but then morphs into a grinding series of lower lows and lower highs. For purposes of making money, the bounce requires some sort of luck or skill with timing trades as all or the bulk of gains are wiped out, while an uptrend will allow for timing errors as long as one holds long enough.
Fiscal Cliff
The catalyst for this monster move is the White House Press Conference on the front lawn that turned expectations about the looming fiscal cliff negotiations from dread to hopeful optimism. Based on price action, it seems as if the market is pricing in the increased chances of a successful resolution to the fiscal cliff.
I didn't think the previous heavy pessimism is warranted, nor do I think anyone should expect a neat and tidy conclusion. For traders, the journey that price takes to its destination or target is as important -- if not more important -- than the destination. I do expect an eventual resolution, but I think the journey will be far from smooth sailing.
Both sides have incentives to reach an agreement, but at the same time the Democrats feel the elections gave them a mandate and the Republicans should compromise. Even if the House Republicans were to agree with this thinking, they have to consider their political futures given that any sort of compromise or even the optics of a compromise would embolden primary challengers in 2014. Due to redistricting in most congressional districts, the threat to incumbents comes from within the party rather than the opposing party.
Therefore, I think it is unwise to consider an imminent fiscal cliff deal as a certainty.
Dash for Trash
One feature of this bounce has been the stunning performance of some of the most beaten-up stocks in the last couple of years. Two examples: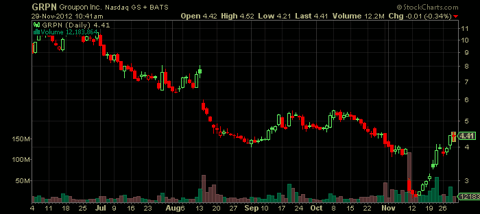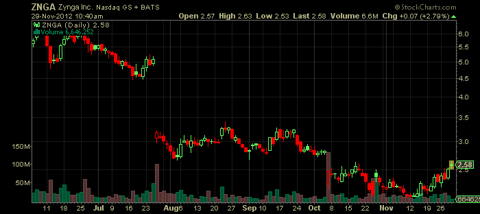 Any bounce or uptrend is marked by outperformance among the most oversold stocks, despite poor fundamentals, as liquidity enters the market and finds its way to many stocks. Due to high short interest in these fundamentally weak, technically damaged stocks, a little buying can propel them to huge gains.
However, the key difference is that in an uptrend there are also sectors and stocks with strong fundamentals that lead the market as they are accumulated by institutions. I do not see this yet, so I lean toward a more cautious stance. However, if this does change and leading stocks emerge and begin to make 52-week and even all-time highs, then I am prepared to jump on the move up.
Conclusion
If you are wrong about an uptrend thinking it is a bounce, then the punishment is that you have to swallow your pride and buy in at higher prices. If you are wrong about a bounce thinking it is an uptrend, then the price is much steeper as you have to watch your gains wiped out, as you stubbornly hold on in the belief that the primary trend of the market will bail you out as it would have in prior trending markets.
For this reason, I am taking a more cautious stance toward this market, in a sense straddling the bull and bear side. The two items I will be most closely watching are whether new leadership emerges -- which I believe is a necessary ingredient for an uptrend -- and how the market handles selling pressure.
For aggressive traders who agree with my thesis, two options are shorting the iShares Russell 2000 Index (NYSEARCA:IWM) or the SPDR S&P500 ETF Trust (NYSEARCA:SPY).
Disclosure: I have no positions in any stocks mentioned, and no plans to initiate any positions within the next 72 hours. I wrote this article myself, and it expresses my own opinions. I am not receiving compensation for it (other than from Seeking Alpha). I have no business relationship with any company whose stock is mentioned in this article.