The recent acquisition deal between ConAgra Foods (NYSE:CAG) and Ralcorp Holding Inc (RAH) is expected to strengthen the company's financial performance. Combined with last quarter's strong results for CAG, we recommend investors to buy CAG. The market has taken the deal as a positive sign for both companies, as shares for CAG went up by 5%. CAG's acquisition of RAH would lead to synergies and market dominance for the company.

ConAgra Foods is the leading manufacturer of branded food products and ingredients. It is headquartered in Omaha - Nebraska. The company operates with two divisions, Consumer Foods and Commercial Foods. Famous brands offered by the company include, Healthy Choice, Marie Callender's and Pam. Consumer Foods division has a higher contribution of more than 60% to total sales whereas remaining chunk of total sales is contributed by Commercial Foods division.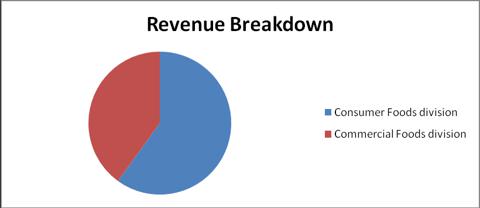 The company has been operating in the competitive industry. To address industry concerns of rising competition and commodity prices, the management has been focusing on increasing its advertisement spending and product innovation, which will help the company boost its sales. As the company operated in highly competitive and mature industry, it has undertaken the strategic acquisition of Ralcorp Holding Inc. RAH is the maker of private cereal, pasta, jams, crackers and syrups. This will help ConAgra strengthen its market position, because it does not have a strong presence in these categories.
ConAgra Foods agreed to buy Ralcorp for $5 billion equity value or $90 per share. The transaction, including debt, is valued at $6.8 billion. CAG will be paying 28% premium on Ralcorp shares based on its price on Monday earlier this week. The acquisition deal is expected to be close by March 31, 2013. To finance the deal, CAG is expected to issue equity of $350 million. A successful completion of the deal will mean CAG will have more balanced revenue base, comprising of 32% of Commercial Foods market sales, 43% branded and 25% private-label packaged foods. The graph below shows expected revenue breakdown.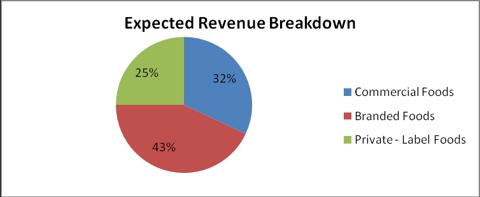 Lately, the company's performance has been strong as reflected by its FY1Q 2013 results. Earnings per share for the quarter were up 42% on a comparable basis, YOY. Consumer Foods division sales were up 8%. The division also experienced a 14% increase in the operating profit margin on a comparable basis. The operating profit growth for the division was driven mainly by price increases and productivity programs. These programs are expected to save $240 million in the current fiscal year.
Commercial Foods division, which contributes nearly 40% to total sales, experienced sales and operating profit increase of 5% and 37% respectively. The operating profits for the division were driven sales growth and operational efficiencies.
The table below shows the operating profit margins for the two divisions for the recent quarter as compared to FY1Q 2012.
| | | |
| --- | --- | --- |
|   | FY1Q 2012 | FY1Q 2013 |
| Consumer Foods | 10.3% | 12% |
| Commercial Foods | 8% | 11% |
Source: Earnings Release.
As the company started its fiscal year with delivering strong results for the quarter, it is expected that it will continue this performance for the remaining quarters. CAG is expecting diluted EPS of $2.03 - $2.06 for the fiscal year 2013 against analysts' expectations of $2.05 per share.
Currently, CAG has a debt to equity of 70%. However, following the RAH deal, Fitch downgraded CAG credit rating to BBB-. To improve upon its debt structure, CAG is targeting to keep share buybacks to almost zero for next 18 24 months. These funds will be used to reduce debt. CAG currently has strong interest coverage of 7x.
CAG offers an attractive dividend yield of 3.5%. Just a couple of months ago, the company increased its quarterly dividends from $0.24 to $0.25 per share. Dividends are expected to be paid in the first week of December. CAG has been increasing its dividends over the years. Quarterly dividends increased from $0.19 in 2009 to $0.25 in 2012. The graph below shows the dividend coverage for CAG in the last three years. The strong dividend coverage indicates the dividends offered by the company are sustainable.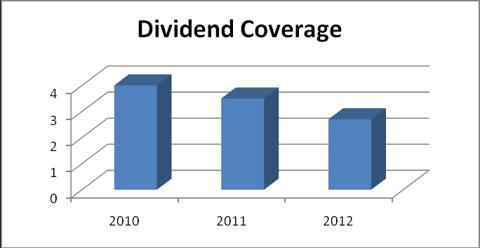 Source: Qineqts Calculations
Valuations:
| | | | |
| --- | --- | --- | --- |
|   | CAG | Unilever NV (NYSE:UN) | H. J. Heinz Company (HNZ) |
| Forward P/E | 13.5x | 16x | 15.5x |
| PEG | 2.1 | 2.8 | 2.3 |
| P/S | 0.9x | 1.7x | 1.6x |
Source: Yahoo finance
CAG is trading at cheap valuations than its competitors, as reflected by its forward P/E of 13.5x and P/S of 0.9x. RAH is currently trading at forward P/E of 21x and has a PEG of 2.5.
Conclusion:
We believe CAG has made a good strategic decision by acquiring Ralcorp. This will help the company strengthen its market position, especially in private-label brands. This would translate into strong financial results for the company in the future. CAG's recent deal with RAH is expected to accelerate growth for CAG and beat analysts' current expected growth rate of 7% per annum for the next five years.
Disclosure: I have no positions in any stocks mentioned, and no plans to initiate any positions within the next 72 hours.
Business relationship disclosure: The article has been written by Qineqt's Consumer Staples Analyst. Qineqt is not receiving compensation for it (other than from Seeking Alpha). Qineqt has no business relationship with any company whose stock is mentioned in this article.