The mantra of the last few days is that Research In Motion's (RIMM) stock is uninvestable.
Well, it may be, but it is certainly tradable -- and the usual Wall Street "mavens" are up to their old tricks. If you pay attention and are quick, you can make some nice Christmas money playing along with them.
Click to enlarge image.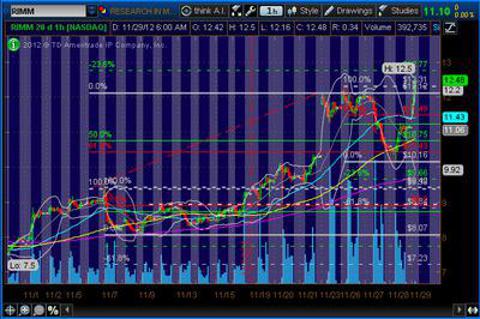 The fun began with a ramp that initiated in the first part of November. After pulling back and establishing a nice base right near where the acceleration began ,the stock waddled around respecting a 61.8% retrace. That was your "get ready" warning. And some people will doing exactly that, as options bets began to be placed as well.
The Thursday and Friday before Thanksgiving week you got two separate entries, if you were paying attention. And then the fun began. That following Monday there was a chart-perfect retrace followed by a ramp. Over the next few days, that went not just to a -23.6% target (fairly common) but to a -61.8% on the day before Thanksgiving.
A lot of technical traders would be taking their money off the table there (and a nice profit) and the really aggressive would short this, as that sort of target is usually followed by a nice pullback (nothing like making money on both sides of the trade). Anyone who did short it this time got destroyed when, on Thanksgiving, the stock was upgraded when you couldn't do anything about your position in the U.S. market.
Of course, this had to be followed by something to make you feel stupid, and the dueling analysts got right to work. A nice downgrade and more dissing of the company caused all of the gap-and-scream ramp job to be given back over two days. But if you were paying attention, the stock was materially higher yesterday on no news and the astute again noted that a retrace level -- this time a 50% one -- was pinned and held.
Time to short it, right? Wrong.
The "unknown" cause of the ramp yesterday was revealed as an upgrade by Goldman this morning, pegging it with a $16 price target. The stock broke out of the range from last week, destroying anyone who shorted into the decline again.
Where is price going?
I would not be even slightly surprised if the stock tagged $14. But getting focused on targets and being greedy is a good way to get trashed, as this has turned into a stock with 10% moves that will whipsaw the heck out of your account balance.
Yesterday, I called the re-entry and if you got it, you're in like Flynn -- for the time being. I'm watching the $12 level, and so long as it holds you've got a (second) nice, protected profit. If the "fair" Wall Street analysts who all produce unbiased and clean research want to give me an opportunity to trade this pig up to $14 or even beyond, I'll take it.
This stock is trading too technically to pass it by.
Disclosure: Long RIMM (at the moment).